BETTING ON THE FARM
We return to Bonnaroo in search of fresh sponsors, experiences and 'happy' consumers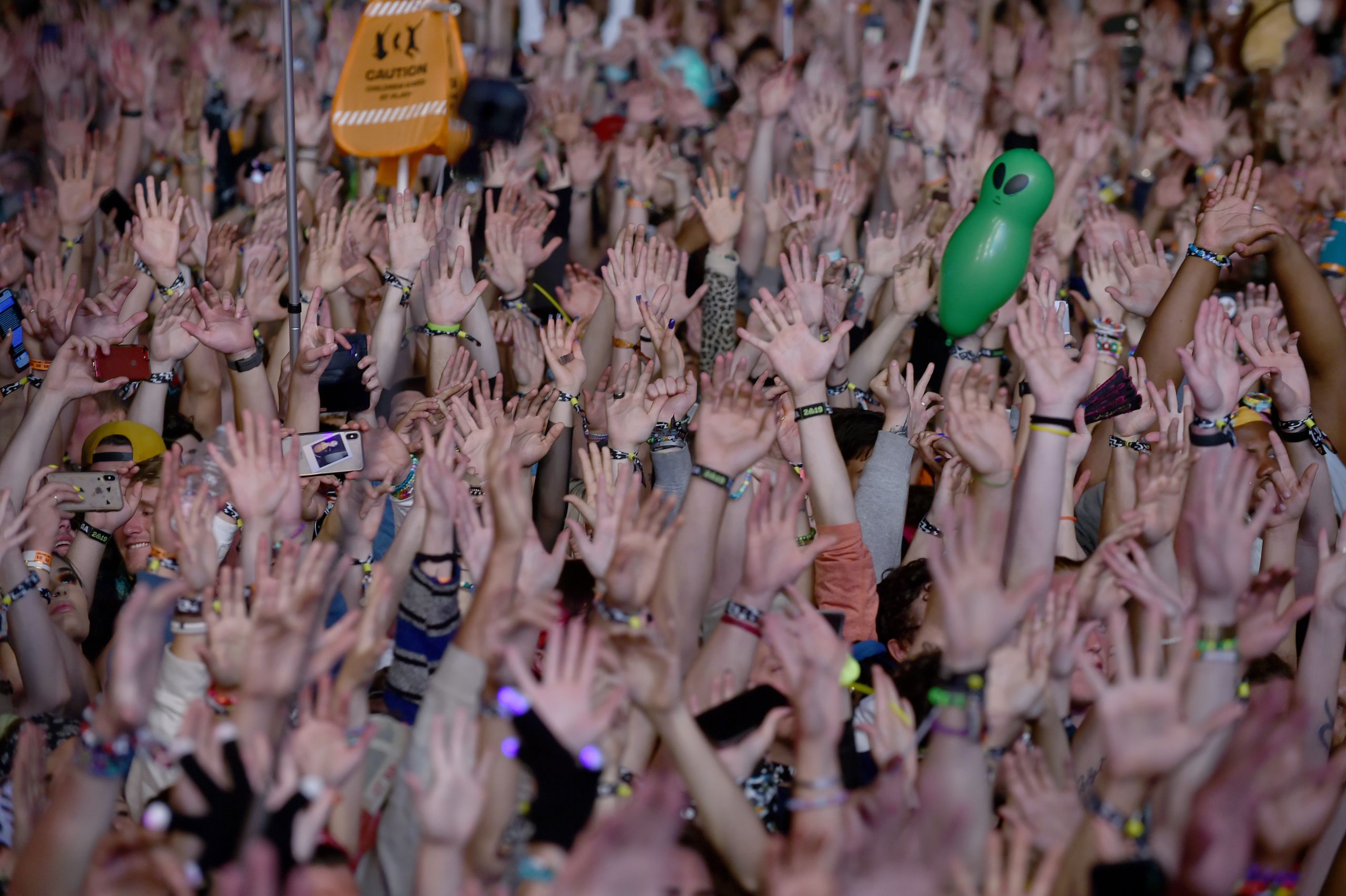 A few short weeks before our second visit in four years to "The Farm" in Manchester, TN, home of the Bonnaroo Music & Arts Festival, the iconic arch that greeted attendees in various forms since the event's founding in 2002 was uprooted. Festival organizers dismantled and burned the structure, citing architectural issues, and an over-the-top, squared-off edifice took its place, enchanting some festivalgoers and baffling others. 
The timing, as it turned out, was significant. This year's festival, June 13-16, was likely the last year that Superfly, co-founder and chief organizer of Bonnaroo, will produce the event. Live Nation, which purchased a controlling stake in the festival in 2015, announced in late June that it had plans to exercise its buyout clause, ending Superfly's involvement for good. And it got us wondering… what would this shift mean for a hot, gritty festival that has become the anti-Coachella? Will we find glamping Instagram models in place of the down-to-earth, happy campers the festival has historically attracted?
Our mission, of course, wasn't to lament the death of the arch or the exchanging of power; it was to experience the brands. So come along on our adventures across The Farm—and don't forget your fanny pack.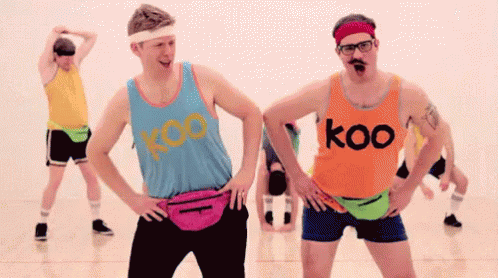 Featured photos courtesy: FilmMagic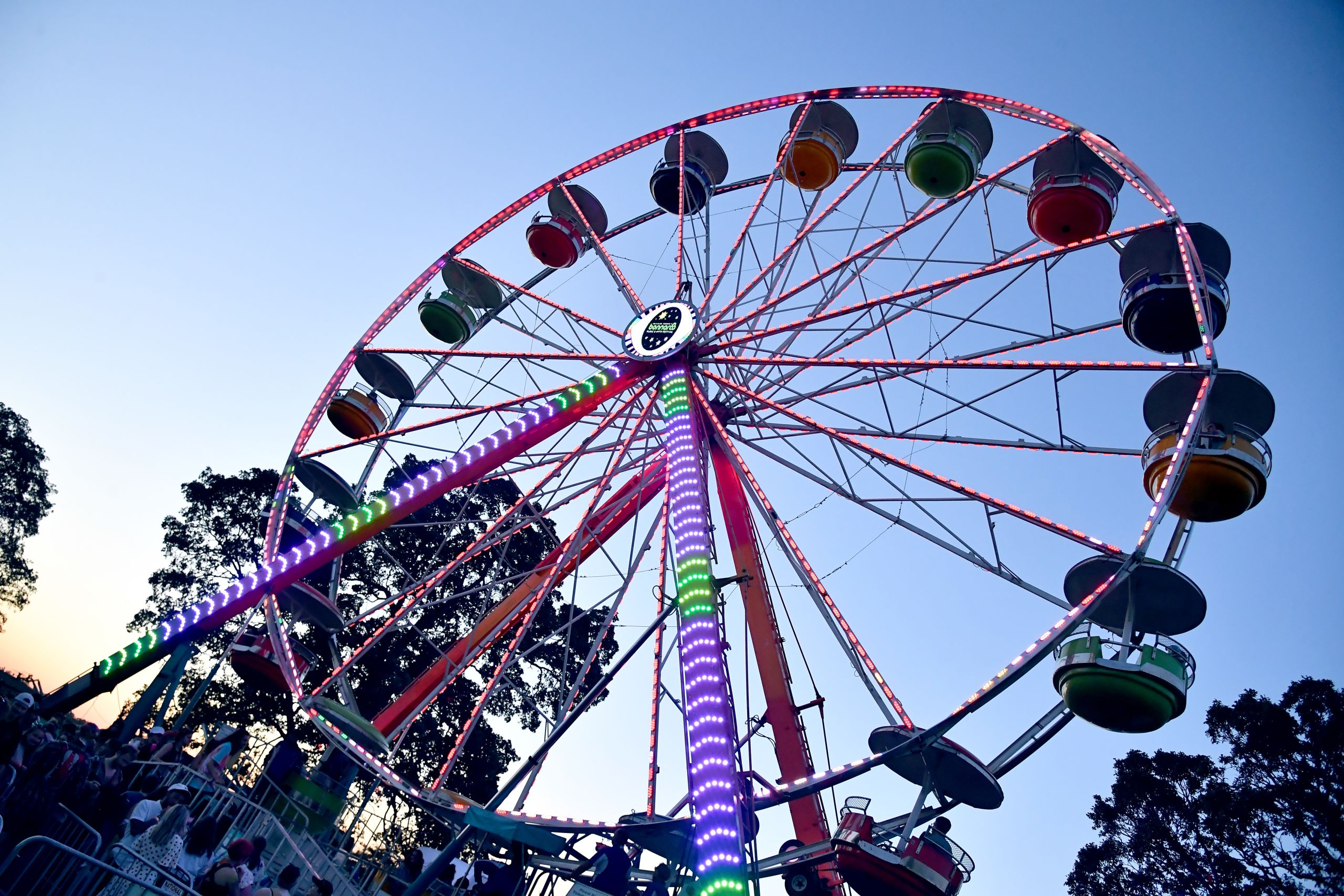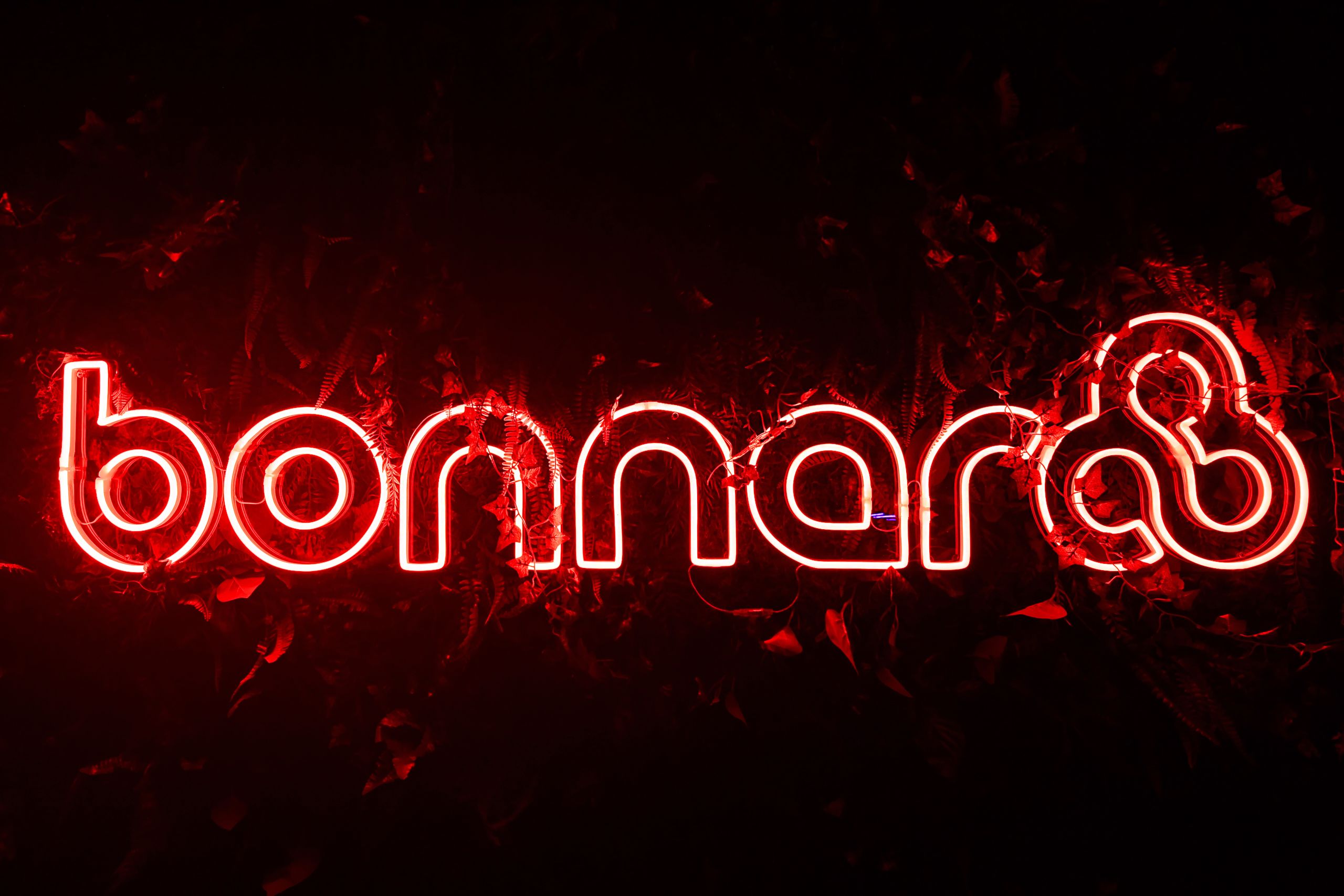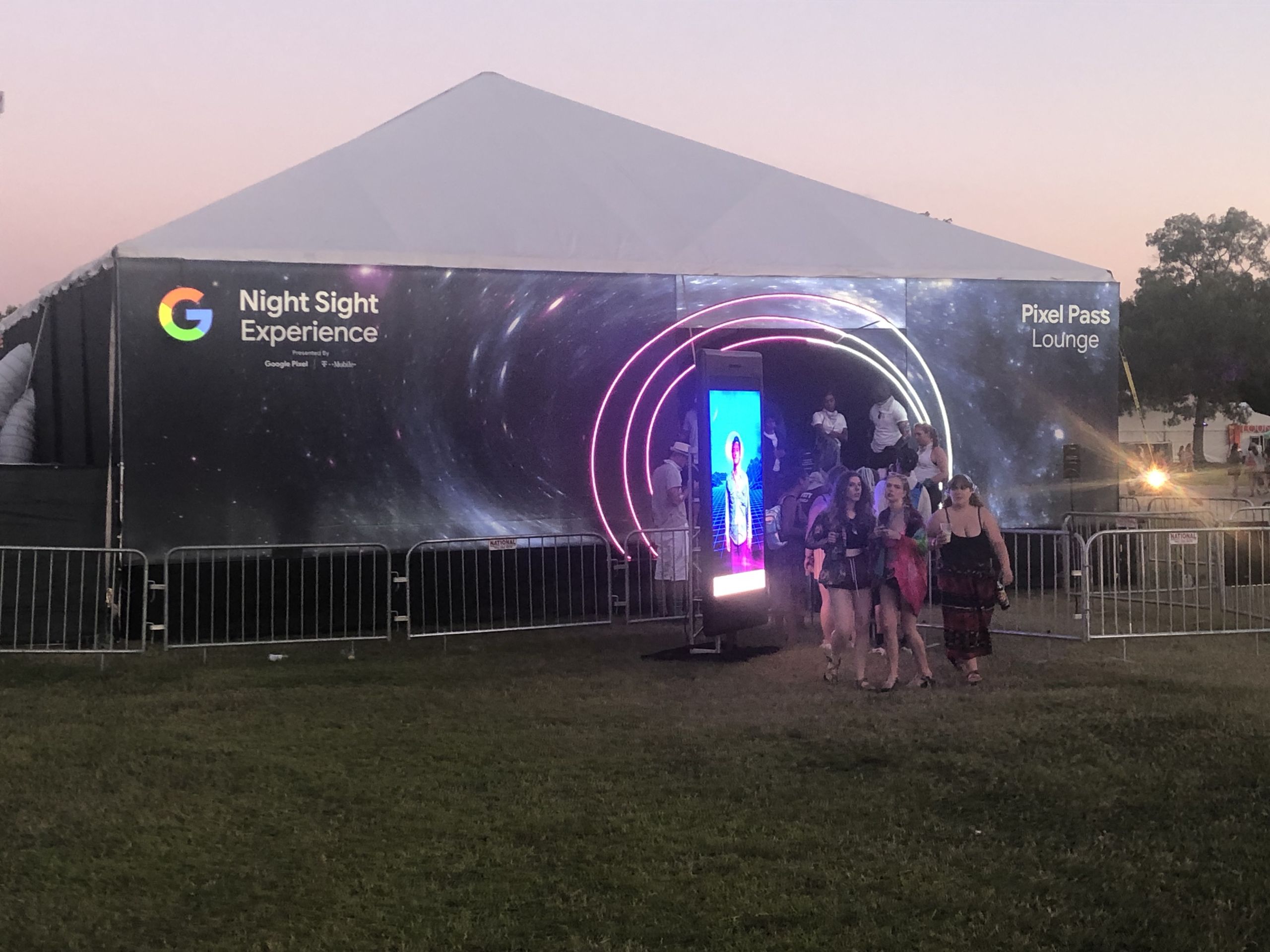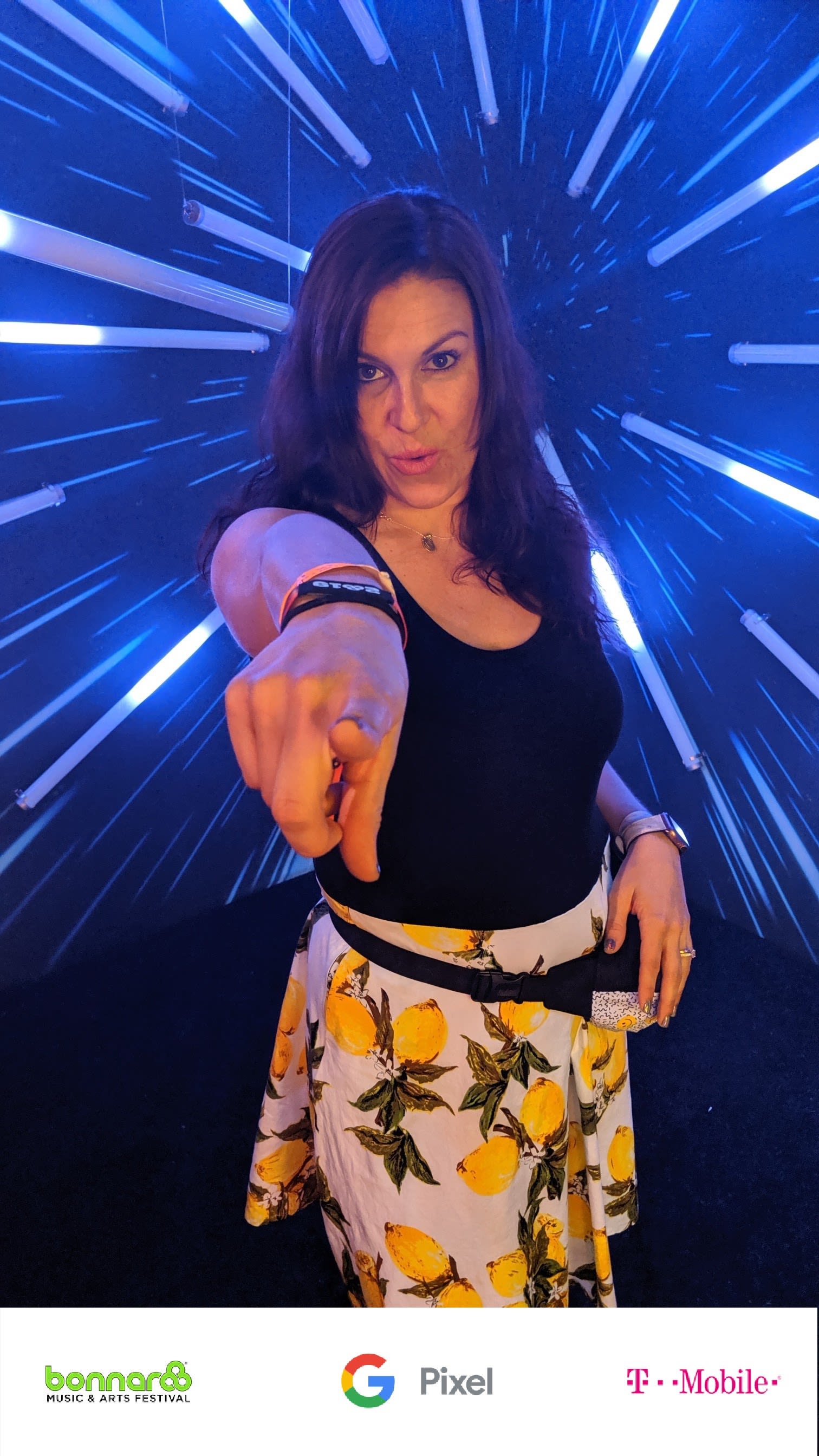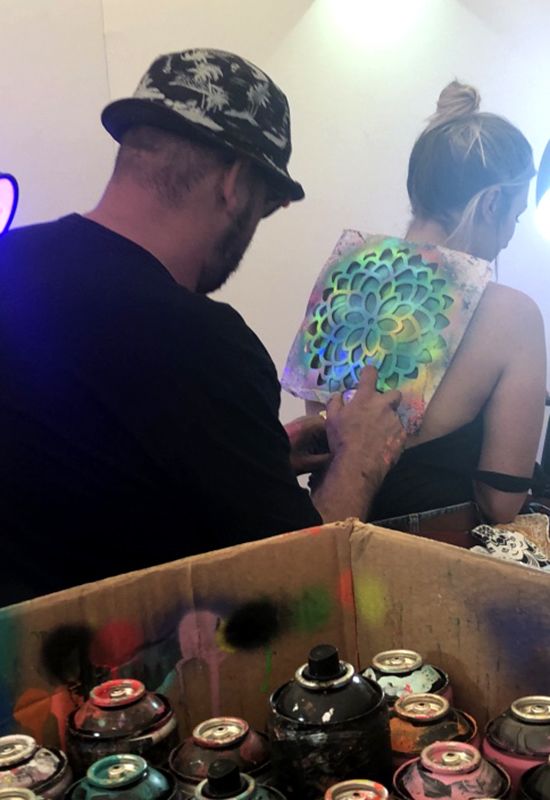 GOOGLE
Equipped with a large, standalone structure with neon lights enveloping the entrance, Google's activation was hard to miss. The brand offered two separate experiences within its footprint: The Night Sight Experience and the Pixel Pass Lounge. T-Mobile customers and owners of Google Pixel devices could head straight to the lounge, while those who didn't qualify were asked to participate in the Night Sight activation before gaining access. 
As iPhone users, we stepped into the Night Sight Experience first, where the night vision mode on the Pixel 3's camera was put to the test. On the walls, photos taken at the festival on the previous night with the Pixel 3 were posted next to the same shot taken on an iPhone X to demonstrate the superiority of the Pixel's low-light photography capabilities (Google was the clear winner, but it's worth mentioning that the Pixel probably should've been compared against Apple's latest mobile device, the iPhone XS).
The activation was broken down into four separate photo ops, each featuring low lighting, dynamic backdrops and neon props for attendees to pose with. Among scenes, we pretended to spot a UFO, and hit up a bar with an array of funky neon signs to pose next to. After completing the experiences, each of our photos was immediately emailed to us for social sharing. To drum up excitement for festivalgoers waiting in line, images of attendees participating in the experience intermittently showed up on a larger-than-life Pixel phone installation just outside the activation structure.
After posting one of our photos to Instagram using #TeamPixel, we were awarded access to the lounge. Upon entering, the first thing we noticed was the sweet, sweet relief of air-conditioning, a premium at any outdoor music festival. The space was small, but offered sleek décor, charging stations, amenities like face wipes to help attendees freshen up, white bandanas for the taking and a viewing deck facing the main stage that could be accessed by T-Mobile customers and Pixel users. Our favorite part was the seriously talented airbrush artist doling out free tattoos, which were designed to pop when photographed with the Pixel's Night Sight mode. At least four different festivalgoers asked us where we got our sweet "ink," proving Google knew its audience. And fun fact: When you get sunburned with an airbrush tattoo on, your body maintains the design for several weeks afterward—apparently airbrush paint is its own form of sunblock. 
All said, the Google experience was fun, educational and shareable—and a clear festival stand-out (Agency: Live Nation).
BAREFOOT
Barefoot's purple color scheme, "You Make Me Want To Dance" messaging and vineyard tasting room vibe elicited an air of charm before we even entered the experience. The "treehouse" activation featured a two-story structure and outdoor space surrounded by a white picket fence, with a beautiful faux tree sprawling out from the center of the building, and encompassing both stories (word has it that the tree lit up at night, but with the activation closing at 8 p.m. and the sun not setting until sometime afterwards, it was a tough sell). 
On the first floor of the space, attendees were invited to write a complimentary message about someone they love on a small piece of paper with a heart icon that read "Spreading the Roots of Love" and containing wildflower seeds. Participants "planted" their message inside the faux tree, and in partnership with The Nature Conservancy, Barefoot planted a tree for each of the messages received. After writing their message, attendees received a purple branded tote bag filled with more seeds for planting and a pair of sunglasses. From there, they could chill on an authentic wooden porch swing or in personal hammocks. Vines and floral décor further emphasized the vineyard vibe.
The second story of the structure served as a stage viewing deck where attendees could watch performances and sip on small bottles of wine being sold in the outdoor portion of the footprint. Other activation elements included hula hoops, a picnic table and benches, and Tic Tac Toe, which could be played directly on the façade of the building. Given Bonnaroo's heavy emphasis on eco-conscious practices, Barefoot's mission-based activation was right on the money (Agency: Fusion Marketing).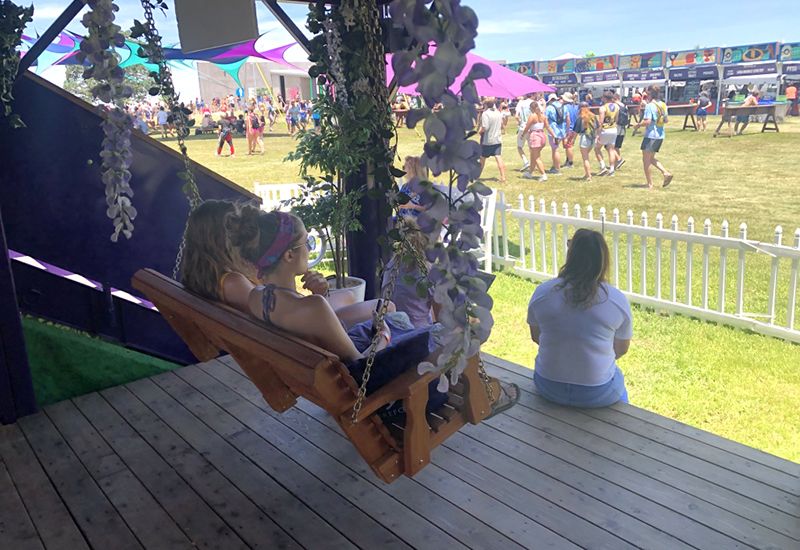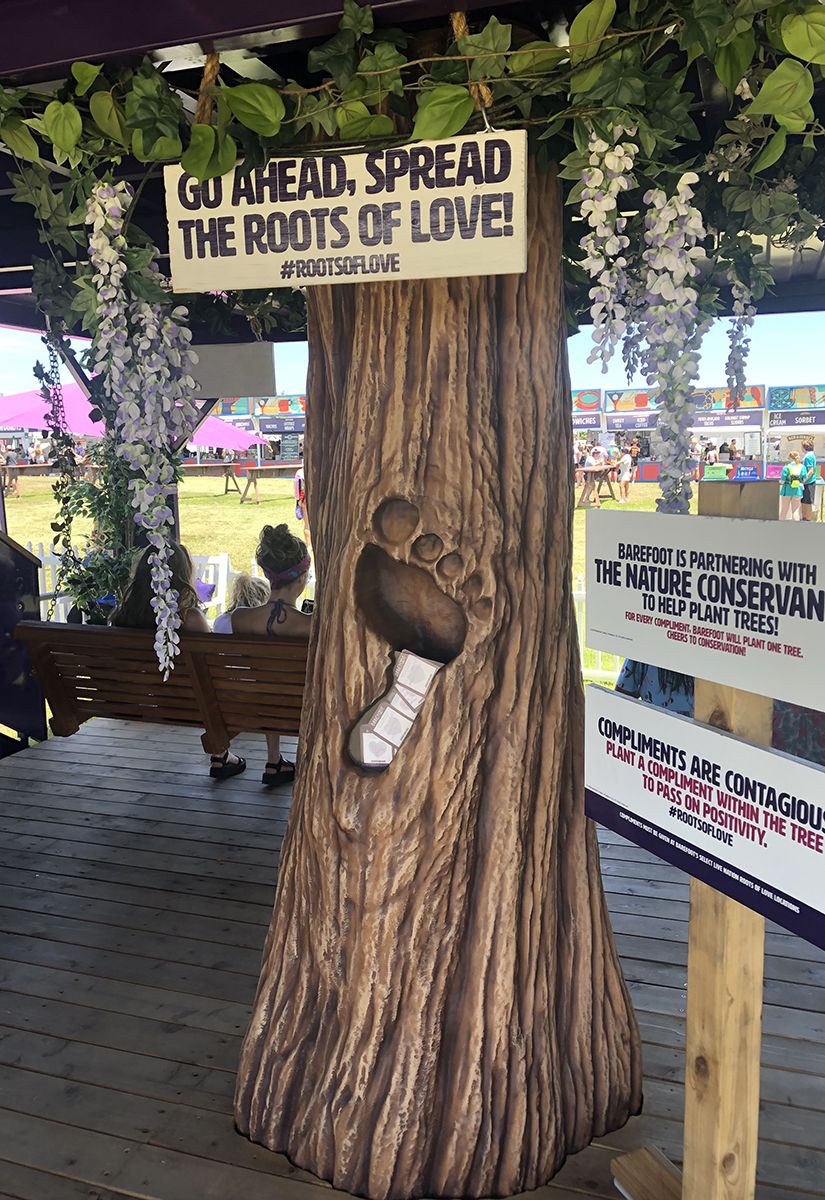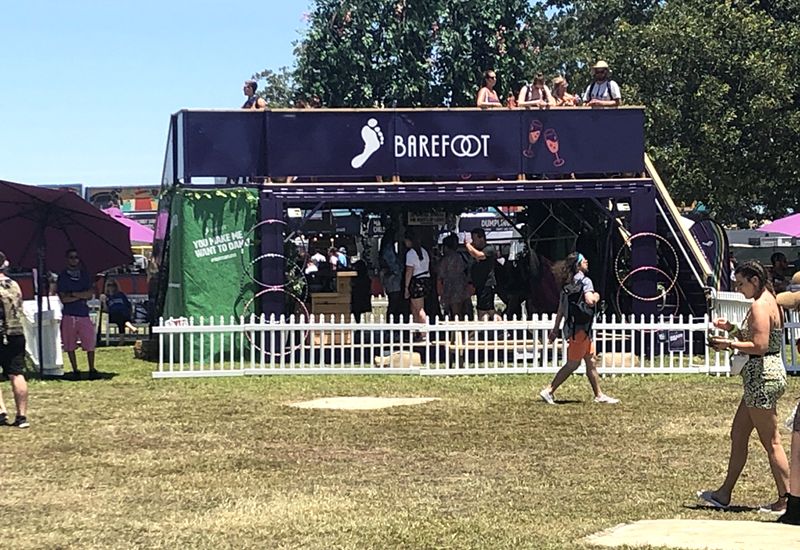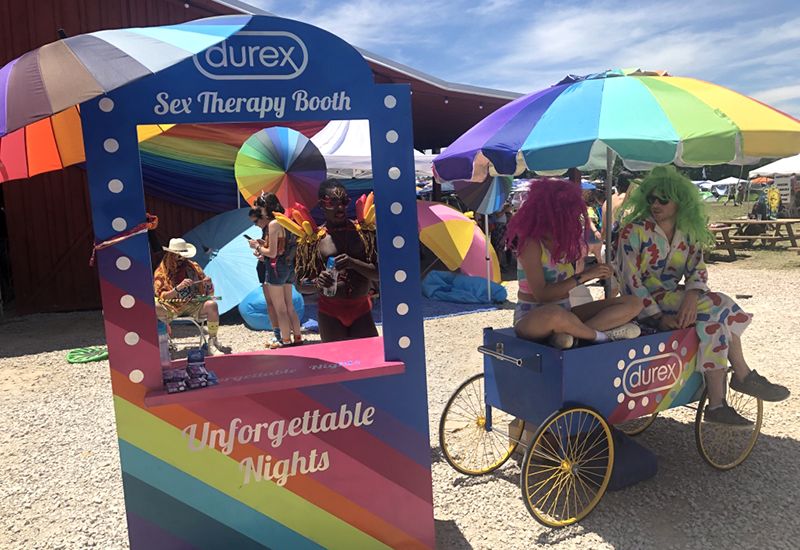 DUREX
Outside of the main festival grounds, known as "Centeroo," Bonnaroo's camping plazas take on a life of their own, sometimes with brands included. The House of Yes plaza was hosted by the Brooklyn, NY-based creative collective and nightclub of the same name. The plaza served as a dedicated LGBTQ space and included an activation from brand partner Durex, which offered a Sex Therapy Booth decked out in a rainbow color scheme and manned by drag queens and costumed brand ambassadors.
Attendees could get real about their sex habits, ask questions and get free condoms to prepare for what the brand has dubbed #unforgettablenights. Simple, but effective. The pre-event promotion for the experience said it best: "Come chill with us at the Yes Barn and chat about the nitty gritty of your funky bits."
BEARCLAW COFFEE CO.
Bearclaw's footprint was located just outside the Centeroo gates. The brand's bright orange sampling truck had a consistent line, while its surrounding footprint invited attendees to sip their espressos and frozen mocha drinks and stay awhile (a partnership with the House of Yes also yielded a free condom with every drink purchase). There was branded corn hole to play, a photo op featuring a carved wooden bear to pose with and a nearby tent where festivalgoers could escape the heat. There, wooden crates spray-painted in rainbow colors served as the décor, while a "piano of positivity" was located at the center of the space. Attendees were invited to write or draw messages of positivity on the colorful instrument, which they did in spades. An on-brand Bonnaroo experience? You bet.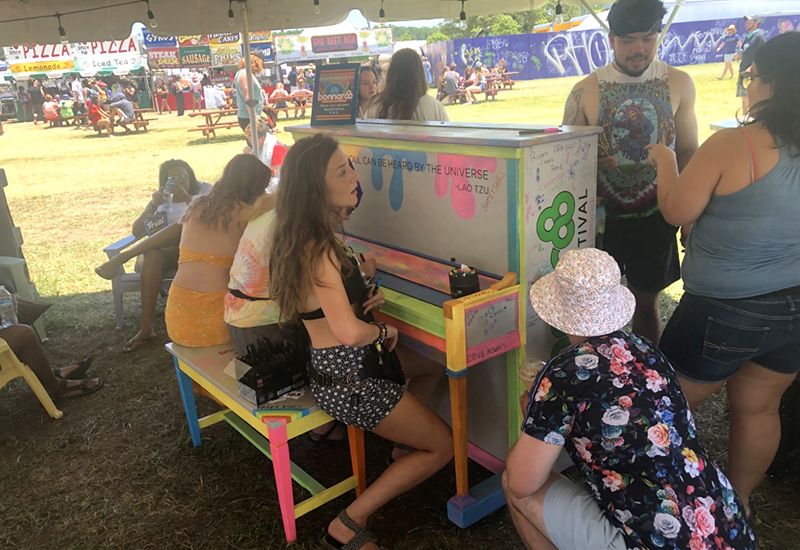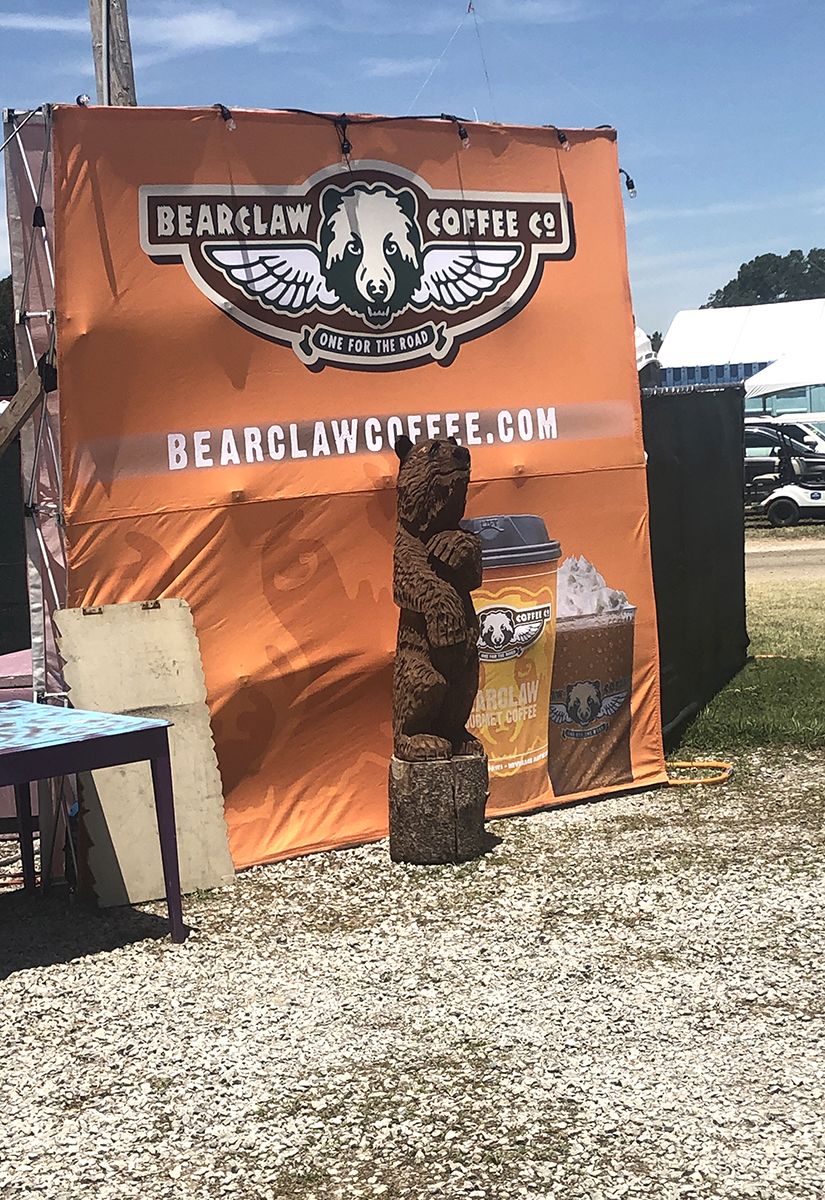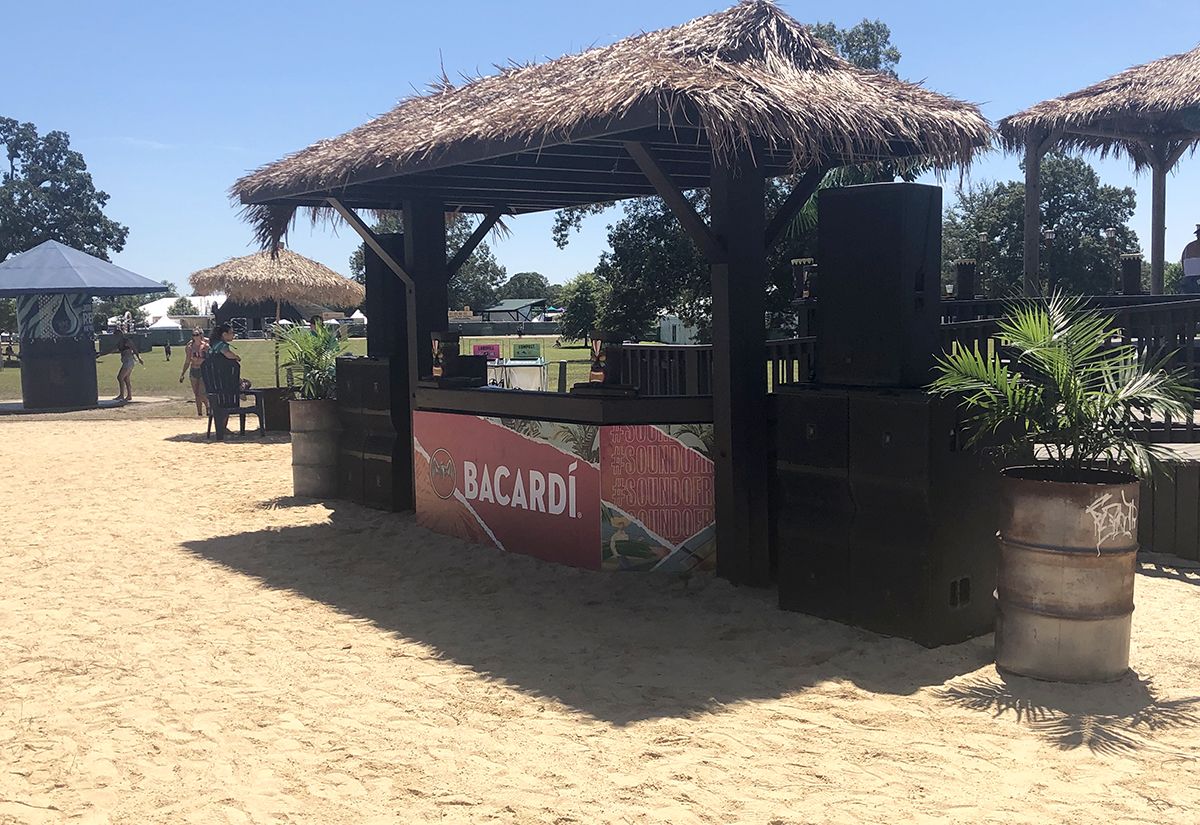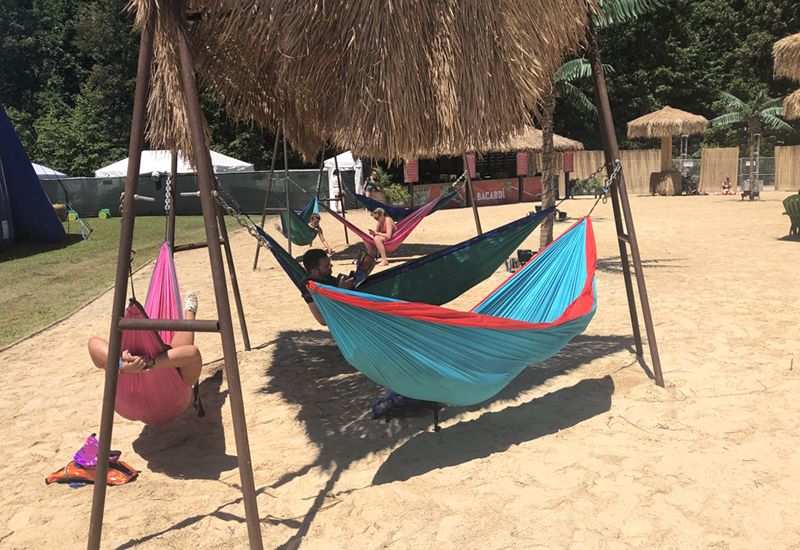 BACARDI
The OASIS at The Bacardi Bay offered a welcome escape from the hustle and bustle of the festival at large. Taking up a large chunk of real estate, the brand erected its own beach retreat, complete with real sand throughout. A gigantic, glowing "OASIS" sign featuring a palm tree helped attendees locate the footprint from afar and served as a popular photo op. During the day, festivalgoers chilled in cabanas, hammocks and branded island boats outfitted with pillows. They could also hand-make friendship bracelets and play beach volleyball (we dug the analog vibe). 
At night, the cocktails flowed, faux palm trees were lit up in neon colors, vibrant spotlights flashed through the space and tropical music blared, immersing attendees in Bacardi's #SoundofRum messaging and the care-free vibe ingrained in the brand's DNA. We'll drink to that (Agency: Mosaic).
STATE FARM
State Farm's activation was designed to benefit non-profit music organization Notes for Notes, which might sound mundane, but guess what? It was a blast. The brand once again activated within its Neighborhood of Good, a series of branded tiny houses, each of which offered a different music-themed experience and more information on Notes for Notes. And for every engagement an attendee participated in, State Farm donated to the charity.
After entering our email into an iPad, a brand ambassador led us to the first house, the State Farm Studio, where a "Recording in Process" sign hung overhead. The brand ambassador offered three current songs to choose from, explaining that we would be creating our own shareable music video of sorts. We then stepped into an enclosed space filled with light effects and danced our little butts off to Panic! At The Disco's "High Hopes." The 20-second clip of the experience we later received didn't disappoint.
Next, we headed to Club Jake, a silent disco-style engagement experienced up on a stage (this one was not designed for wallflowers) featuring an interactive LED floor. We snagged a digital fan emitting rainbow colors, tossed on some headphones and created a playful Boomerang as we danced around. Then we headed to the next house, where we were recorded playing the drums (and slaying, obviously) and received another shareable video of the experience. 
The final stop was at State Farm Records, where we got a chance to listen to music created by youth benefitting from Notes for Notes, which provides kids with free access to music education and instruction. A series of kiosks allowed attendees to choose which genre of music or artist they wanted to hear, then played a related audio clip and offered more information on the musician. And we were seriously impressed with everything we heard, particularly a hip-hop artist from Brooklyn, NY. Next, we had the opportunity to write a message of encouragement to any of the young artists featured. And finally, in true State Farm fashion, the brand offered a free takeaway, proving it's still #HereToHelp (we were already a bit pink, but the sunscreen we opted for was a true lifesaver).
Rounding out the experience were umbrella-covered picnic tables for relaxing and an oversized guitar handle and amp installation that made for a popular photo op on its own. By connecting to State Farm's Wi-Fi, attendees could also unlock an interactive photo experience with the guitar on Snapchat. 
Survey says? State Farm was fun, shareable, on-brand, altruistic—and our favorite Bonnaroo activation (Agency: The Marketing Arm).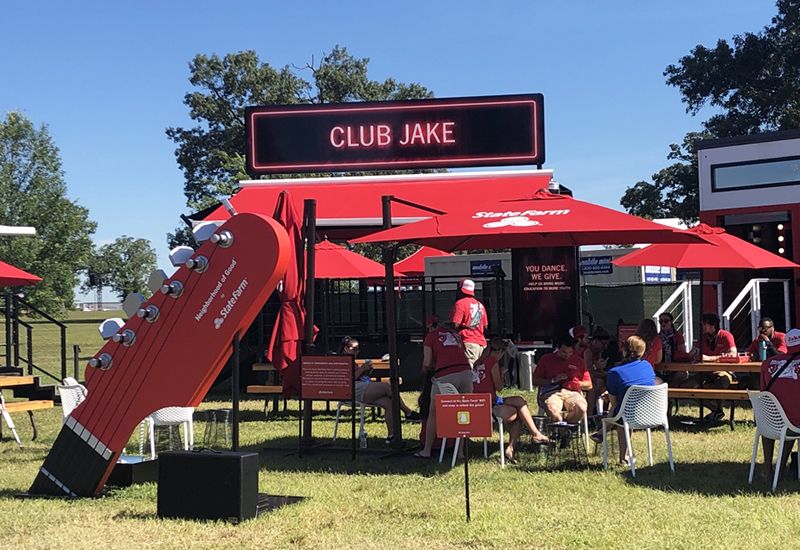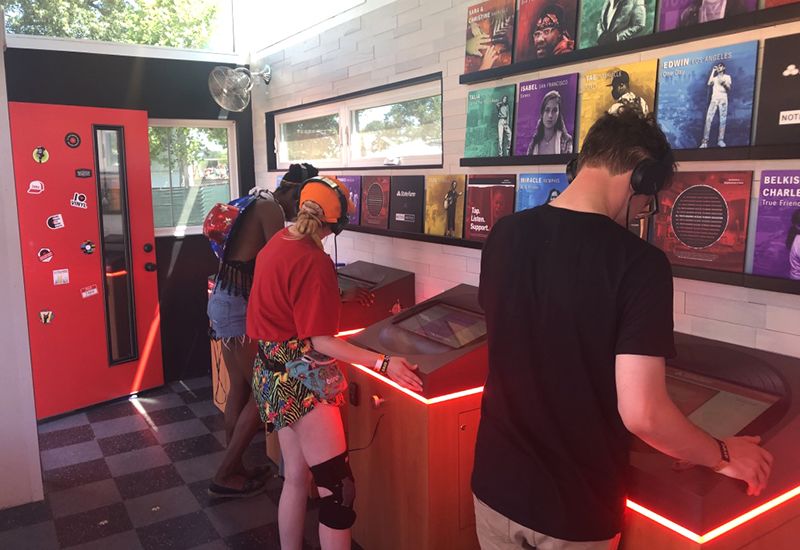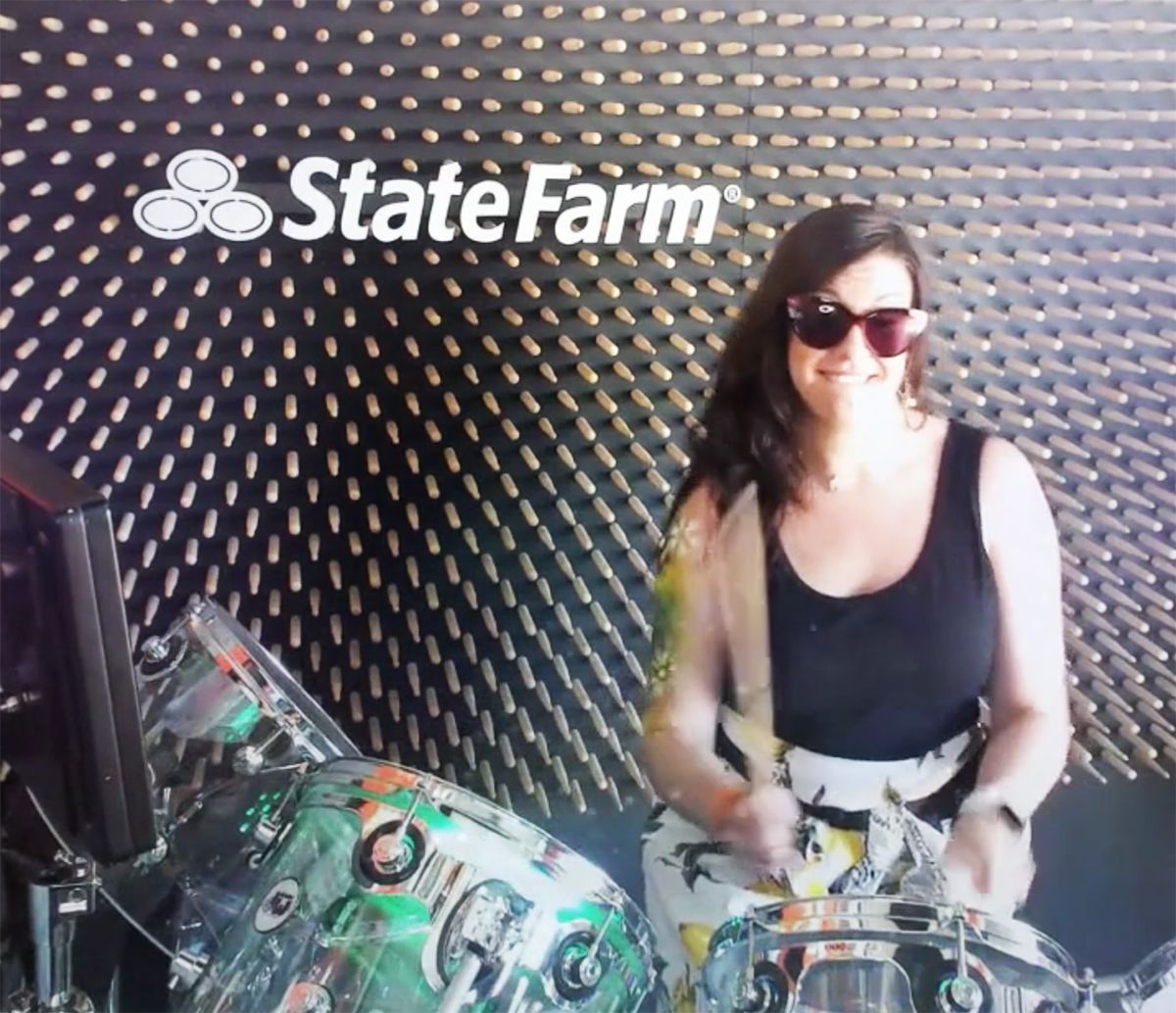 HONORABLE MENTIONS
We can't list them all, but there were certainly a few other brand experiences worth mentioning. CORE Hydration, a pH-balanced water brand, offered a popular photo op that made it appear as if partakers were hanging upside down from the ceiling, playing on the "balance" concept associated with its products. ASICS sponsored the first Roo Run, offering prize packs to participants with the best costumes. Lodge turned its campsite cookware into instruments for a fun photo moment. Old El Paso created happy hours featuring free "Taco-Roo Bowls." HeadCount urged attendees to "Pledge to Vote" for a chance to win prizes, and offered a Plinko-style game and free pins. And Altos Tequila activated from within an open-air wooden structure with plants and colorful branding, offering cocktails for a fee and a music-themed GIF experience. 
Photo courtesy: FilmMagic