FANNING
THE FLAMES

How Brands Engaged Pop Culture Superfans at Comic-Con International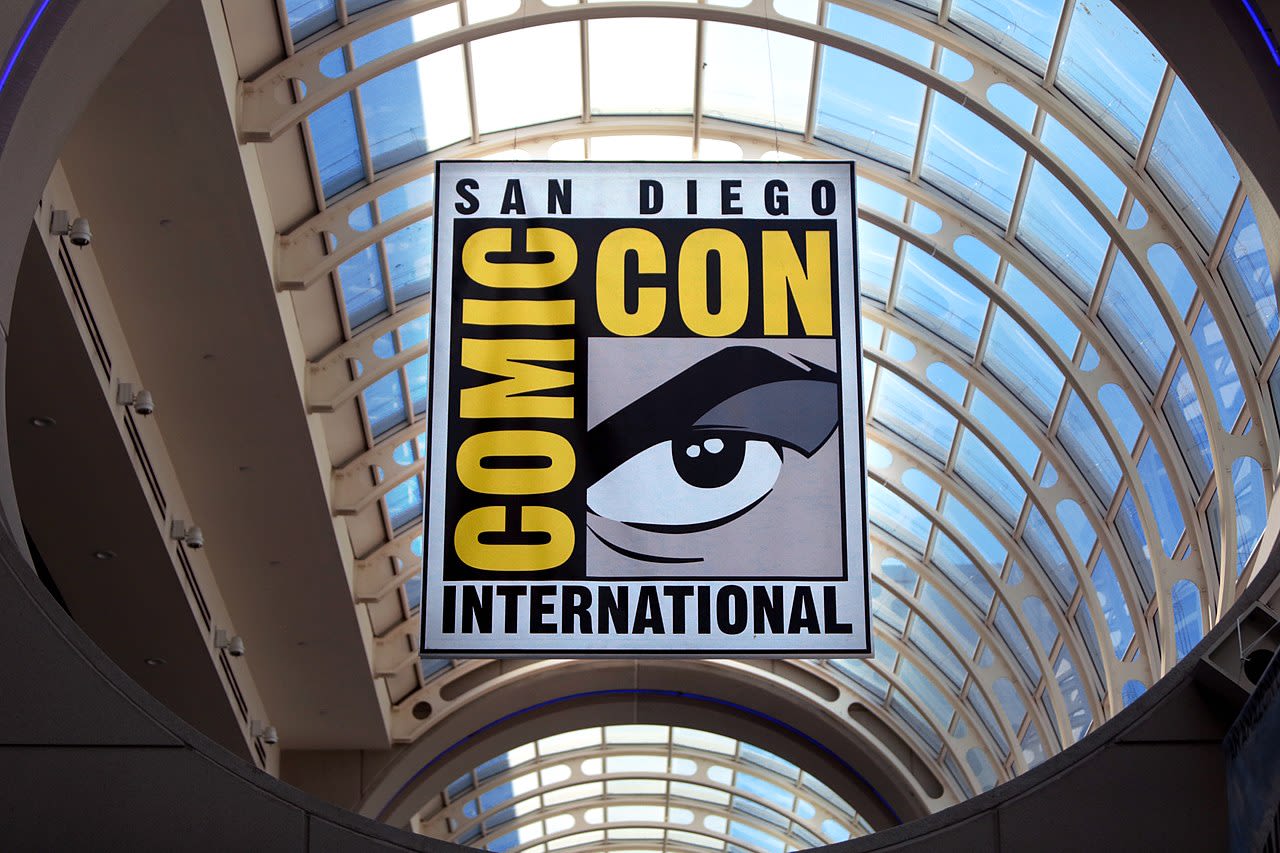 Wandering down a crowded street, a man dressed as Mario physically holds a replica Nintendo coin box above his head. Nearby, scores of consumers wait in a three-hour line to participate in a 10-minute escape room experience. No, we're not in an alternate universe. This is Comic-Con International: San Diego, the original event platform for pop culture superfans of every stripe.
For four days each summer, rabid entertainment buffs from around the globe infiltrate San Diego to attend panels on their favorite movies, TV shows, comic books and video games. But as the 48-year-old convention has evolved, the 130,000-plus fans that now attend have become just as enthralled by the brand activations taking place just outside the San Diego Convention Center, as they are the event's traditional seminars.
We got a chance to catch most of the brand action live this year (no badge required) and amid the endless lines and scorching heat, one thing became clear: superfans—who span all ages, races and genders—will endure just about anything if it means getting closer to their favorite characters and content.
Here we take you inside the free fan experience, and then, on a tour of experiential activations all across San Diego. Summon your X-ray vision and buckle up.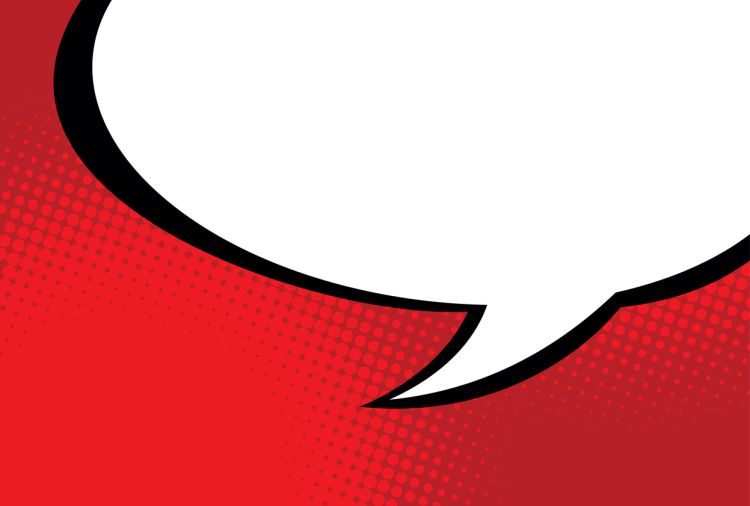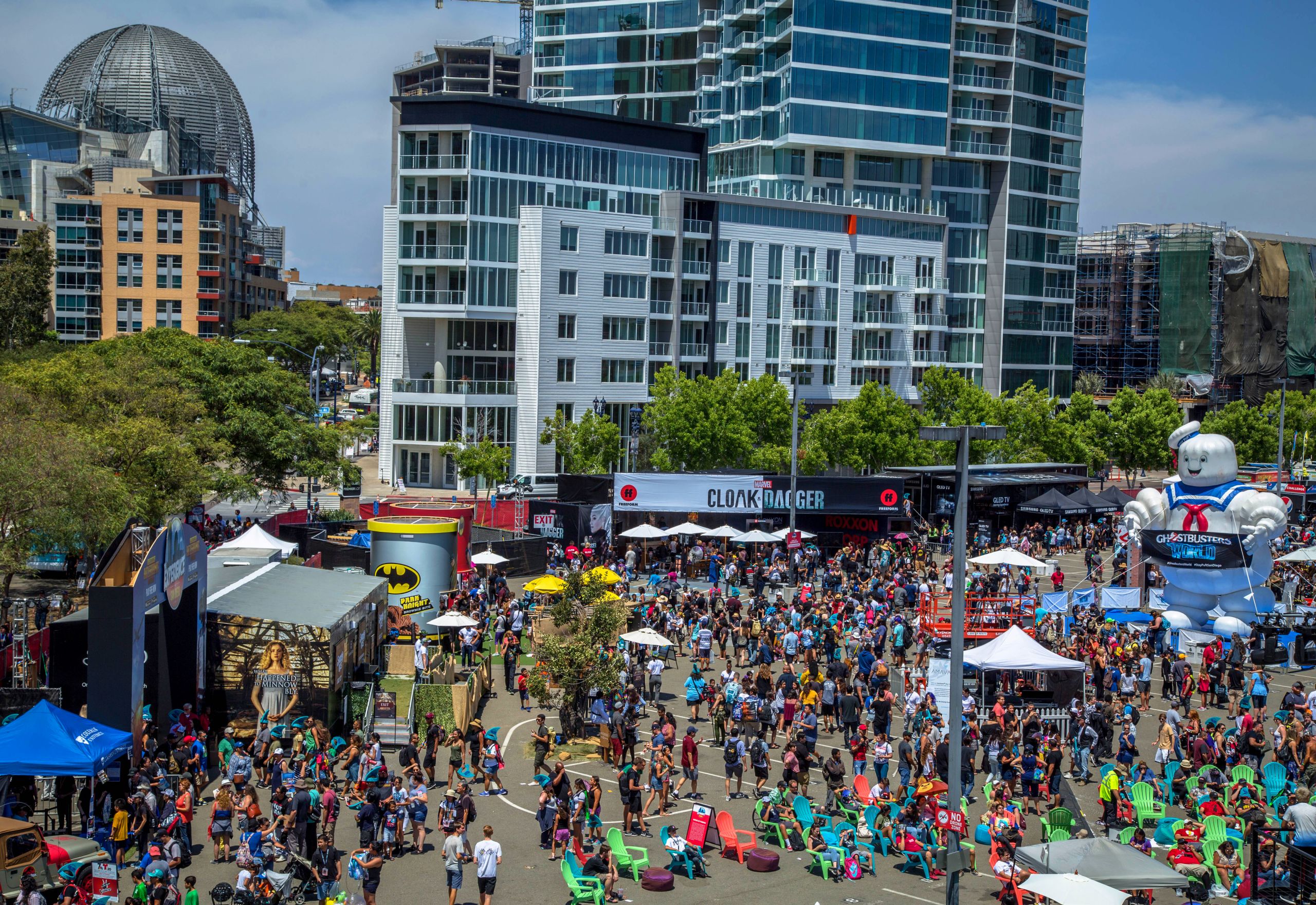 The Experience, powered by San Diego event agency Grandesign in partnership with the San Diego Padres, served as a three-acre experiential playground just outside Petco Park where attendees could participate in a host of free brand activations and grab a bite to eat, no badges required. Here's a look.
MARVEL
Avengers: Infinity War
Marvel brought its A-game with an experience that offered to help fans traumatized by the end of "Avengers: Infinity War" cope by offering grief counseling inside an air-conditioned space. An actor was on-hand to talk with fans about their anguish, as well as their favorite memories from the Marvel universe. As fans exited, they snagged a donut and stepped outside for a Group Hug photo op with a Hulk installation big enough to embrace 10 people at a time.
Cloak & Dagger
To bring to life Marvel's "Cloak & Dagger" series on Freeform, which centers on two fictional comic book superheroes, the brand re-created an iconic moment from the show during which the main characters' super powers interact. To replicate the scene, Marvel constructed a (beautiful) dilapidated church, complete with pews, stained glass and lit candles. There, those brave enough to participate in the experience (we totally chickened out) were harnessed to a bungee that thrust them backward and forward from the force of their "powers." Slow-motion footage of the activation featuring an overlay effect that captured both the "light and dark energy" emitting from participants was also captured. One for the books. Agency: Grandesign, San Diego.

History
History promoted its upcoming scripted series "Project Blue Book," about secret UFO investigations conducted by the Air Force, inside a "top secret" replica bunker guarded by quite convincing actors portraying military personnel. The space was brimming with the kind of computer systems you might find in a spaceship, along with killer props. Attendees filled out UFO reports detailing their alien encounter, which a sketch artist then turned into a shareable takeaway. They also earned clearance badges, beamed messages out to space and viewed projections of actual Project Blue Book case files. We'd tell you more, but then we'd have to kill you.

Facebook Watch
Facebook's new on-demand streaming service, Facebook Watch, promoted its original program "Sacred Lies" through a reverse escape room experience fueled by the show's storyline about Minnow Bly, a teen running from the brutal cult that chopped off her hands—so you know we had to participate. (We also got a chance to meet Elena Kampouris, the actress portraying Minnow, who was just as charming and quirky as you'd imagine for someone playing a hand-less fugitive.)

Throughout the journey, guided by an actor playing the cult's ruthless leader, we solved puzzles in two elaborate, conjoined spaces brimming with detailed props, clues and decoys. We also viewed a jarring clip from the series, giving Facebook Watch the edge over other TV show-based activations at Comic-Con, most of which didn't include content. Attendees could also participate in a "Sacred Lies" VR experience outside the escape room.

In the end, our group was able to solve each puzzle, leading us to a confirmation ritual in which we placed flower crowns on our heads, held hands and became official members of the cult. This one not only made our list of experiences so creepy you wish your mom were there to hug you, but easily qualified as one of our top five SDCC activations. Agency: The Visionary Group, Los Angeles.

Sony
Sony Pictures' Ghostbuster's World experience wasn't particularly intriguing to us, but fans consistently lined up to participate in the activation. The focal point of the experience was a larger-than-life version of the Stay Puft Marshmallow Man, who looked just as domineering as in the film. Fans went wild for a photo op with replica "Ghostbusters" uniforms and the Ecto-1 vehicle from the films, which was easily the biggest draw. They could also try out the new Ghostbusters World augmented reality game where players catch ghosts, then received a branded PopSocket for giving it a whirl. Agency: Grandesign, San Diego.
Samsung
Samsung, in partnership with Xbox, targeted the gaming crowd with an interactive experience both outside under tents, and inside a sleek mobile unit that was, mercifully, air-conditioned. Touting its QLED TVs, the brand gave attendees a chance to face off in the Samsung Forza Motorsport 7 competition inside custom-built gaming pods, with prizes like 55-inch TVs up for grabs. Indoors, attendees did a trial run of the game with assistance from brand ambassadors, then participated in full-out battles fueled by a leader board outside. Samsung also captured attendee data through a shareable GIF experience. Agency: Encore Worldwide, Roswell, GA.
Nestle Dreyer's Ice Cream
Nestle Dreyer's Ice Cream joined forces with Warner Brothers Consumer Products group on behalf of DC Entertainment for the launch of their DC Super Hero Ice Cream line earlier this year. Each product—Golden Lasso Twirl, Dark Knight Brownie Bite and Krypton Cookie Dough—is based on a DC character, making Comic-Con the perfect launchpad for the new flavors. Equipped with two 15-foot-high replicas of Super Hero Ice Cream cartons, the brands created an Instagrammable sampling experience, dishing out complimentary three-ounce scoops of all three flavors throughout the weekend (we loved the tagline: "Justice is Served. By the Scoop."). The lines, of course, were constant, giving brand ambassadors a chance to chat with consumers about the new products while they had a captive audience.

The concept of getting free ice cream while battling the San Diego heat and humidity was a smart play (and certainly drew our attention), but for superfans, it was also the little details incorporated into the experience that made it one to remember. Like the comics they could explore on the back of each supersized carton, or the assortment of branded premiums they could snag. There was also a photo wall depicting the three characters featured in the Super Hero Ice Cream collection (Wonder Woman, Batman and Superman) supplemented by fun props, which attendees were encouraged to share on social using #SuperHeroIceCream.
"I think it resonated with folks that were waiting in a lot of long lines. Just being able to learn about the products on a hot summer day, it was kind of the perfect activation for an event like Comic-Con."
The brands ultimately dished out 17,000 samples and more than 4,000 premiums. Agency: Allied Experiential, New York City.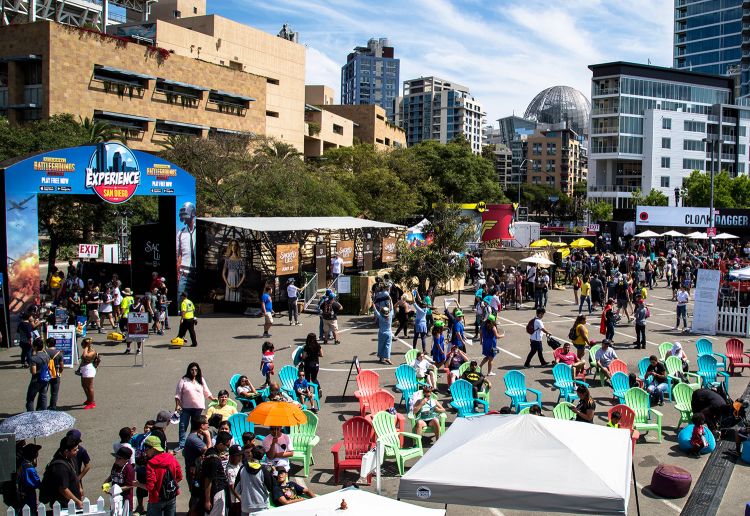 The Experience offered an array of free activations for fans to enjoy—no badges required.
The Experience offered an array of free activations for fans to enjoy, no badge required.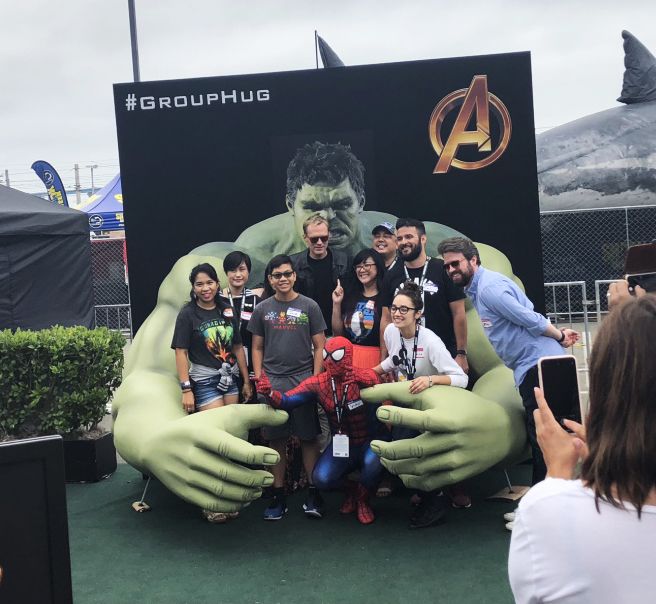 Marvel's Group Hug photo op with a Hulk installation was a fan favorite.
Marvel's Group Hug photo op with a Hulk installation was a fan favorite.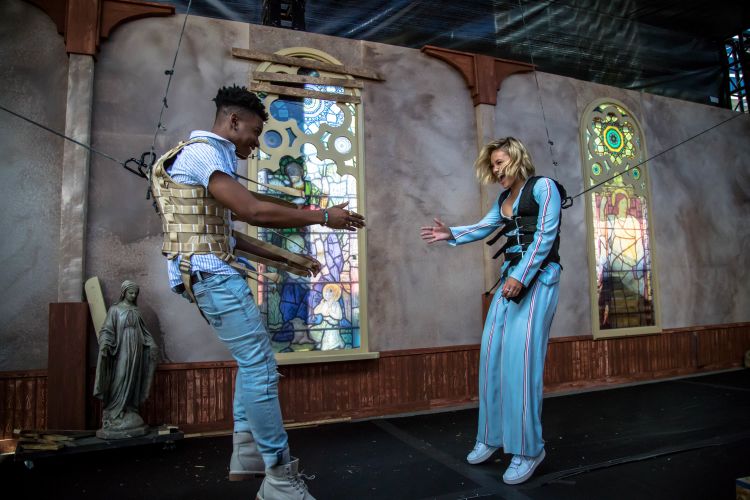 An iconic moment from "Cloak & Dagger" in which the main characters' super powers interact was re-created on-site.
An iconic moment from "Cloak & Dagger" in which the main characters' super powers interact was re-created on-site.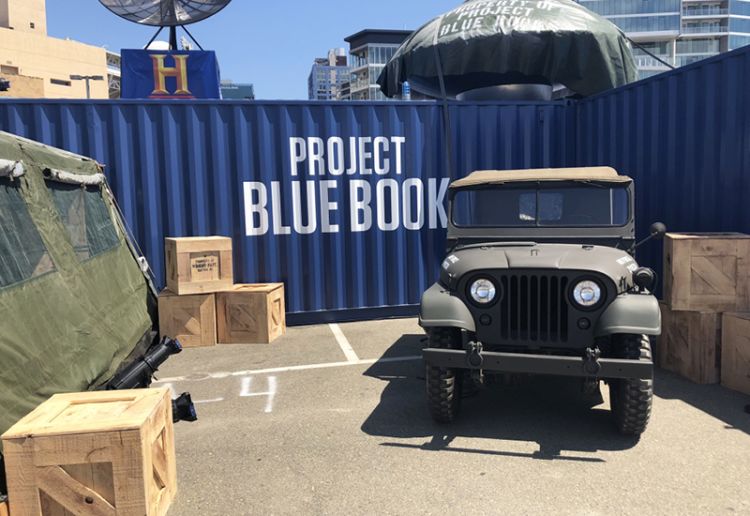 History's "top secret" replica bunker and authentic props helped promote its series "Project Blue Book."
History's "top secret" replica bunker and authentic props helped promote its series "Project Blue Book."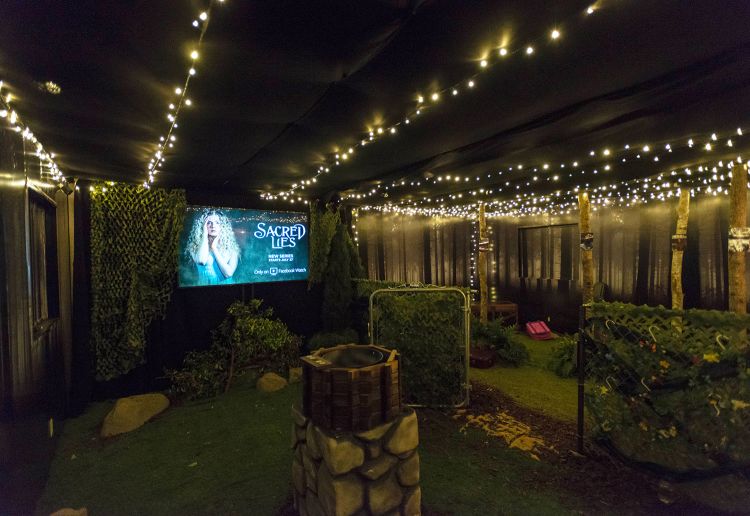 Facebook Watch terrified fans with a "Sacred Lies" escape room featuring actors, elaborate props and a sneak peek at the show.
Facebook Watch terrified fans with a "Sacred Lies" escape room featuring actors, elaborate props and a sneak peek at the show.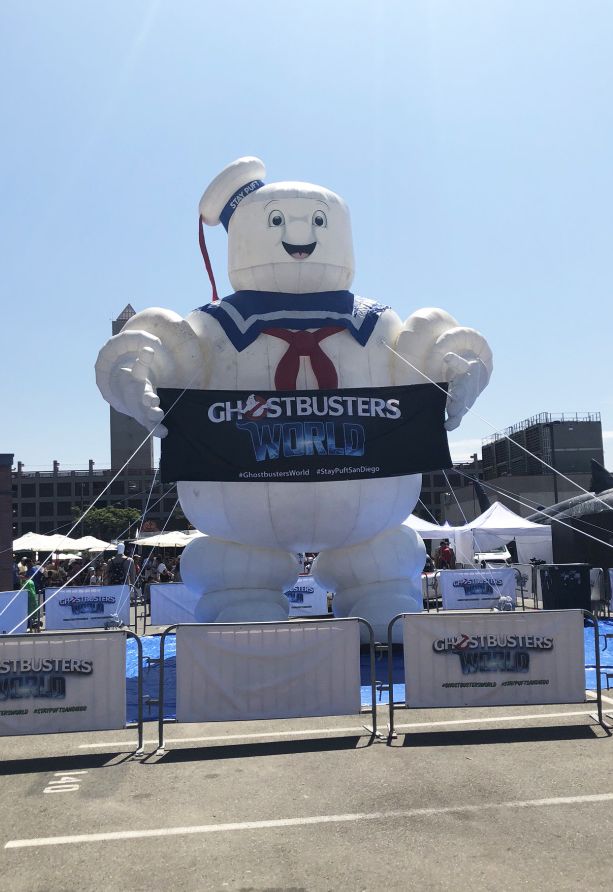 The Stay Puft Marshmallow Man couldn't be missed at Sony's Ghostbuster's World activation.
The Stay Puft Marshmallow Man couldn't be missed at Sony's Ghostbuster's World activation.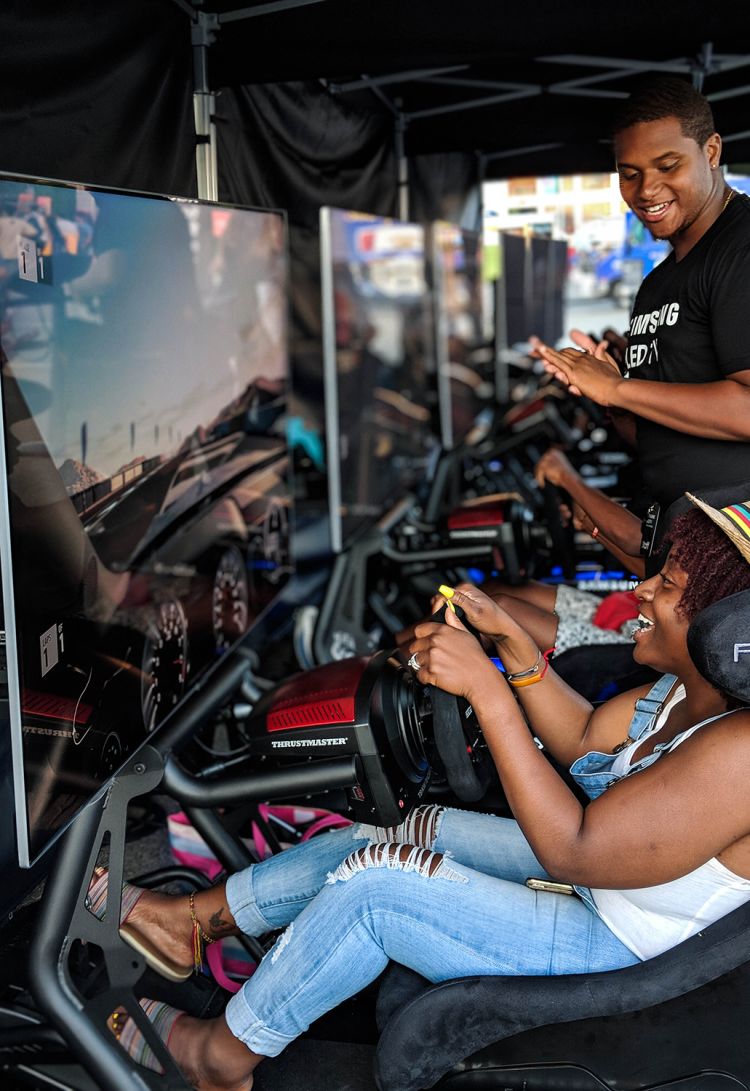 Attendees faced off in the Samsung Forza Motorsport 7 competition inside custom-built gaming pods.
Attendees faced off in the Samsung Forza Motorsport 7 competition inside custom-built gaming pods.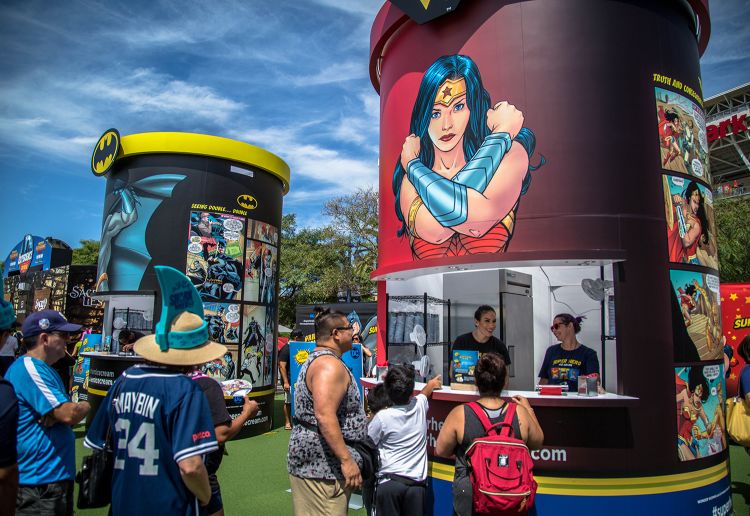 Nestle Dreyer's Ice Cream served free Super Hero Ice Cream inside two 15-foot-high replica cartons.
Nestle Dreyer's Ice Cream served free Super Hero Ice Cream inside two 15-foot-high replica cartons.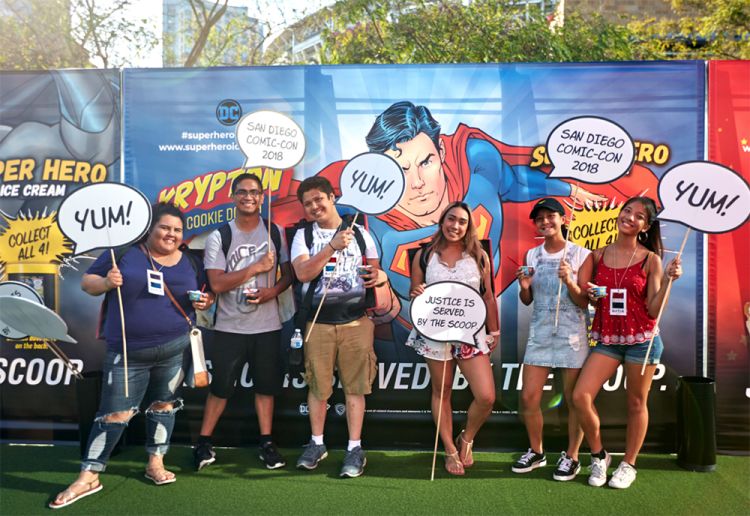 Attendees posed against a super hero-themed photo wall with playful props.
Attendees posted against a super hero-themed photo wall with playful props.
ACTIVATIONS ACROSS
SAN DIEGO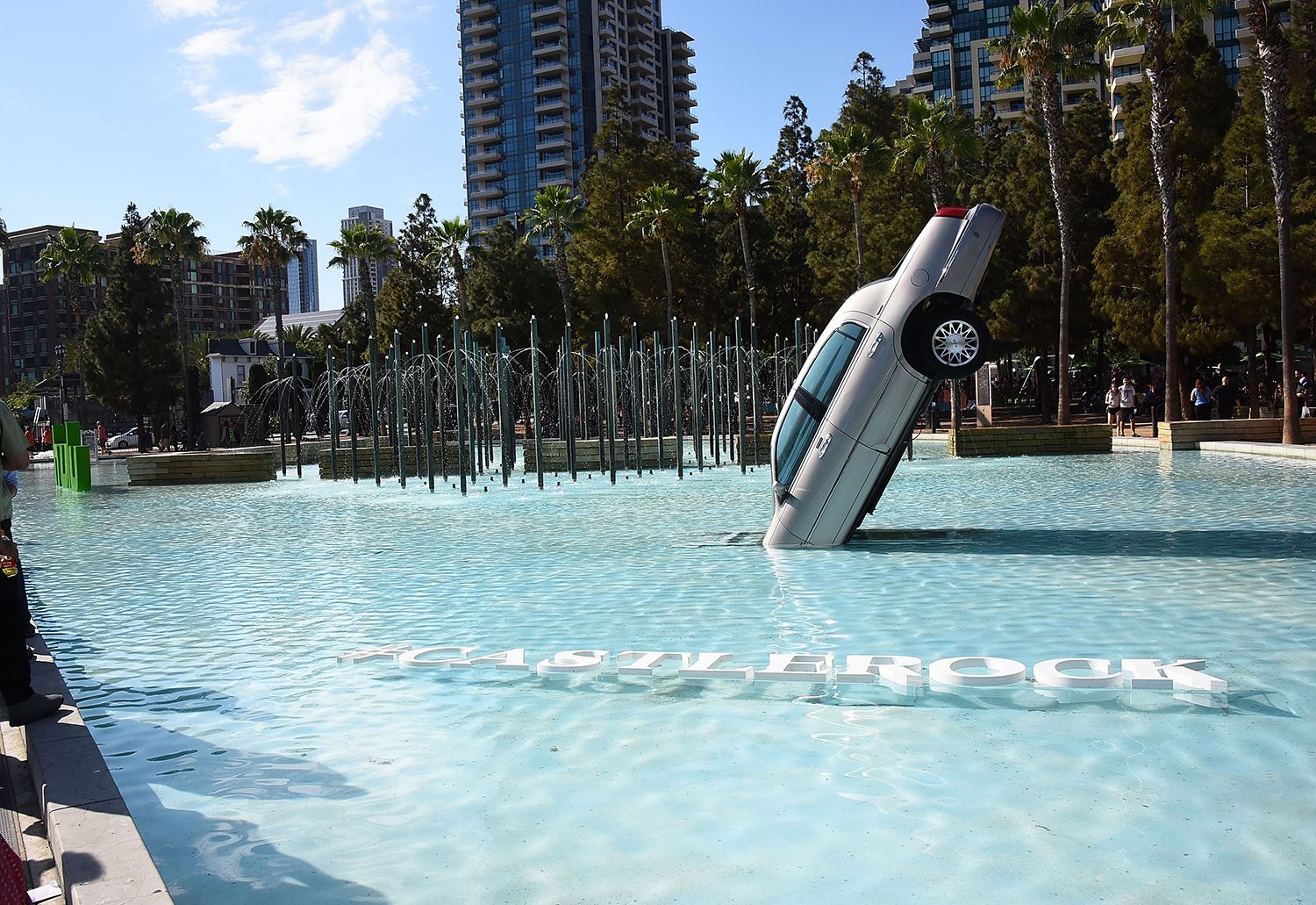 Hulu
Have you ever screamed bloody murder in the middle of an activation? Asking for a friend. In any case, Hulu's "Castle Rock" experience, which immersed fans in the new series' horror-filled bed and breakfast, was perhaps the most immersive activation we experienced at SDCC. Hulu went all-in, erecting the façade of a strikingly real-looking bed and breakfast on what is otherwise an empty property to envelop fans in the show's Stephen King-based storyline.

Before the experience began, we were given an RFID-enabled, branded bed and breakfast key, which ultimately served as a unique memento. We then met the proprietors of the venue, two unnervingly upbeat, identically dressed actors who gave our group insights into the strange goings-on of Castle Rock, Maine. The duo didn't break character for a second, sending shivers down our spines.
Inside the bed and breakfast's unsettling lobby, another talented (read: creepy) actor asked us to enter the room that correlated with our keys. Each room housed a terrifying multisensory experience. Ours was a dark, enclosed space where screaming echoed through the walls and strategic lighting created a disorienting experience from which we could not escape—until, that is, we were ushered into the next phase of the experience.

Our hearts still racing, we were then guided through a tour of the macabre bed and breakfast. Among the touchpoints: a long hallway with fractured lighting lined with mannequins; a bathroom where a character from the show washed severed body parts in a bathtub; and a room that looked like a replica insane asylum where a patient strapped to a bed was executed, then sprung back to life—eliciting a few shrieks from onlookers. The moment was secretly captured as a GIF, then emailed to participants as a surprise digital souvenir.
Across the street from the bed and breakfast, the experience extended into the Castle Rock Forest, where an empty jail cell was planted, along with a campsite lounge where attendees could get a sneak peak at the new series. In the nearby fountain, the front half of a car positioned nose-first into the water intrigued passersby. The other half of the car was cleverly revealed at the bed and breakfast. Our guess is it won't belong before other networks looking to promote their series play copycat. A real scream. Agency: Creative Riff, Los Angeles.

FOX
FOX's 360-degree "Cosmos: Possible Worlds" experience, created in partnership with National Geographic, transported attendees onto the deck of the Ship of the Imagination where they could view far-off galaxies inside a visual effects viewing dome. The activation, narrated by series host Neil deGrasse Tyson, teased the second season of the docu-series. We were so enveloped in the sensory experience it was almost dizzying.
To promote its forthcoming series "The Passage," FOX leveraged a glass-encased structure, which revealed a "viral" patient inside a re-creation of the show's secretive medical lab. The actors playing the patient at different intervals slinked around the space, staring at passersby and eerily pressing themselves against the glass.

Additional FOX activations included photo ops featuring authentic backdrops for "The Simpsons" and "Family Guy;" "The Orville"-branded Pedi cabs offering complimentary rides and exclusive content; and street teams promoting "The Gifted," who helped fans unlock their "mutant vision" through free 3D viewers used to view series artwork placed on the Omni San Diego Hotel and local trolleys. Agency: Creative Riff, Los Angeles.
FX
Executing a complete takeover of the Hilton San Diego Bayfront Hotel's lawn, the "FXhibition" experience brought to life an array of the network's most popular series, including "Legion," "American Horror Story," "Mayans M.C.," "It's Always Sunny in Philadelphia" and "Archer." Agency: Creative Riff, Los Angeles.
Topping the list was the "American Horror Story" Eccentricities Gallery, an augmented reality experience that revealed "terrifying secrets hiding in plain sight" and clues about the series' eighth season. Attendees were given an iPad and a pair of headphones to help guide them through a hair-raising art gallery, with spatial audio helping to create an eerily isolating experience. At the end of the journey, FX offered a custom AR filter that gave participants a chance to snap a takeaway photo, which could also be shared on social media. Additional agencies: Groove Jones, Dallas; Postal, New York City.
Inside the Legion Chamber, fans were immersed in a 360-degree audiovisual installation designed to make them feel as if they'd been disconnected from the real world. The psychedelic maze of mirrors and fragmented reflections brought to life the idea of a "sane man in an insane world" through an artistic representation of the series. Additional agency: Marco Brambilla Studio, New York City.

Fans of "It's Always Sunny in Philadelphia" got a feel for the show's 13th, horror-themed season through a series of camping-themed touchpoints that served as water and sunscreen stations and hilarious photo ops with cutouts of the cast.

FX promoted season 10 of "Archer" with whimsical sound boxes designed to look like the show's main characters, each offering humorous sound bites from the series. Quotes from our favorite character, the cheeky Lana Kane, didn't disappoint. Attendees also leveraged the installation for playful photo ops.
AMAZON
Amazon Fire TV
Amazon Fire TV's Fast Forward to the Future activation took up a massive footprint on 7th Ave. that attracted a constant stream of entertainment buffs. The space was chock-full of neighborhood-themed vignettes that emphasized the intersection of hardware and content and helped drive hands-on trial and purchase intent for the brand's Fire TV Cube, Stick and Edition devices. Throughout the vignettes, Amazon offered a blend of old-school entertainment technology—like a jumbo TV remote installation—with its vision for the future of entertainment—like a whimsical photo op on a swing featuring "Cord Cutters Only" messaging and a backdrop of tangled wires.
The brand also offered content-based engagements produced in partnership with various entertainment networks, like a "Game of Thrones" photo op on the Iron Throne (yes, we had to do it, and long may we reign), and a chance to toss on a cowboy hat and step inside a "Westworld" vignette.
After exploring the vignettes, attendees could enter the Stress-Free Streaming zone in a separate part of the venue where the Fire TV experience came to life in a series of lounges inspired by, and streaming, popular TV programs like "The Good Place." Consumers could grab a mocktail, throw on a pair of futuristic headsets and check out each program in a silent disco-style experience.

Social media was also a key piece of extending the activation's reach before, during and after Comic-Con.
"We utilized social media to help amplify our event with fans. We built an interview studio into our activation [space] so we could share interviews with the casts of "Archer," "The Good Place" and others with fans on Facebook, Twitter and Instagram."
Also worth noting: As we chatted with brand ambassadors in the footprint's outdoor lounge, exhausted and sweltering, one BA disappeared only to return with ice-cold waters for us to take on the road. Nice. Agency: NVE Experience Agency, Beverly Hills, CA.
Amazon Prime Video
File this one under "how the hell did they pull that off?" You couldn't have missed the Tom Clancy's Jack Ryan Experience if you tried. Amazon Prime Video's activation transported EM and our fellow attendees to the heart of the Middle East inside a 60,000-square-foot outdoor footprint—but not without activating our "field clearance" as CIA operatives first.
We first stood in about an hour-long line (a reasonable wait time at Comic-Con) to register on digital kiosks to become an operative. This is where we learned that parasols are a thing at Comic-Con—and our sunburned bodies wished we had tuned in to this key insight before heading to San Diego. After registering for the experience, which yielded a customized profile that was later emailed to us, we were invited to revisit the experience at any time throughout the weekend without waiting in lines. Talk about incentive.

Inside the footprint, a Middle Eastern-themed bazaar featured a range of Instagrammable items, like detailed pottery and ornate décor. There, attendees could snag a free water bottle, complimentary snacks and "Jack Ryan"-themed swag while watching fellow attendees compete in the Jack Ryan Training Field experience on a live leaderboard (more on that in a moment).
Over at the Dark Ops escape room, which—surprise, surprise—consistently had two-hour wait times, participants were presented with their first field assignment as CIA operatives. The experience featured live actors, voice technology and immersive props as participants worked to uncover a deceptive plot, and obtain "classified" information.

The activation had so many touchpoints we could hardly keep up, but among the other highlights: Easter eggs hidden within free newspapers strewn throughout the footprint; a larger-than-life screen showing cast interviews; real military props; and charging stations where attendees could juice up their devices, fill up their water bottles and compete in a digital scavenger hunt.
Now on to the Jack Ryan Training Field experience, a master class in fan engagement. The first 100 attendees to line up each day for the activation at large got a chance to participate in the experience, which featured physical operative training activities enhanced by Oculus VR technology throughout. Participants descended from a real helicopter (c'mon!), traversed a 28-foot-high plank, infiltrated an enemy compound and took out assailants before taking a ride down a three-story zip line and making their way to a safehouse.

We don't know how Amazon Prime Video could possibly top this activation, but you can bet we'll be the first ones in line if the brand returns to Comic-Con in 2019. Agency: MediaMonks, Venice, CA.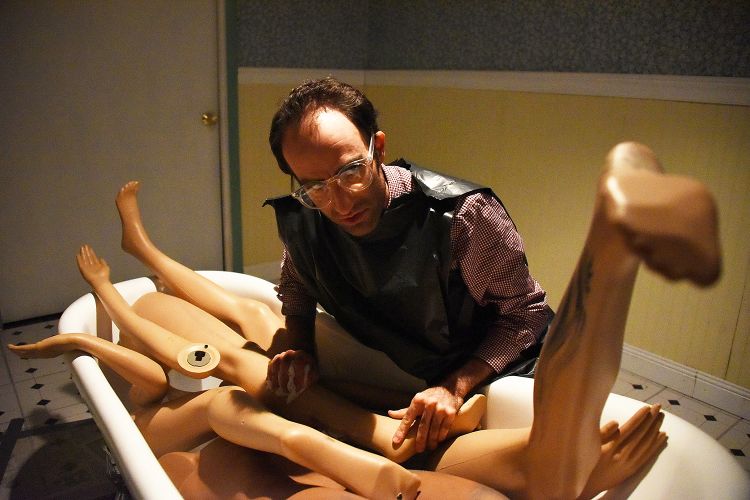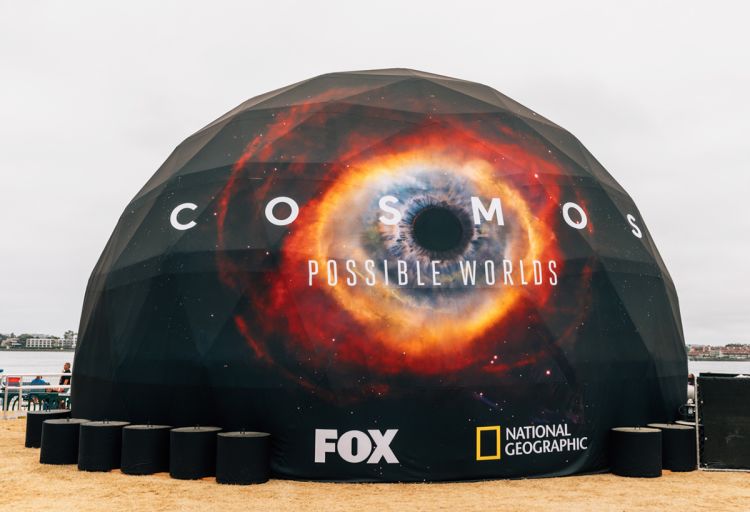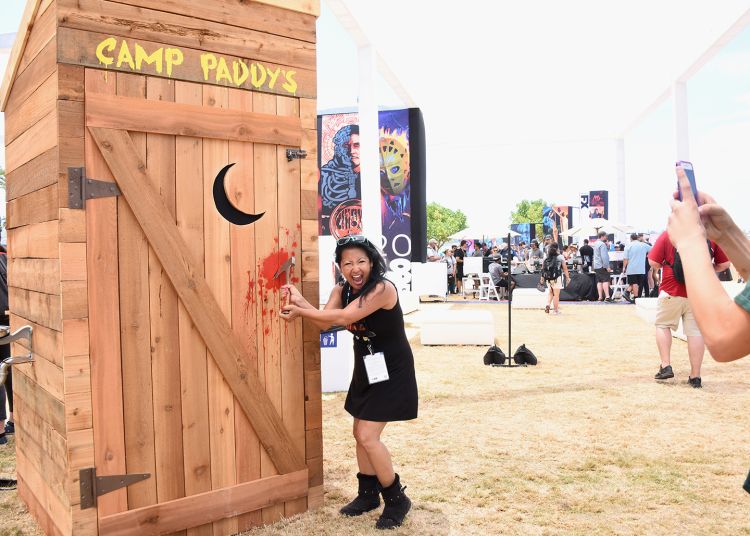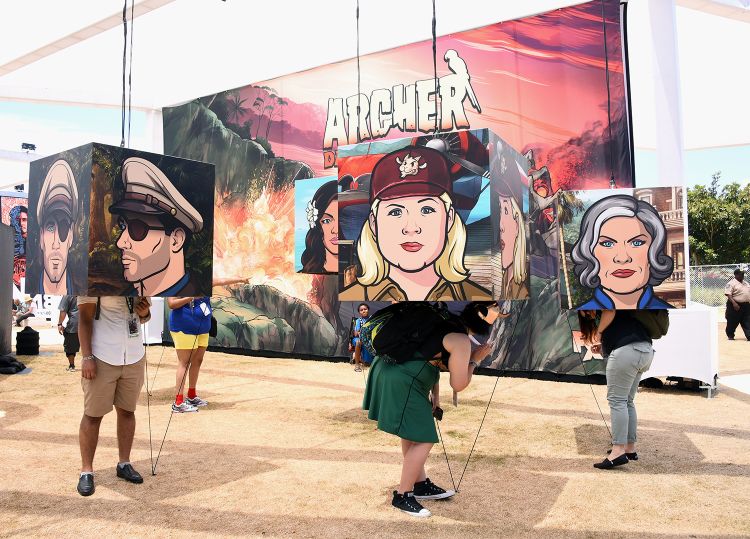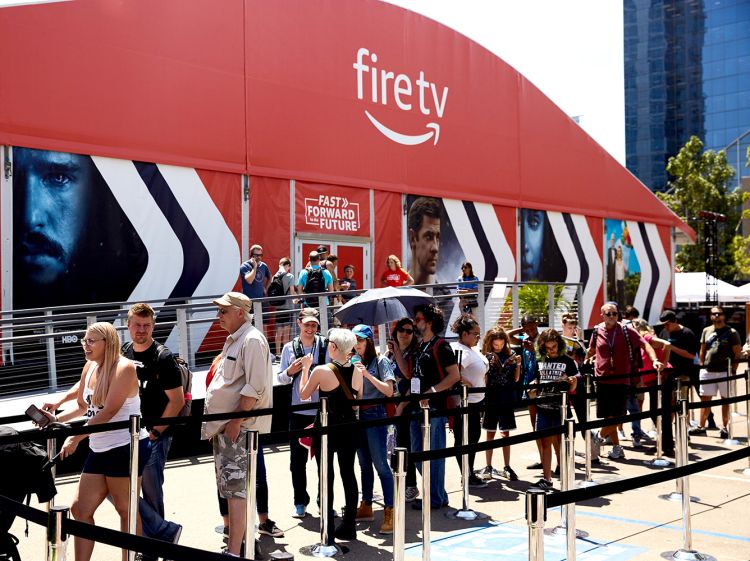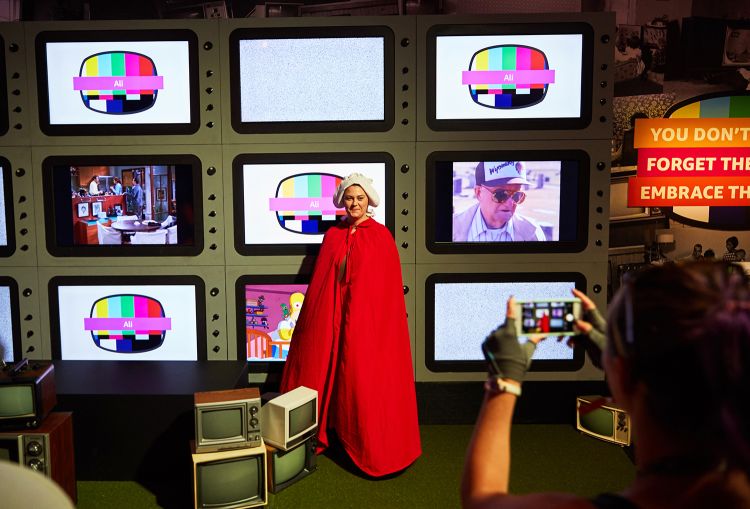 Comedy Central
To promote season 22 of "South Park," Comedy Central leveraged the pervasive escape room trend to deliver an experience featuring the show's quirky characters and popular storylines, along with a photo room, "South Park"-themed carnival games and cut-outs of popular characters and scenery, to boot. Fans waited in line for three to four hours to participate in the 10-minute activation, which was set inside a replica classroom from the show. As participants worked to solve puzzles, Cartman's voice antagonized them, lending an air of authenticity to the experience. We weren't able to participate, but we're told escaping the room was virtually impossible, frustrating more than a few attendees.
Syfy
Amid the tech-heavy brand experiences permeating San Diego, Syfy's array of activations offered some good old-fashioned fun. One of our favorites was the Syfy Karaoke Bus hosted by the cast of "Krypton," which is exactly what it sounds like. Attendees could be heard belting out their favorite tunes throughout San Diego all weekend (shout-out to the crew screaming Journey's "Don't Stop Believin'" like a class of incoming college freshmen). Similarly, branded Bingo Trolleys offered a traveling game experience.
Making good on its new tagline, "It's a fan thing," Syfy also shone a spotlight on fan-created art. The network unleashed a drum line in the streets of San Diego, which led to a mobile stage where comedian and actor Orlando Jones hosted a fan creator awards ceremony that celebrated superfan artwork ranging from original drawings to elaborate cosplay. Syfy subsequently distributed 20,000 bags featuring different forms of fan-created art to attendees, complete with the artist's signature.

"Putting the fan at the center of the [Syfy] channel and the filter in everything we do has become this sphere that we have followed to make sure we're igniting that boundless passion that each of these fans possesses," says Colleen Mohan, svp-brand marketing at Syfy. "Whether we are on our social platforms or at 'cons' doing that, wherever the fans are, we as a network want to be there so that we can mirror their passion and really speak their language."

Perhaps the most intriguing aspect of Syfy's Comic-Con presence was its collection of bright mystery boxes, which were gifted to fans that hopped a ride on the Karaoke Bus or Bingo Trolley. The brand also activated a human claw machine experience in which participants were suspended over a sea of mystery boxes and got a chance to snag one. The contents ranged from phone chargers and PopSockets, to fan-created art and collectible superhero figurines.

In the evening, Syfy invited attendees to free after-hours parties that strayed from the typical celebrity-laden soirees and, instead, celebrated fandom. "Harry Potter"- and fan creator-themed nights, bands and photo booths were all part of the experience.

Rounding out Syfy's activations were daily mystery streetwear drops that gave attendees access to exclusive merchandise created by three popular comic artists and two major streetwear brands. The limited-edition gear sold out within minutes each day. Agencies: HudsonGray, New York City; Mirrored Media, Santa Monica, CA.
"Wherever the fans are, we as a network want to be there so that we can mirror their passion and really speak their language."
NBC
NBC's activation, based on its show about the afterlife, "The Good Place," racked up some of the longest lines of the weekend—the minimum wait time to enter the experience was a grueling three hours every time we walked by—but throngs of attendees were willing to stand in the blazing California sun to check it out after registering for the experience and receiving a wristband connected to a customized profile. Before participating in the central part of the activation, attendees could check out a larger-than-life fork installation, (a nod to the show's replacement of a certain four-letter word with "fork") which also drew curious passersby.
The crux of the experience, however, took place inside a re-creation of the show's whimsical town square, where restaurants only serve frozen yogurt and Hawaiian pizza. Fans first experienced a digital greeting from co-star Ted Danson, then walked into The Good Place, where they received a cup of frozen yogurt and mingled with actors representing some of the eccentric personalities found on the show.
Along the journey, attendees could take a whirl on the shrimp carousel (shrimp is a common theme in the show), get a sweet treat at the cupcake stand, test their moral fiber during a model train engagement and view playfully optimistic messaging throughout, like "Everything is fine." In the end, participants were abruptly shoved through the "Infinite Light" tunnel back into The Bad Place—real life.

The activation also included a takeover of the adjacent Tin Fish restaurant, which was rebranded as "The Good Plates" and served menu items like "Greener Pastures Salads." Fifty percent of proceeds from the café were donated to No Kid Hungry, proving NBC gives a fork. Agency: Oaken Anchor, Los Angeles.
AMC
Promoting both "The Walking Dead" and its spinoff, "Fear the Walking Dead," AMC's DeadQuarters entailed a curated journey through replica settings from both series, like The Sanctuary, that had attendees buzzing throughout the weekend. The activation was like a superfan's dream come true, featuring clever photo ops, roaming "walkers" (zombies) and key props from the shows, like a flaming version of Negan's baseball bat, Lucille. Fans could also participate in gruesome engagements, like taking a ride down a 22-foot slide into a pit of walkers and getting ground up in a garbage composter. We're still having nightmares. Where's that grief counselor from the "Avengers" activation?
Adult Swim
As you might imagine, the camping-themed Adult Swim State Park was just as off-the-wall as the network itself, taking over a huge footprint by the 5th Ave. pier. We could have watched attendees navigate the adult playscape all day, thanks to engagements that included a mechanical hot dog ride (which we thoroughly enjoyed viewing on a massive screen within the footprint), chainsaw-wielding woodworkers; mini golf; mid-day bonfires for roasting s'mores and canoe races down a lazy "river," supplemented by raunchy (read: hilarious) commentary from a live emcee.
Fans could also stop by the Camp Store to pick up exclusive merchandise, and attend late-night events featuring screenings of Adult Swim programming and giveaways. We appreciated the network's continued efforts to, ahem, swim against the stream. Agency: Grandesign, San Diego.
Taco Bell
For the average person, stepping into the Taco Bell 2032: Demolition Man Experience, set in the year 2032, might result in a heavy dose of future shock. But for Comic-Con attendees, it was an interactive playground that not only celebrated the 25th anniversary of the cult classic sci-fi film, but offered everything a superfan could ask for: Easter eggs, real "Demolition Man" props, cutting-edge tech and authentic storytelling. Easily one of Comic-Con's most buzzed about activations, we tried our best to attend the coveted experience a time or two, only to find that the line had already been cut off due to the volume of attendees vying to get in.

Alas, 1,500 fans were lucky enough to make their way into the venue, which was transformed from the elegant Greystone Prime Steakhouse & Seafood restaurant into the Taco Bell of the future (in the movie, Taco Bell is the only restaurant left, having won the franchise wars). Attendees encountered everything from telepresence robots to original and custom-built props to live actors communicating in future speak to other-worldly décor. What's more, the activation featured a futuristic four-course meal, replicating the avant-garde food served in "Demolition Man." Menu items included dishes like "Franchise Future Fries," Taco Bell's Nacho Fries served in cryogenic-smoking metal vessels.
Among the other highlights: Hydroponic vegetables and plant-inspired décor that hinted at a future where food is grown indoors; a pianist serenading attendees with commercial jingles (a nod to the film's premise that all songs in 2032 are jingles), eliciting impromptu sing-alongs; upscale Baja Blast cocktails; and Morality Violation citations dispensed from a morality machine.

To boot, a real wedding proposal took place during the activation, prompting the entire restaurant to chant "Taco Bell"—the kind of moment event marketers only dream about.

In the end, the experience racked up more than 30 million social media impressions.

Chipotle, who?

Agency: Cyrano Rox, Los Angeles.