Panorama Music Festival Activations Engage Fans With Digital Art, Dive Bars and Dunk Contests
By Kaylee Hultgren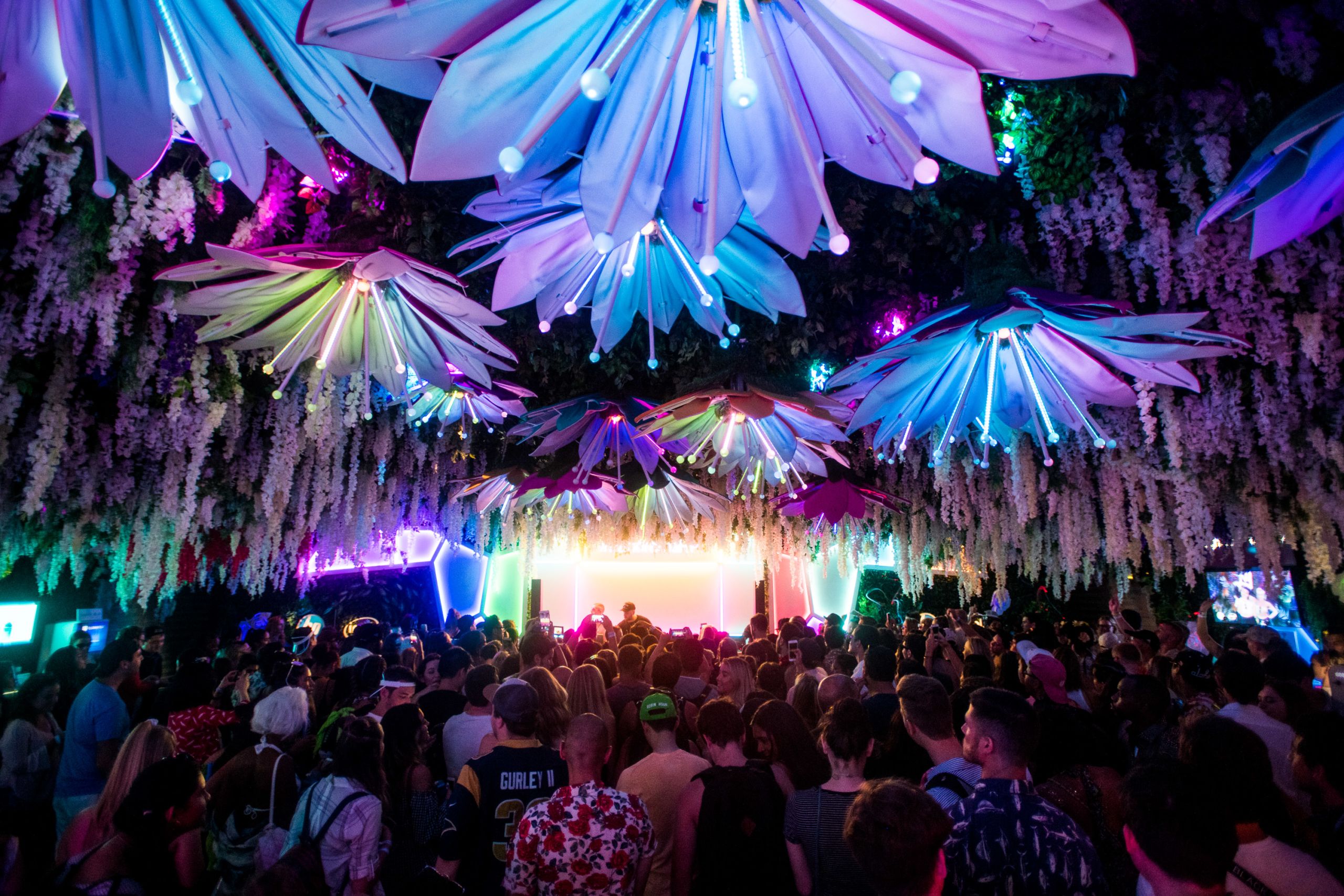 NewYork City's 2018 Panorama Music Festival may have had an unfortunate start this year, thanks to a storm that forced an early closure halfway through day one. But that didn't stop more than a dozen brands from engaging music fans throughout the festival's run, July 27-29, with interactive digital art installations, festival makeovers, copious swag and, of course—high-stakes games of cornhole. The weather didn't stop the EM team from meandering through the muddy grounds of Randall's Island Park all weekend, either, as we took in the sights, observed the largely millennial-age crowds and sussed out which activations stood out from the crowd. Here are our picks for the best of the fest.
American Express
Activating at the festival for the third year, American Express greeted festivalgoers with a wristband pickup station, which detailed cardmember benefits—including a cardmember entrance and access to a cardmember-only club—and doled out complimentary portable chargers. The brand erected a large, two-story structure on the grounds near the main stage, featuring a lower level available for all festivalgoers and an air-conditioned club above for cardmembers and a guest. Consumers entering the American Express Experience below had another opportunity to get a wristband for being a cardmember, which earned them a blue-and-white striped Amex beach mat—a gift that came in handy when the grounds started to get muddy. 
With tropical murals designed by local New York City artist Jeremyville as the backdrop, the space offered an opportunity to play "Island Bowl" with minipins, charge up a device and pen their "best advice for living a happy life" on ribbons that hung from a palm tree. Water refill stations that looked like tropical outdoor showers werepopular, but almost a little too realistic. We spotted at least one attendee trying to wash her muddy, sandaled feet withthe drinking water.
The exclusive cardmember club upstairs offered air conditioning, views of the mainstage, ample shade and a bar with beer, wine and Bai juices. Attendees relaxed on wicker couches and chairs, and engaged in activities like custom airbrushing of festivalgoers' gear or a complementary bandana by New York graphic designer B. Kaspr. At a "Wish You Were Here" postcard station, consumers could choose from three designs, jot down a note and pop itin a slot marked "POST." Offered on the way out were Essential Oils products, refreshing cloths and sunscreen. Agency: Momentum Worldwide, New York City.
HP
In addition to The Lab, powered by HP—the brand's annual interactive digital art experience designed to showcase HP's technology while engaging consumers—HP offered its Lounge on the main festival grounds. Upon entering consumers were greeted with digital "blooming" flowers and vines hanging from the ceiling, whose color combinations and motions could be controlled through HP computers.
Another activity called "light art" enabled festivalgoers to "draw" over their own digital images, customizing the colors and patterns of the light trails. A GIF of the artwork was emailed to attendees afterwards. At a hydration station, festivalgoers used HP technology to create graphics that were printed and applied to water bottles. Agency: Infinity Marketing Team, Culver City, CA.
Sephora
We weren't expecting any glitter at this event. JK! But seriously, who better to offer festival makeup and hairstyles than Sephora? This popular activation had consumers lining up outside in three lines for their choice of hair-ring braids from Amika, holographic space buns from IGK or metallic and holographic makeup, which included a metallic cream lip stain, metallic temporary tattoos and holographic face and cheek palette, from the Sephora Collection. Once festivalgoers finished the initial activity, additional touchpoints awaited. A do-it-yourself temporary hair color spray station from Hush encouraged consumers to get creative.
A giant blow dryer and lipstick bullet caked in glitter covered attendees in the stuff if they touched their surfaces, and an oversized, open compact with a purple, metallic cushion served as a fun photo op. Those who posted pics on social media with the hashtag #SephoraPanorama earned a reach into the "Swag Sink," which contained makeup products and gift certificates.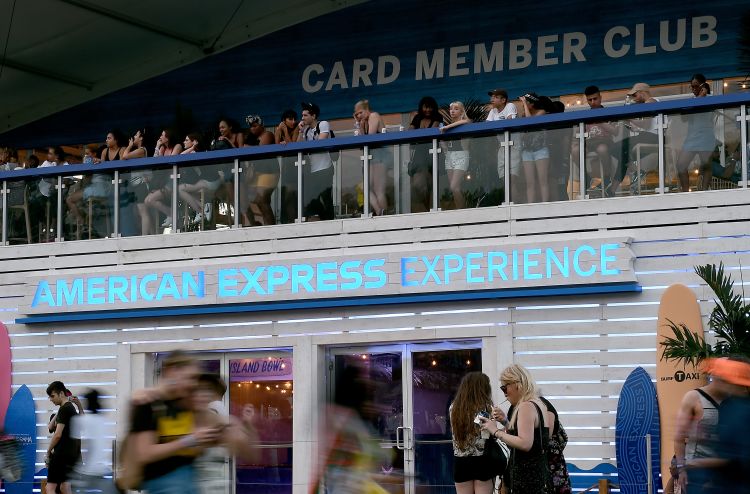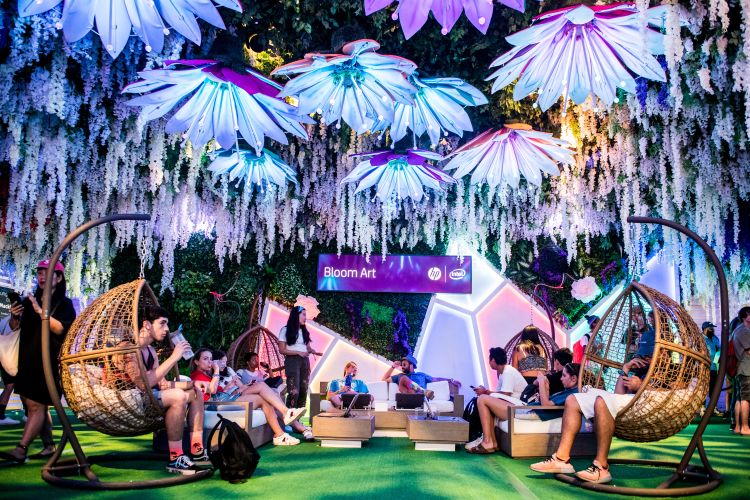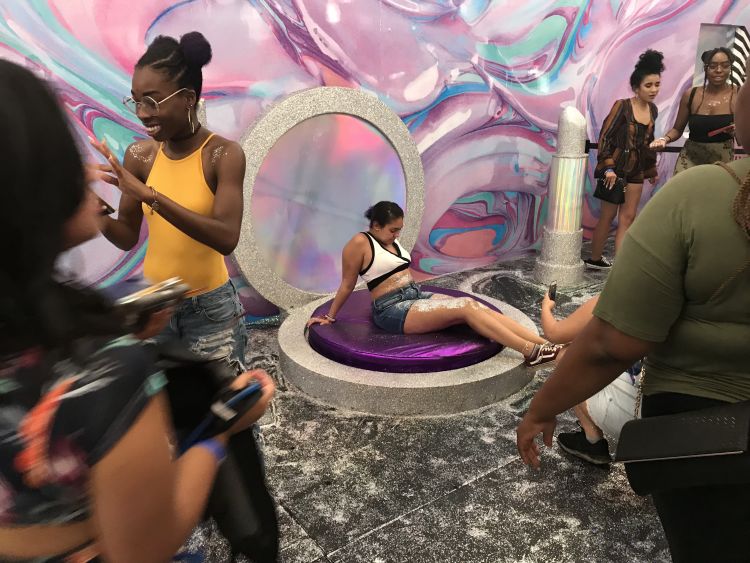 Over-21 Area
Booze brands Hendrick's, Deep Eddy Vodka, Glenfiddich, Larceny Bourbon and Barefoot set up shop at the over-21 area, sharing samples, swag and air-conditioned spaces with a slightly older crowd.

Hendrick's Gin's three-story structure, covered in copper wiring and gears to evoke a steampunk theme, called to mind the brand's quirky, Edwardian aesthetic. Hired actors in full costume interacted with consumers purchasing gin cocktails below by juggling cucumbers and professing love to strangers with a bouquet of flowers. Agency: Momentum Worldwide, New York City.


Deep Eddy Vodka's air-conditioned, airstream trailer offered respite from the heat. With a blue and white-checkered design and midcentury-modern aesthetic, the chill spot included free hand fans, sunscreen, keychains and bandanas for consumers visiting the bar, which had flavored vodka drinks on tap for purchase. Pin-up girls and pool imagery invited festivalgoers to "Dive In" while chilling out. Agency: Publicis Hawkeye, Dallas.


Next door at Larceny Bourbon, t-shirts, koozies, coasters and a transparent tote bag could be won from a prize wheel, and a wall of "Key Moments" (in reference to the bourbon's logo featuring a key) invited festivalgoers to contribute important moments in time in an individual's life. A couple of cocktail varieties were for sale and samples of bourbon were distributed. Agency: In-house.

Glenfiddich's footprint was small but concentrated. Within its dome structure, a circular bar featured three cocktails, mixed with 12-year, 14-year and India Pale Ale Cask Glenfiddich. Before choosing a drink to buy, consumers were encouraged to breathe in a waft of vapor from each type of whiskey, ideally to help guide them to a decision. On the ceiling, projections of notes and illustrations about the scotch and presumably its recipes floated overhead. Stag antlers, reflecting the brand's logo, sat on tabletops, and stag imagery—including a giant, copper-colored statue out front—were ubiquitous. Agency: Momentum Worldwide, New York City.
Barefoot Wine's photo op with giant wine bottles, which consumers enjoyed "drinking" from, was a popular stop. As the official wine for the festival, the brand sold various spritzers at its activation, but was generous with samples of its products. When attendees stepped into the space, they were handed three branded cornhole beanbags for a chance to win swag—like tote bags, notepads, koozies and sunglasses—after a quick game. Consumers could climb to the build's second story for improved views of the mainstage and a photo booth station with props that positioned music fans in a wide-angled selfie with the crowd and stage behind them.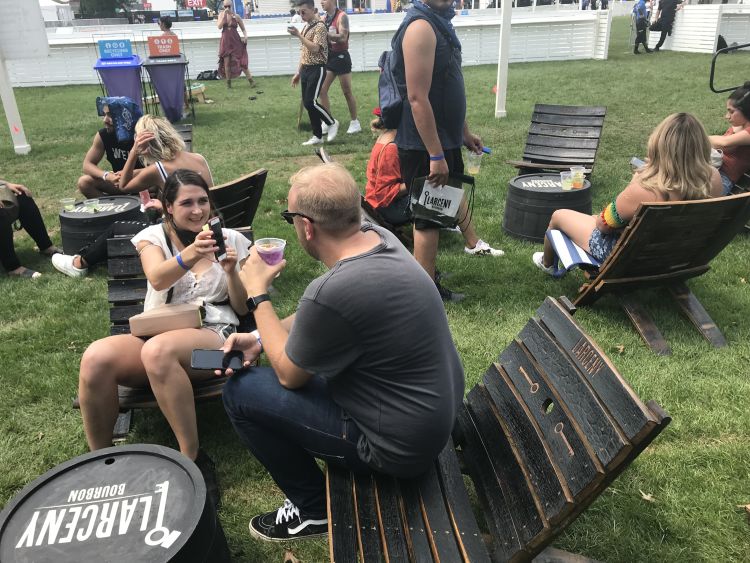 Bud Light
Bud Light's generous footprint consisted of a dive bar replica serving brewskies and an analog-inspired aesthetic, including a neon Bud Light clock (with clock hands, oh my!), wood-paneled flooring, Christmas lights, faux brick behind the bar, sports trophies and a small window that yielded zero natural light. (Naturally.) The area transformed into a legitimate show several times a day with the brand's Dive Bar Sessions featuring up-and-coming artists billed to perform at the fest. A marquee sign detailed the show schedule. Bar seating served as a place to chill, charge phones or watch the show, and old-school arcade games like Mrs. Pac-Man and NBA Jam were on hand. Festivalgoers could grab a Bud Light for $10 at a hut in front of the stage or at the actual bar, a 4-pack for $36 to encourage beer with friends, or a 25 ounce can from a vending machine. Dive bar looks, maybe—but no dive bar prices.

To complete the dive bar effect, a classic cigarette machine dispensed Bud Light-branded, cardboard cigarette boxes with swag inside like stickers and earplugs. When EM approached, it had just malfunctioned and brand reps had resorted to simply handing out the boxes. Consumers that scored a winning ticket were directed to the Bud Light "Stitch Shop" behind the activation footprint, a tiny house with live embroidering by Brooklyn Stitch where attendees scored an old school denim or trucker jacket, a dad hat or a branded tote bag with Bud Light patches—while supplies lasted.
Eager to get a pic of the embroidery set up, we queued up at the tiny house before it opened (due to Friday's weather closure, there was a backlog of embroidery jobs the following day) and inadvertently caused a line of non-winners to form behind us. Curious, friendly and willing to wait in any kind of line for swag, passersby got the lowdown from EM on the brand's giveaway—which included explaining what a cigarette machine was to a 23-year-old. Friendly tip: Some analog touches may be lost on consumers who require a history lesson to be in on the joke. Agencies: Mosaic, Chicago; Engine Shop, New York City.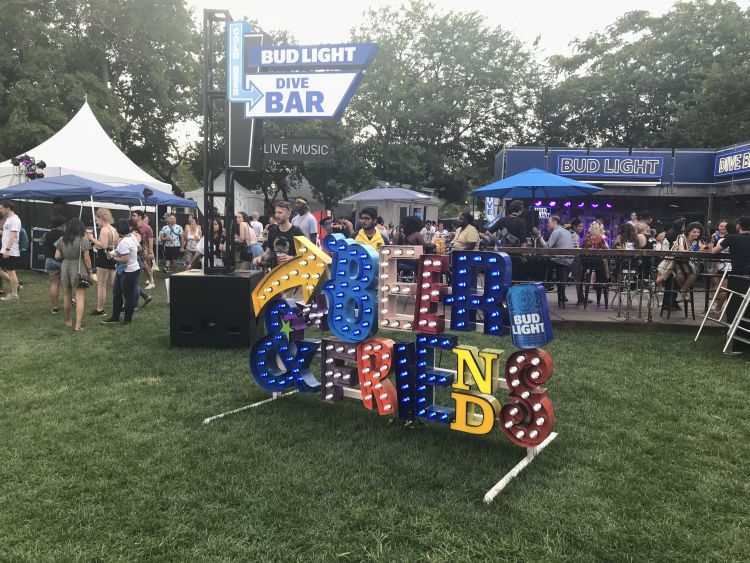 JBL
The focal point of JBL's "Dare to Listen" black and orange-hued experience was its "Dare to Dunk" contest. If your ball hit an orange bullseye (the circle in JBL's exclamation-point logo), one of four JBL waterproof portable speakers would fall into a tank of water and earn you a prize, from customized fanny packs to one of the speakers to the big kahuna, a set of E55BT Wireless Headphones that were engraved for the winner on the spot. There was also a JBL video booth where consumers picked up a guitar or a keyboard and rocked out for a boomerang, which, when posted on IG with #DaretoExperience, gave attendees a chance win a pair of VIP tickets.
The prize train continued at a steady clip at JBL, with the brand dishing out on average 60-70 prizes a day to enthusiastic music fans. JBL product stations featured the latest portable speakers and headphones, such as the Google Assistant-activated Link Series and a JBL Boombox. Consumers were encouraged to give a listen while charging up their phones in its rocker-themed lounge area featuring square, black leather ottomans and an orange pinstriped floor. Agency: Trigger House, Portsmouth, NH.
For more activations from Panorama Music Festival, check out our photo gallery.