C'EST MAGNIFIQUE
The best brand experiences from Cannes Lions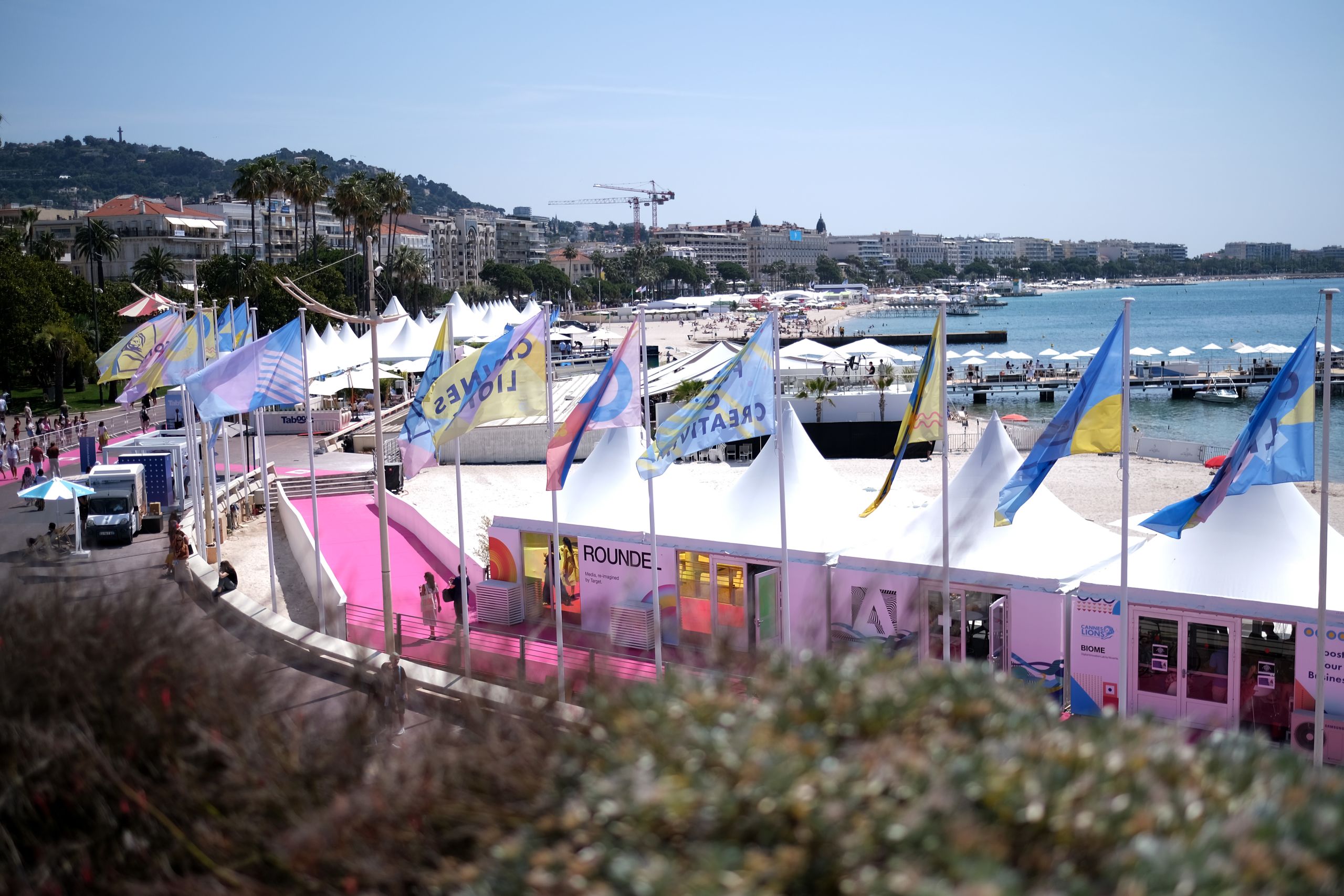 Photo credit: Getty Images
Photo credit: Getty Images
WE CAME, WE SAW, WE SUNBURNED.
EM's first Cannes Lions International Festival of Creativity is in the bag, and we've learned plenty. Thousands of advertisers, marketers and creatives hailing from nearly 100 nations descended upon the French Riviera June 17-21 seeking creative inspiration, business opportunities and, if we're honest, booze. It attracts a crowd that knows how to work hard and play hard, and the bar to impress these folks is exceedingly high.

We learned that high-level meetings and networking often take precedence over experiential activations at this event, so brands that created experiences went big—in scale, touchpoints and after-dark entertainment. Each was careful not to impede upon the most important element of décor: the brilliant blue waters and golden sand of the French Riviera. So brands, accordingly, focused on meeting and hospitality spaces along the beach that opened up toward the water or took over large sections of the beach along Cannes' main boulevard, The Croisette. There was also "yacht row," where ad tech companies converted yachts into meeting and hospitality spaces, entertaining marketers until the wee hours of the morning.

A significant portion of the program focused on the content and thought leadership held at the Palais des Festivals et des Congrès, the event's indoor conference area. Or at airy, outdoor spaces like the Terrace, or the various hotel takeovers along the boulevard. Key themes this year included diversity, inclusion, women and LGBTQ. Then, there were the scores of Lions awarded daily—coupled with nightly award shows—for excellence in creative marketing communications. To its credit, the festival devoted an entire floor to an interactive exhibit for the Cannes Lions award judging process (scroll down to the Awards Hub section for a deep dive).

But while the awards indicate what's happening now, the content and activations at Cannes strive to depict what's next. That seemed to be the jumping off point for brands, whether it was Spotify's "What's Next" campaign touting the brand's insights into culture and music shaped by younger generations, or Pinterest's invitation for marketers to dream up what's next by embracing play. So, grab that glass of rosé—or better yet, its refreshing frozen counterpart, frosé—and check out the brands that impressed us the most.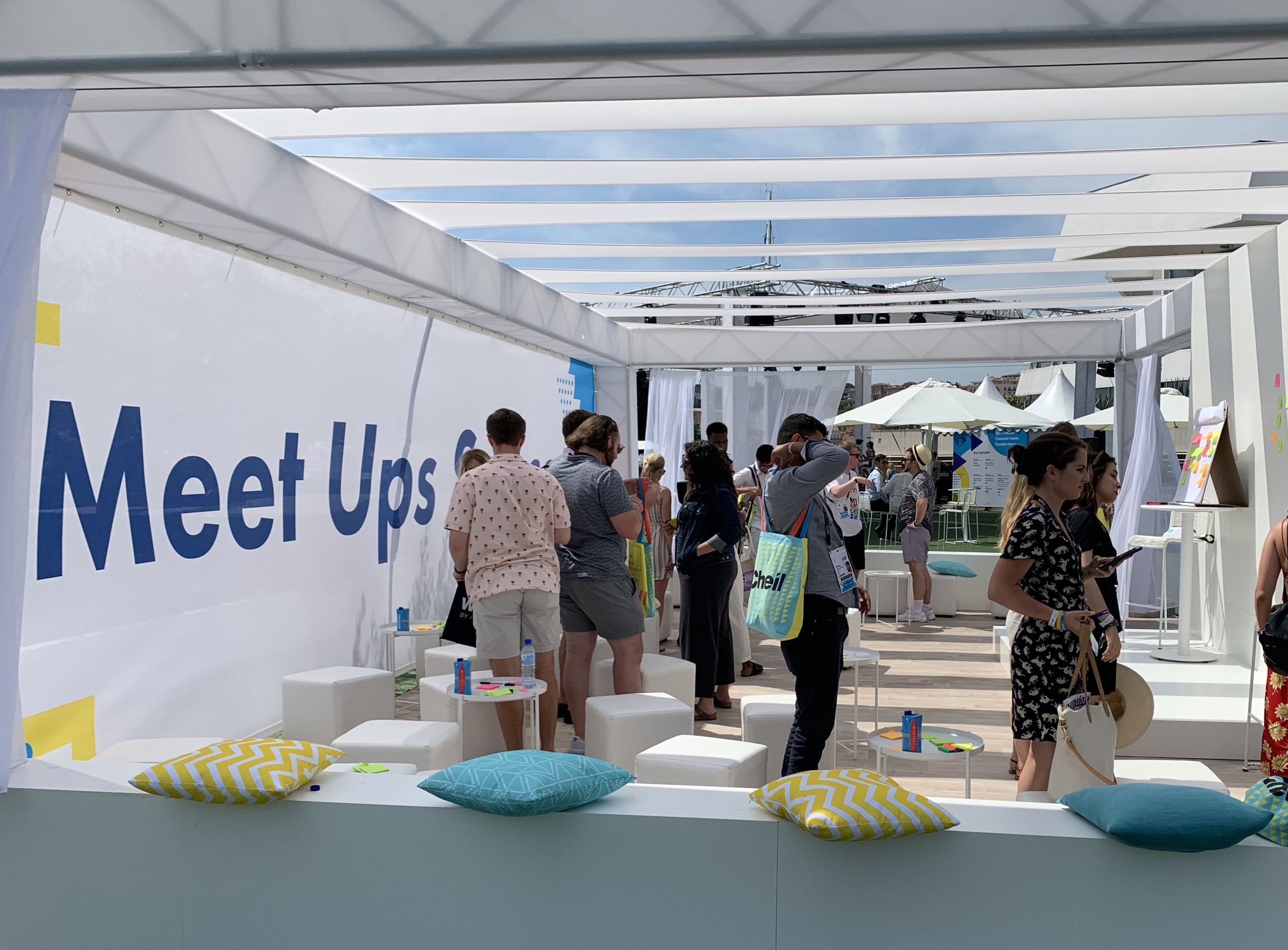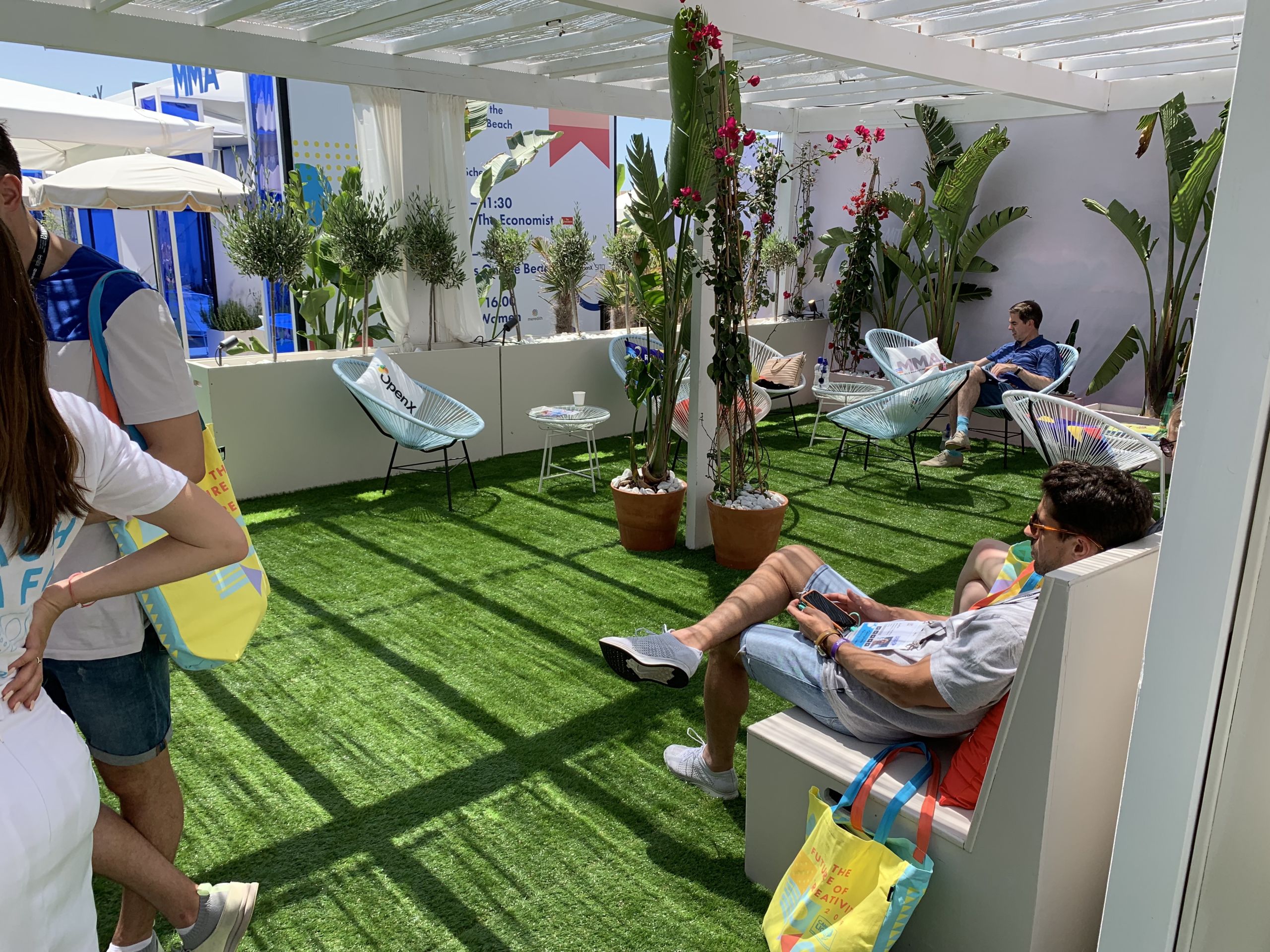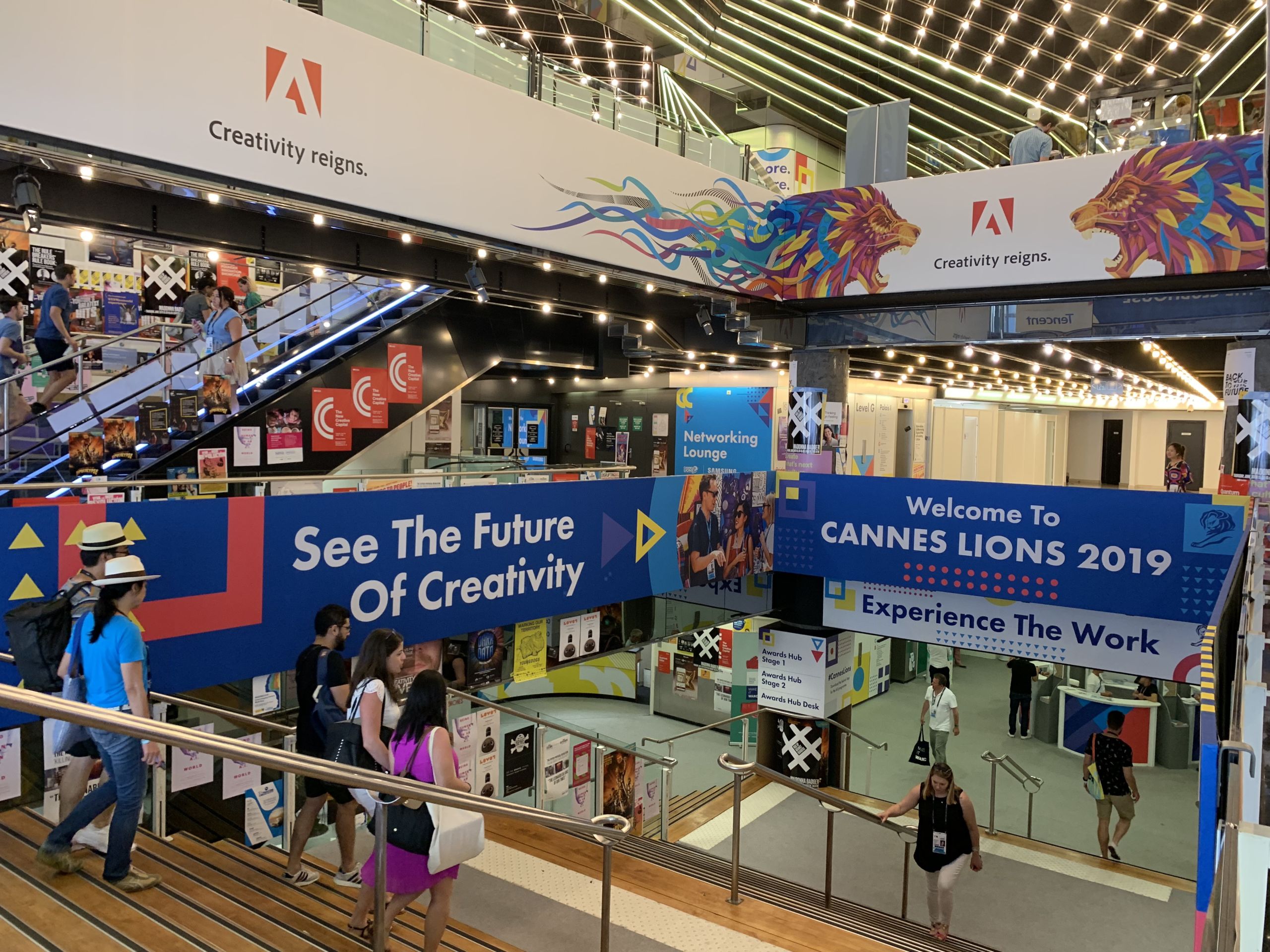 GOOGLE BEACH
Google's sizeable beach footprint contained experiences for badge-holders and passersby alike. The build was constructed from planks of light-colored wood—as were most beachfront spaces—that was stained in the four colors of Google's logo. Descending the stairway to the entry, attendees encountered a large welcome sign and a greeting stenciled onto the walls. A small wooden hut manned by Google reps that doubled as the press station was situated just past the entrance. Next to it, badge-holders were asked to register on laptops sitting atop red, blue, yellow and green stands. After moving through registration, the space opened up into several sections of experiences divided, again, by color.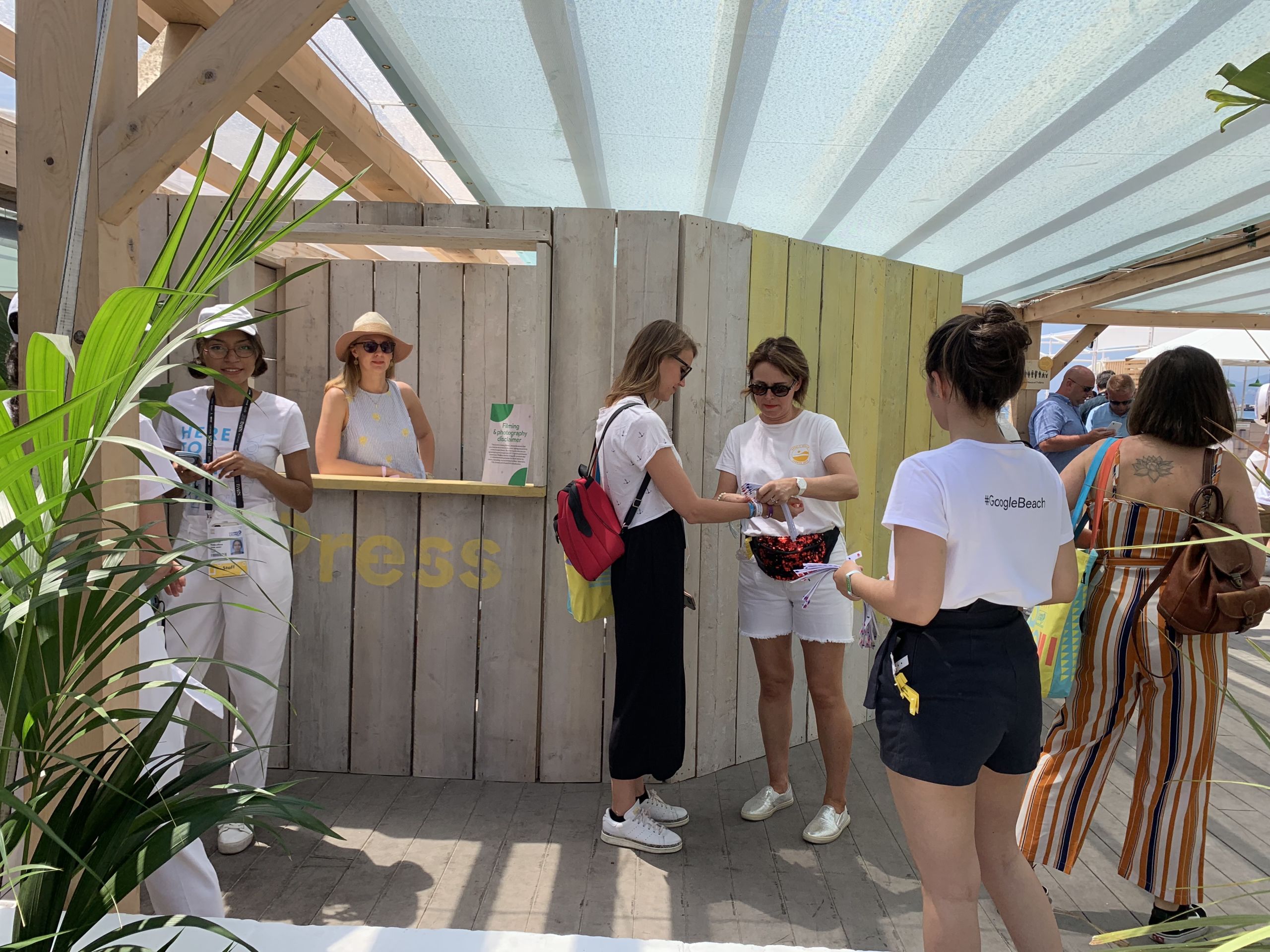 First up was Le Scoop (pictured right), a gelato station situated under a colorfully striped awning that showcased the Pixel phone's Google Translation tool. Brand ambassadors helped attendees navigate to the phone's feature, which translated different languages on the spot by scanning text found in a binder of flavor menus. After using the phone to translate local flavors of ice cream, attendees walked away with the flavor they preferred.

Across the way was the Password Personalities station, a series of self-guided videos on iPads designed to educate attendees on Google's two-step verification process. We learned that depending on whether you are a sports fan, a special dates person or an animal lover (to name a few common categories), people tend to pick passwords based on these types. The lesson: the two-step verification process adds an extra layer of security to these common categories. Attendees were invited to sign up using a link provided in the brand's signage.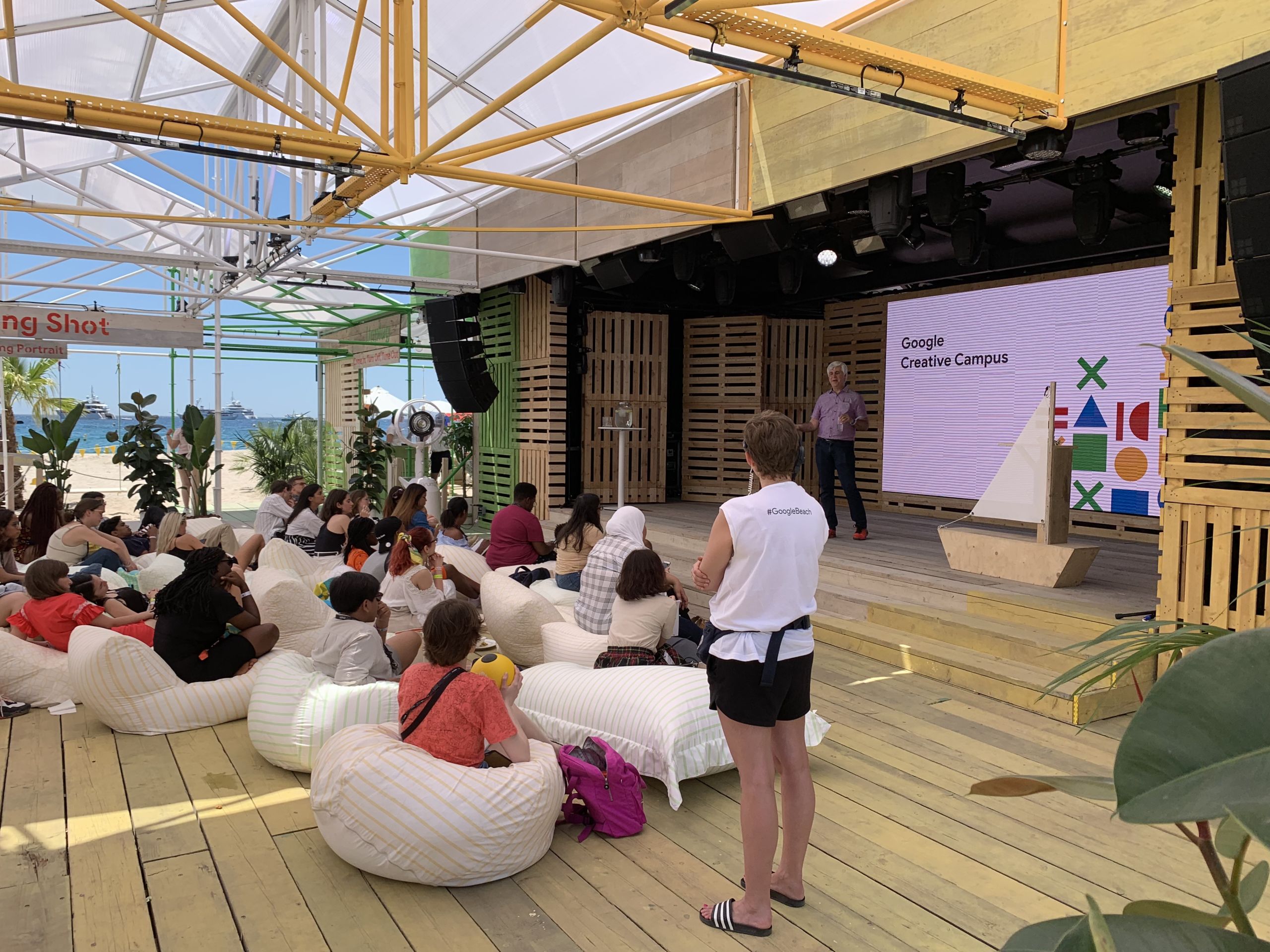 As we made our way toward the beach, we passed through a large thought leadership area with a stage and audience seating (in the form of beanbags) set up for panels and workshops throughout the week centered around data-driven creativity. The next activity was a GIF portrait station on the beach featuring a Pixel Swing prop. Brand ambassadors took Boomerangs of attendees on the swing with the sand and sea as a backdrop. Since they were snapped on a Pixel phone, the GIFs were sent straight to attendees' Google photos.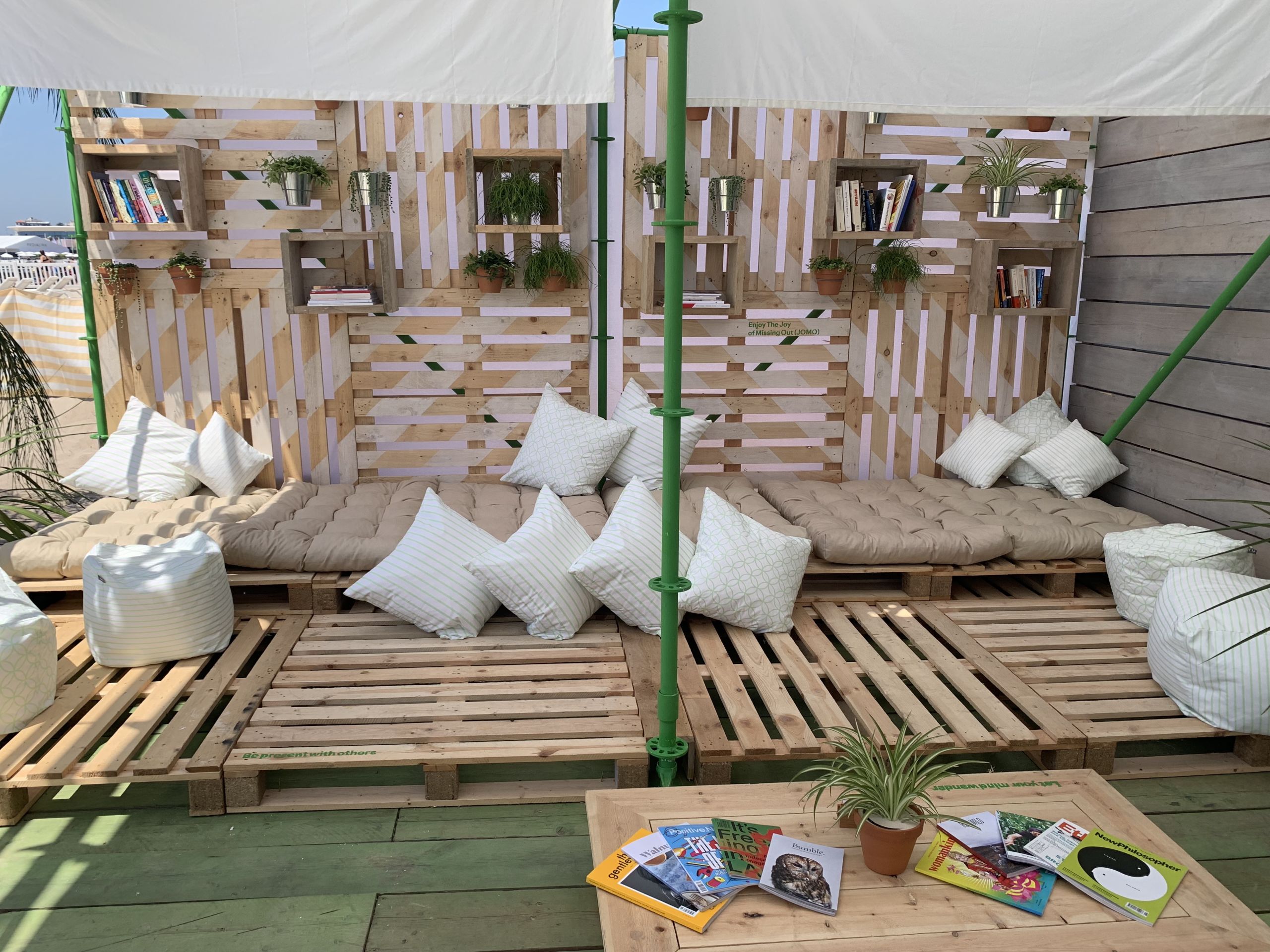 Next to the swing was the Unplug area. Badge-holders were asked to hand over their phones (to be charged up in the interim) before stepping into "an oasis of calm" to unplug and unwind. Attendees could chill in suspended pod chairs, each offering one or two-minute guided meditation sessions from Headspace; grab a chair massage from one of two masseuses; down a reinvigorating juice shot; and relax on cushions while reading books or magazines. It's difficult to imagine the festival's high-powered attendees spending too much time here without their phones. But the massages, we have to say, were on point.

On to the section bathed in red: YouTube Music. A large branded bar served smoothies and hot drinks during the day and cocktails during the brand's after-dark events, and a YouTube Music stage hosted talent and djs during the evenings. In the footprint's far corner was a Google Cap station (pictured right) where attendees lined up to design their own baseball caps. With one minute on the clock, badge-holders picked a hat color, one of several Google Doodles, and typed in their names for retrieval from the printing staff a few minutes later. The process was a tad rushed for our taste, but attendees seemed pleased with their gifts.

Next to the cap-maker was a YouTube augmented reality experience demonstrating a brand-new AR format for advertisers. After we entered a small hut, a BA tossed a U-shaped speaker around our necks and told us to gaze at a mirror (also a camera) while following along with video of a YouTube influencer. At her command, we tried on bold-colored makeup, donned funky sunglasses and posed as the main musical act for a Cannes event. The three AR moments were saved as photo print-outs or sent to inboxes.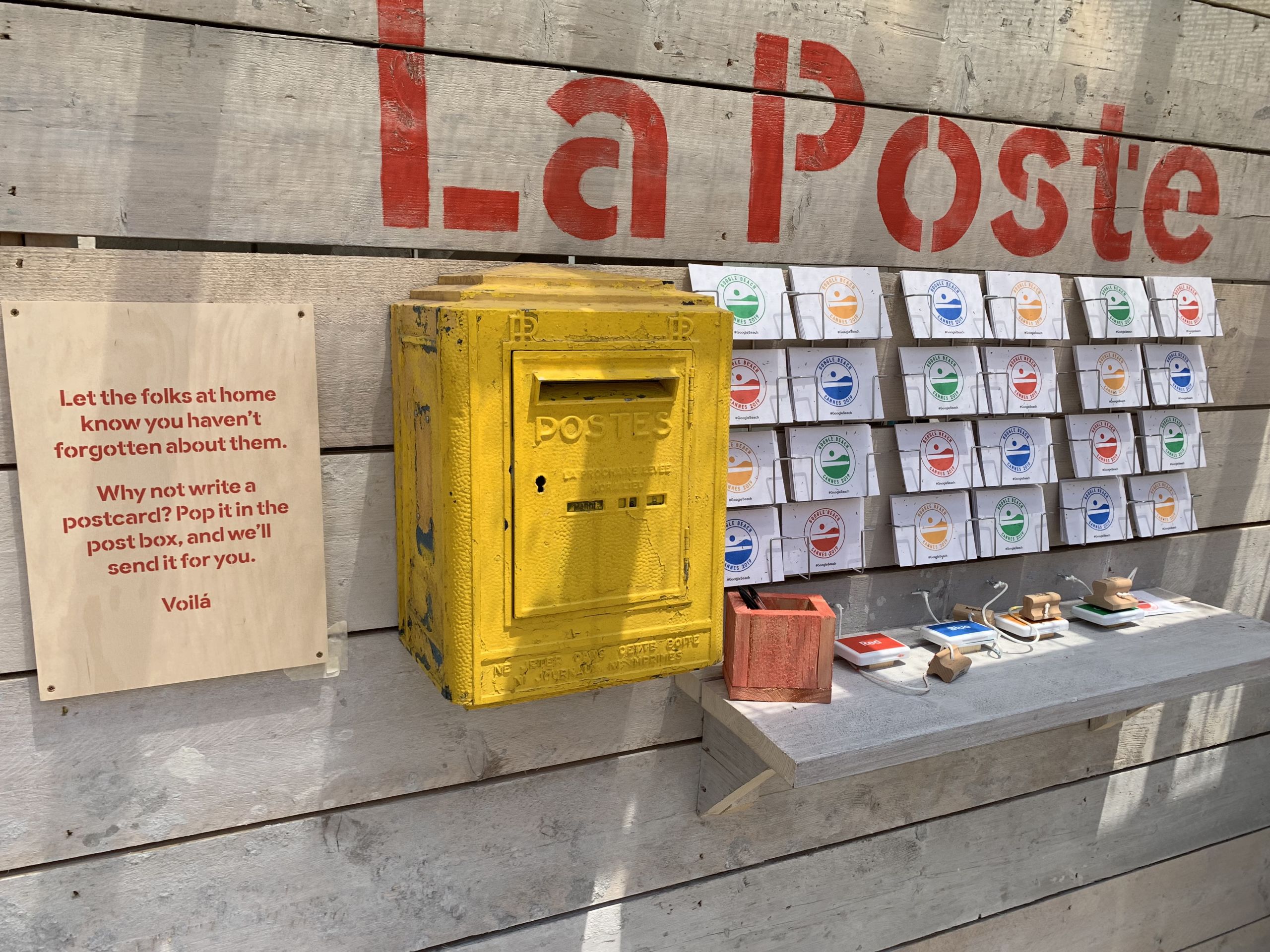 Other touchpoints on the way out included a sunscreen application area, a postcard station for writing "wish you were here" messages to friends at home, and a dining area. Oh yes, and the beach. Beanbags and beach chairs abounded (Agency: Set Creative, London).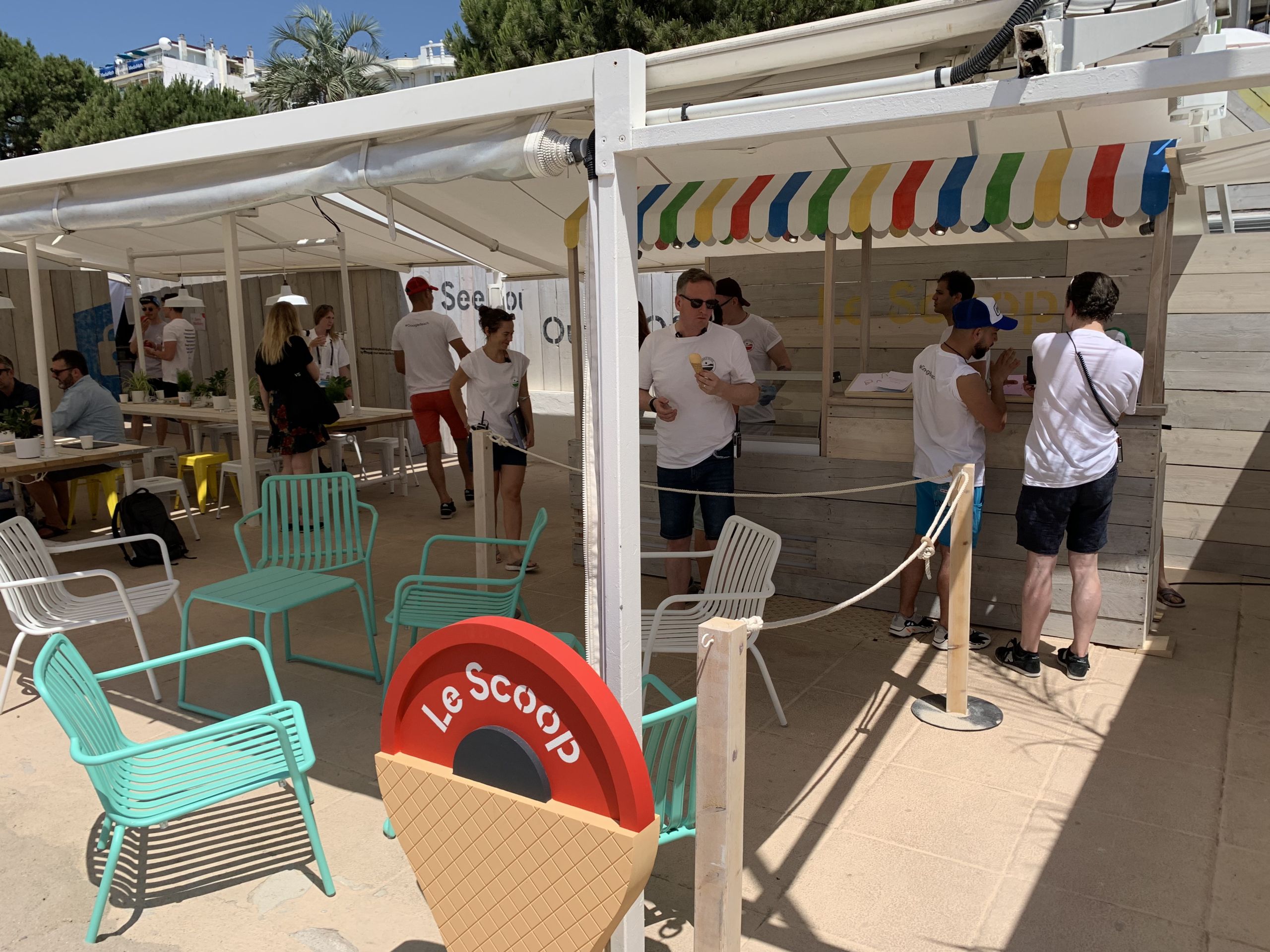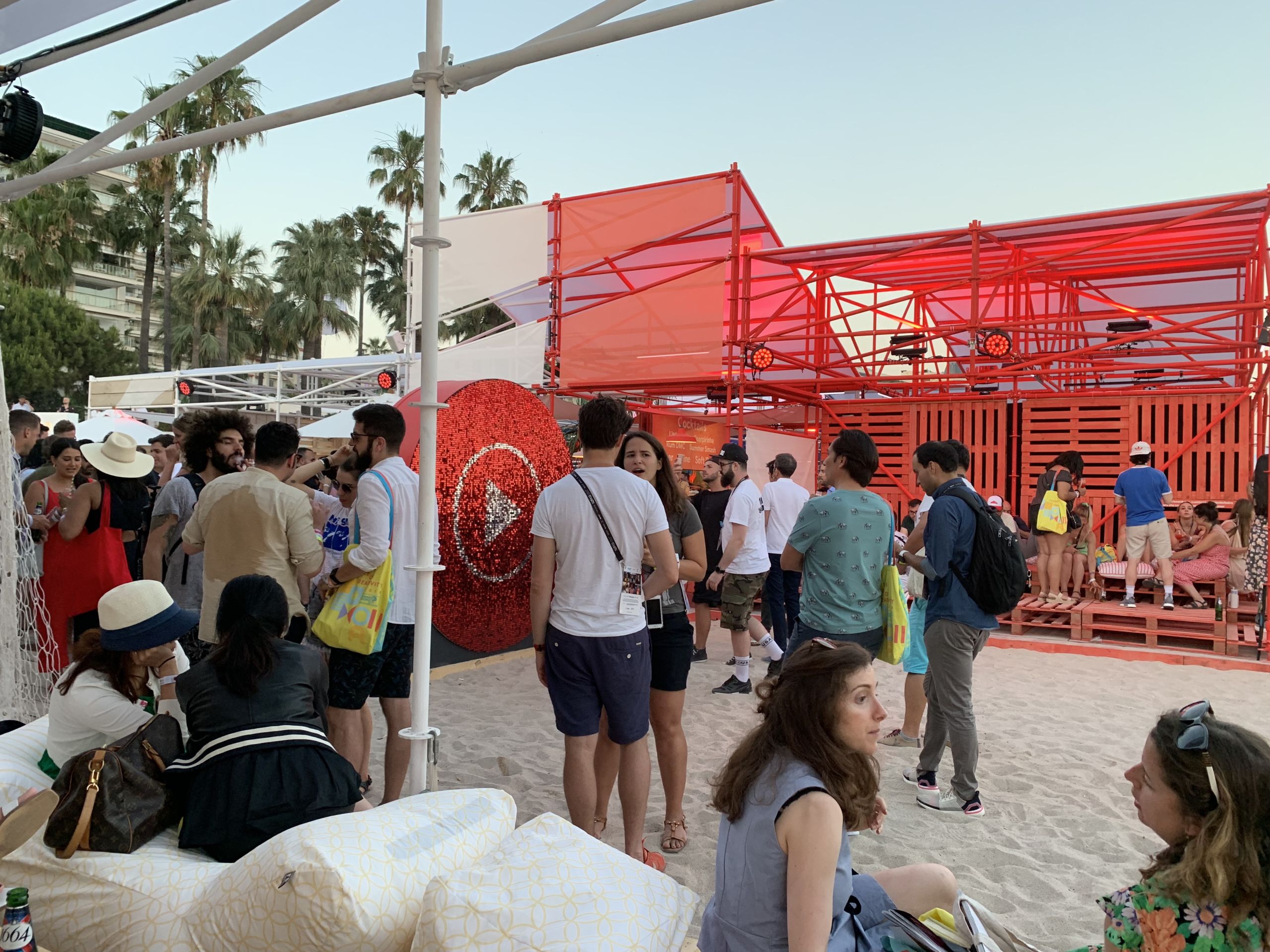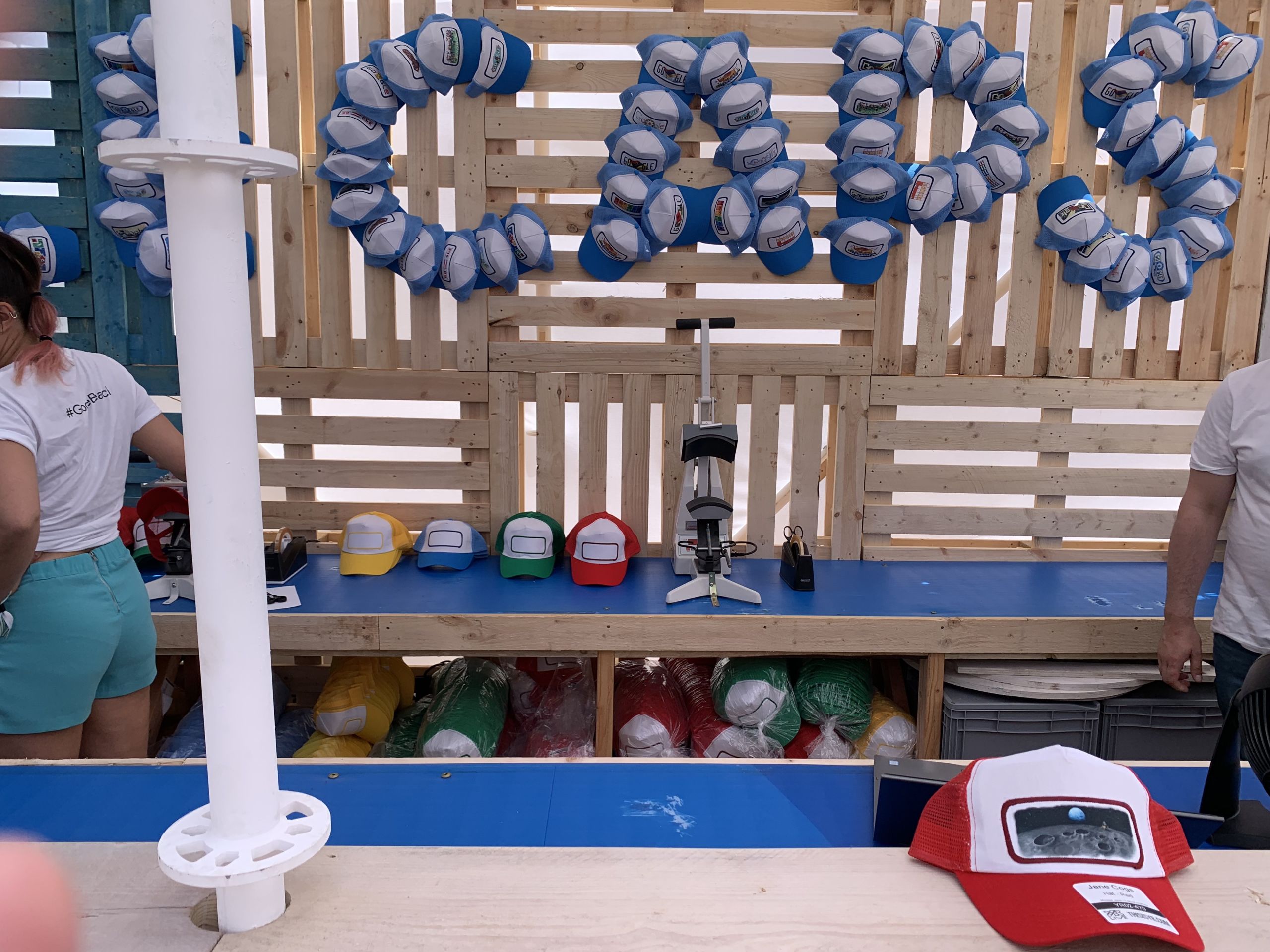 SPOTIFY BEACH
Spotify after dark was home to some of the hottest musical acts at Cannes, from Nas to Bebe Rexha to Ciara. But during the day, the touchpoints at the brand's beachfront activation pointed to its June marketing campaign touting "What's Next" in Gen Z and millennial trends. Every design element in the space, from the creative to the purple and green color palette to the ubiquitous shuffle icon, supported the campaign.

If you were lucky enough to get an invite to this beach, which was guarded day and night by no-bullshit bouncers, the brand made it worth your while with a customer journey that oozed hospitality. At check-in, attendees received a swag bag with a Spotify-branded, rechargeable and foldable fan (sweet gift) as well as a leather passport holder. A nod to the international attendee base and Spotify's global reach, the holder was embossed with guests' initials while attendees took meetings or attended an event, and was ready for pickup on the way out.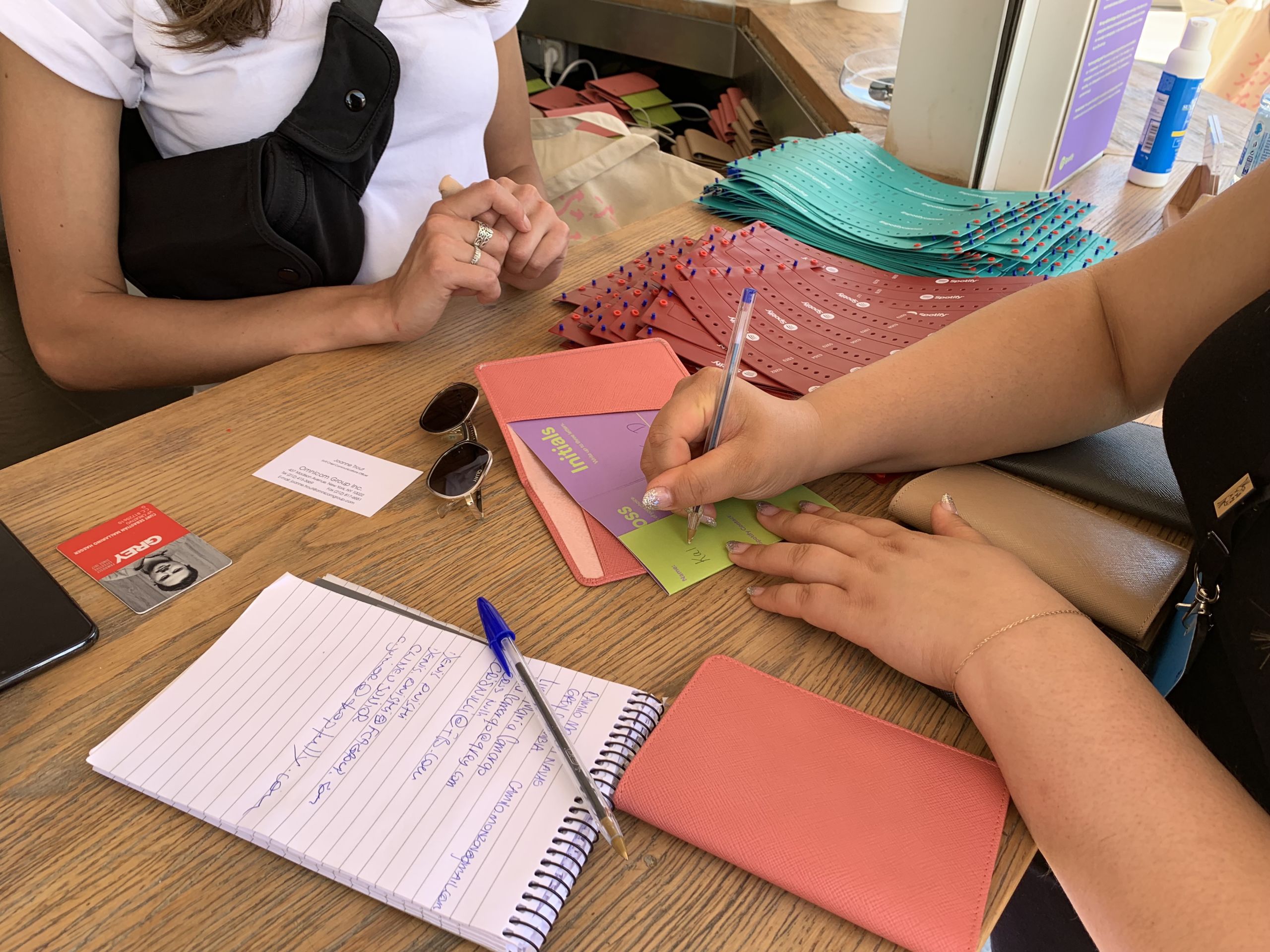 Central to the footprint was the Spotify Lab, a new addition to this year's activation. Inside the air-conditioned space was a dining area serving complementary food and a Recharge Bar manned by a renowned barista serving specialty coffee drinks as well as smoothies and juices. Meanwhile, each wall of the Lab served as an opportunity for clients to interact with and learn about Spotify's advertising platform and resources for creatives.

In one corner, the brand touted Spotify for Creatives, a new website and curriculum for the creative community. Later in the week, a creatives-only brunch in the space highlighted the service. Attendees could explore Spotify's ad demo tool and peruse examples of successful brand partnerships. On another wall, guests viewed insights from the brand's "Culture Next Trends" report about Gen Z and millennial audiences' influence on global trends. An iPad was set up for a free download of the report.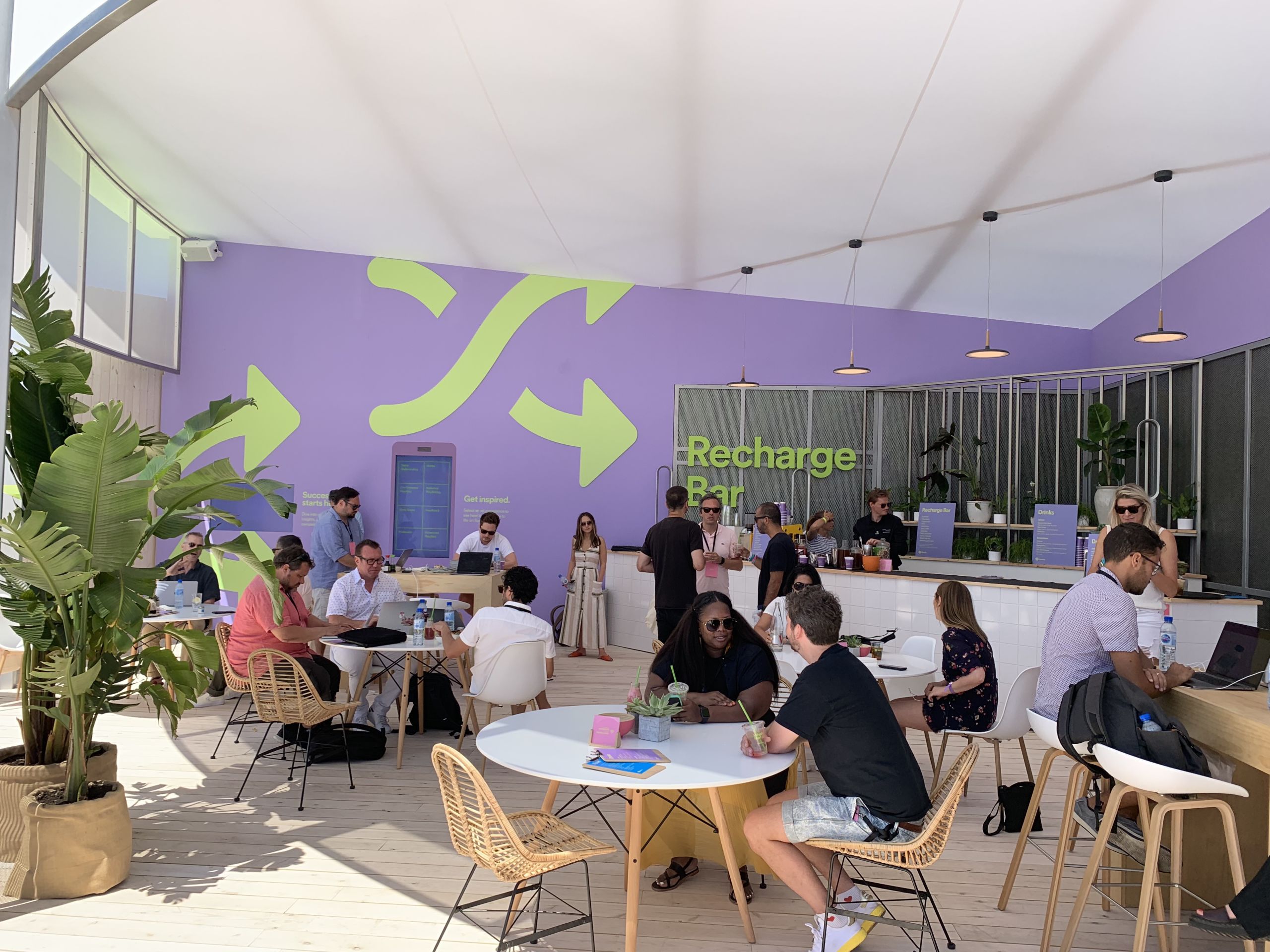 ---
"We think of our experiences as part of these larger integrated campaigns and we want to make sure that everything that we're creating here at Cannes is something that we're also sharing with everybody in the advertising industry that might not be here… It's an extra challenge when we're speaking to creatives to be super creative. But we keep that top of mind from a strategy perspective and we always use our own creatives in-house as a litmus test to see if we're passing that bar."

---
Outside the Spotify Lab were several curtained sound booths where attendees could take a break from the festival madness and listen to a playlist or podcast on Spotify. To keep the experience sanitary, a fresh set of headphones were available on request. The footprint's second major focal point was a podcast recording studio, home to daily, Cannes-themed sets of Spotify's podcast "Culture: Now Streaming," as well as recordings of two Spotify original podcasts created by women, "Dope Labs" and "Se Regalan Dudas." Inside the studio itself was a porthole window with views of the sea, seen through a decal of the Spotify logo. (A nice reminder that even though you're in the studio, you're still at the beach.) Attendees throughout the grounds could listen in on the live podcasts by plugging into jacks scattered throughout the Recharge Bar.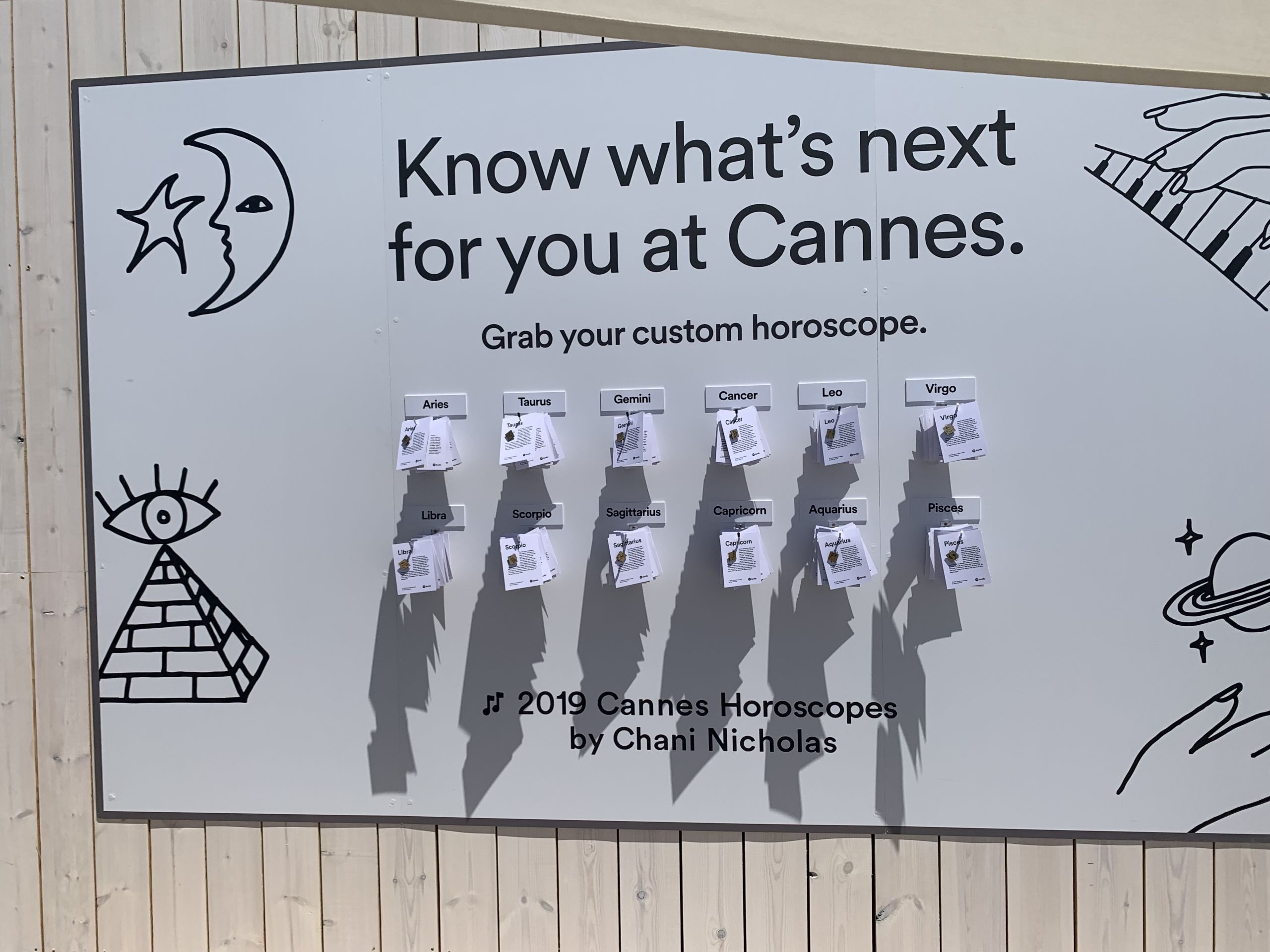 The activation's two private meeting spaces were themed around campaigns submitted to this year's Cannes Lions festival, Black History's Happening Now and What's Your Sign. The latter, a consumer campaign in partnership with well-known astrologer Chani Nicholas, tapped into the passion for horoscopes shared by Gen Z and millennial audiences. As a complement to the themed meeting space, Nicholas created special Cannes-edition horoscopes and pins for each zodiac sign, which attendees plucked from a wall outside the meeting room.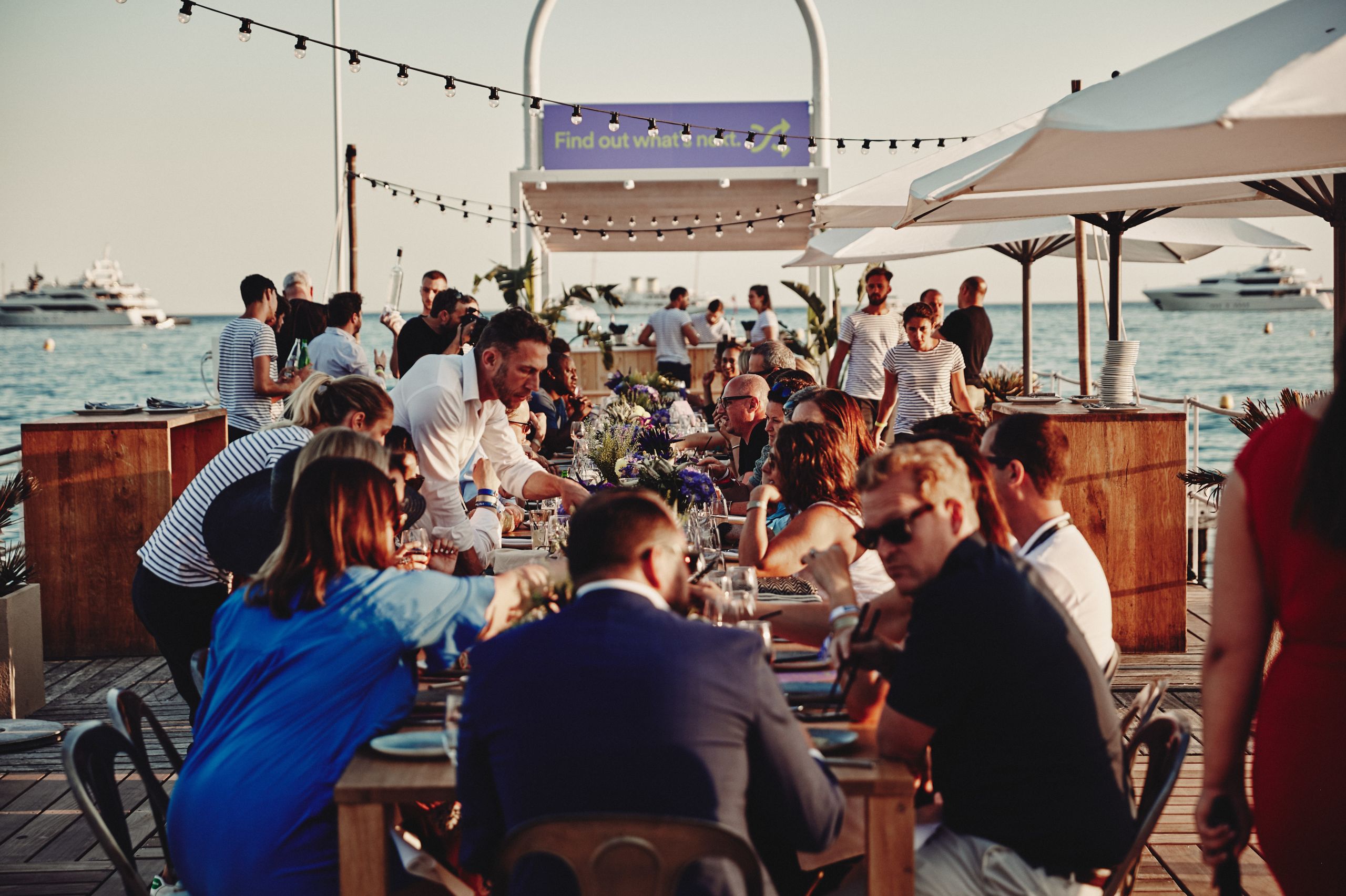 Similar to most branded beach spaces at Cannes Lions, a VIP pier held additional meetings, dinners and events. At the pier's entrance was a sorbet cart offering fruity, ice cream and boozy flavors (including a beer-flavored option).

Remaining touchpoints included a panel area for content and a massive stage for nighttime entertainment. During the day, it featured graphics of artists performing as well as those featured in Spotify's consumer-based "What's Next" campaign (Agency: In-house).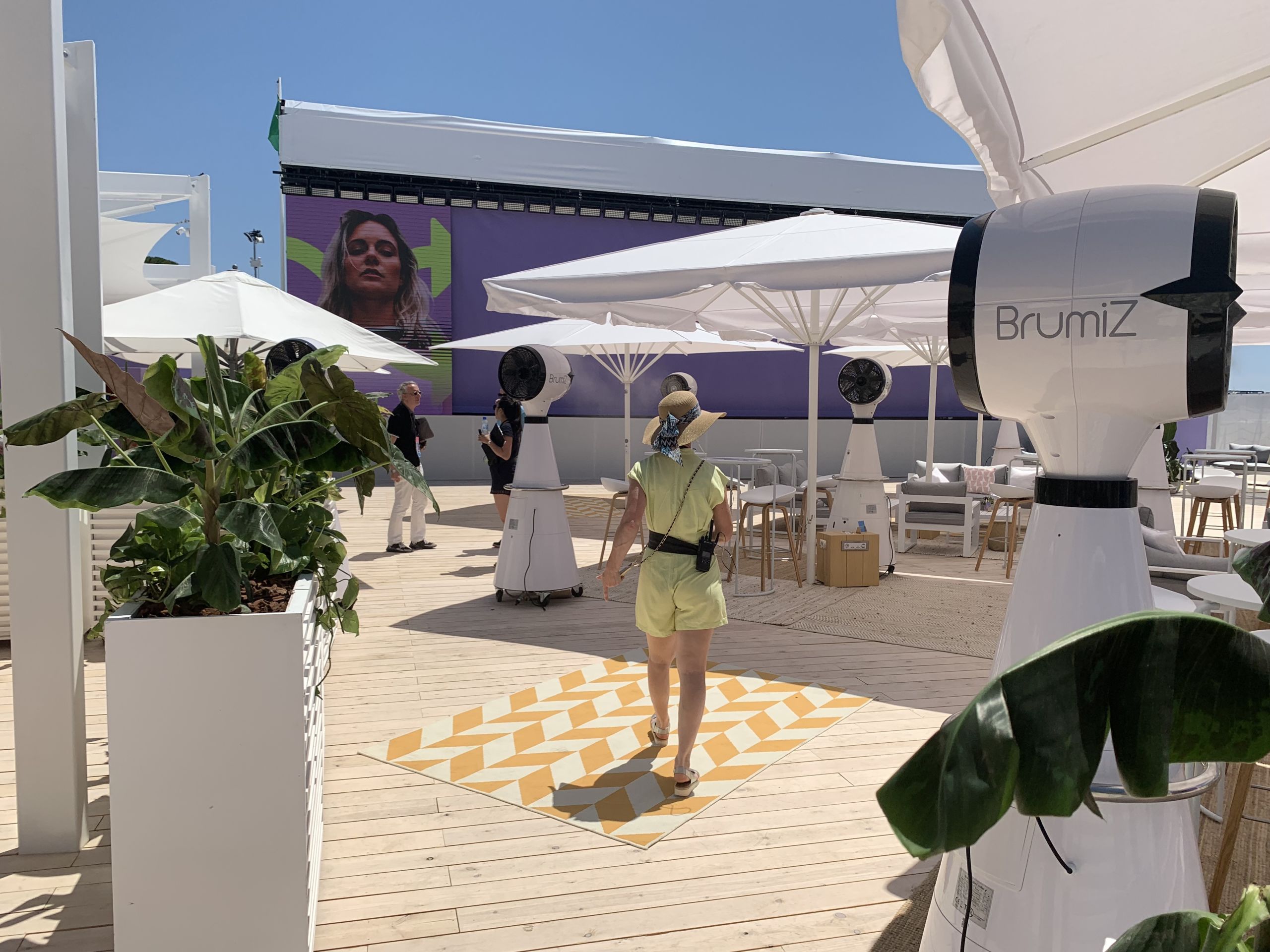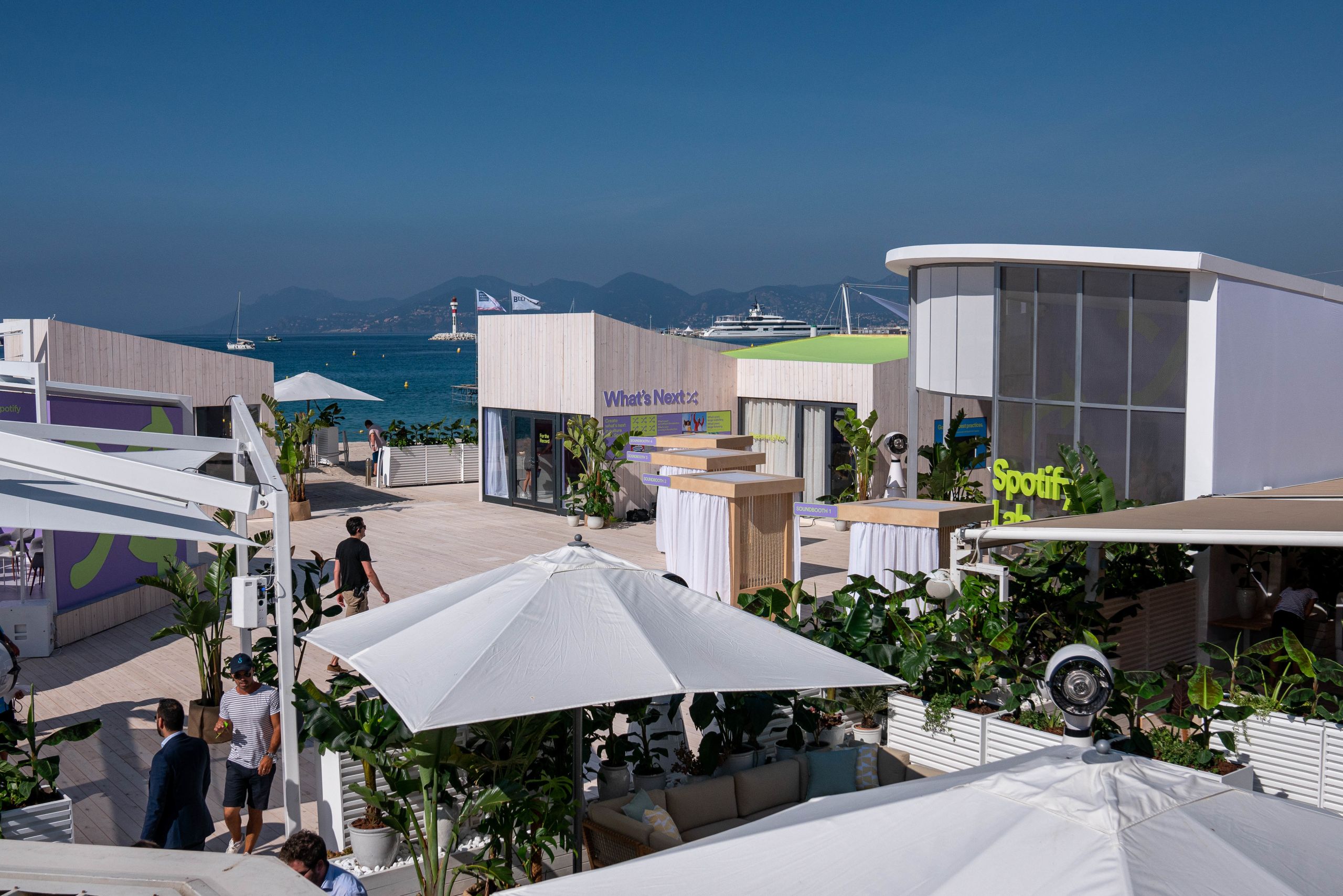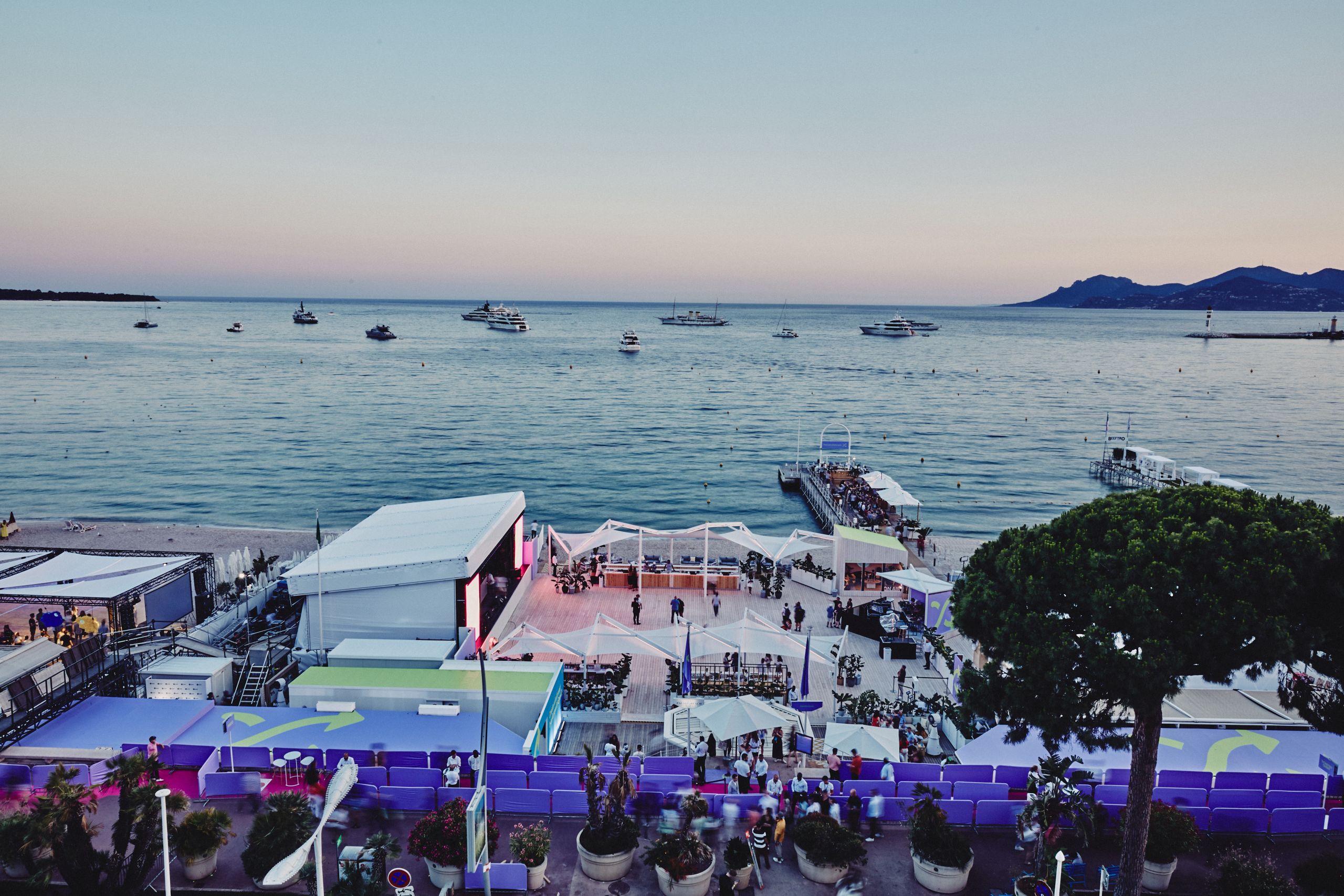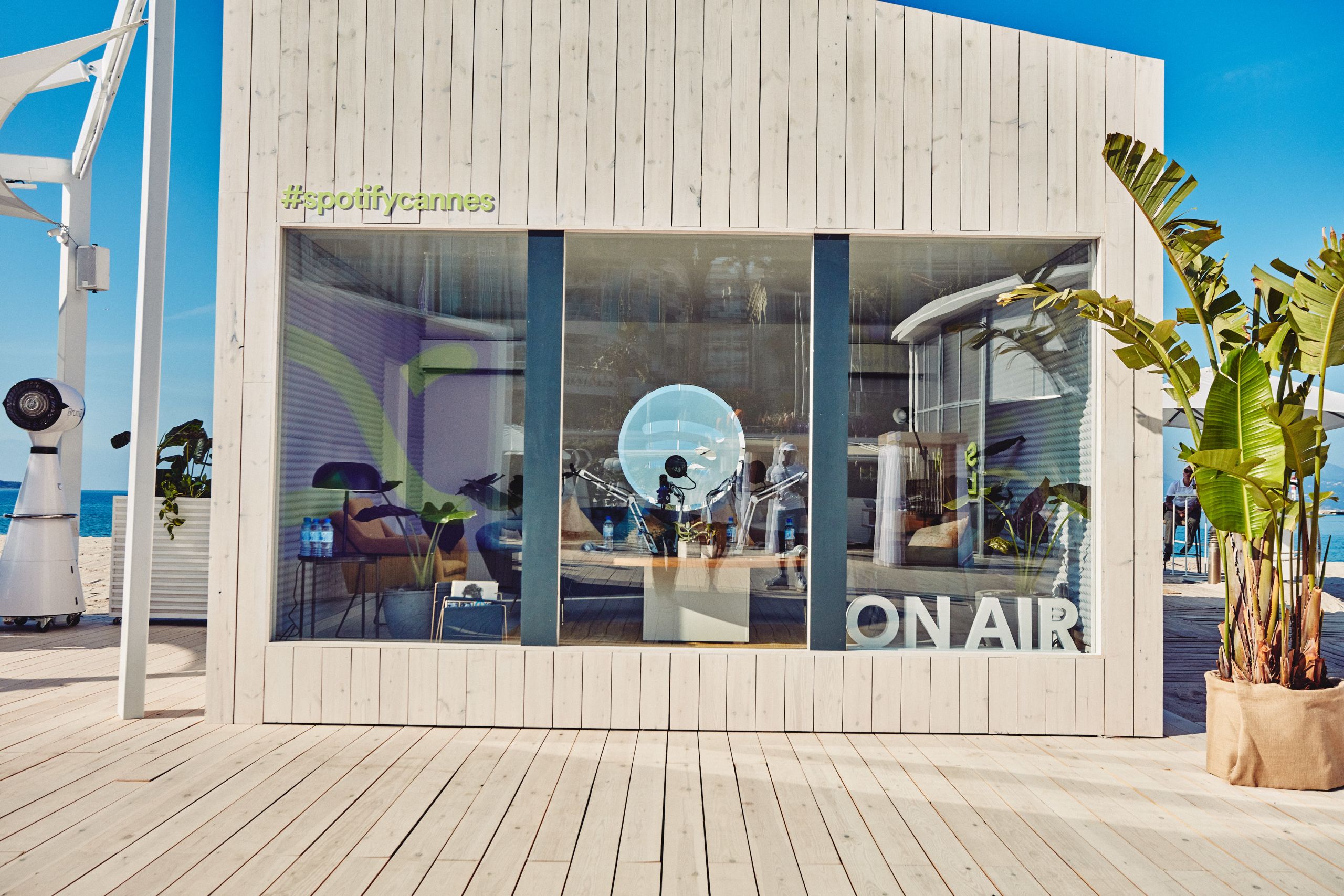 PINTEREST BEACH
The theme of Pinterest's activation, the most colorful and playful on the beach, was inspiration. Instead of featuring content as a component of its brand presence, Pinterest strove to convey an overall feeling by inspiring creative types with personalized experiences.

"There is so much great thought leadership here. Why would you compete with the wonderful Cannes festival team who do an amazing job in the Palais?" says Judy Lee, global head of industry and experiential marketing at Pinterest. "For us, it was about creating that feeling of inspiration—knowing that they're getting a lot of talks already—and making it a personal experience where they can be inspired and have fun."

The beach was divided into three areas: Playland, Discoveryland and Dreamland, each representing a look into the mindset of a pinner. The consumer journey began in Discoveryland, where, after sipping a palate cleanser, attendees explored different sights, smells and sounds, stamping a card along the way with their preferences. Once the activities were completed, bartenders crafted a cocktail containing ingredients reflecting their choices.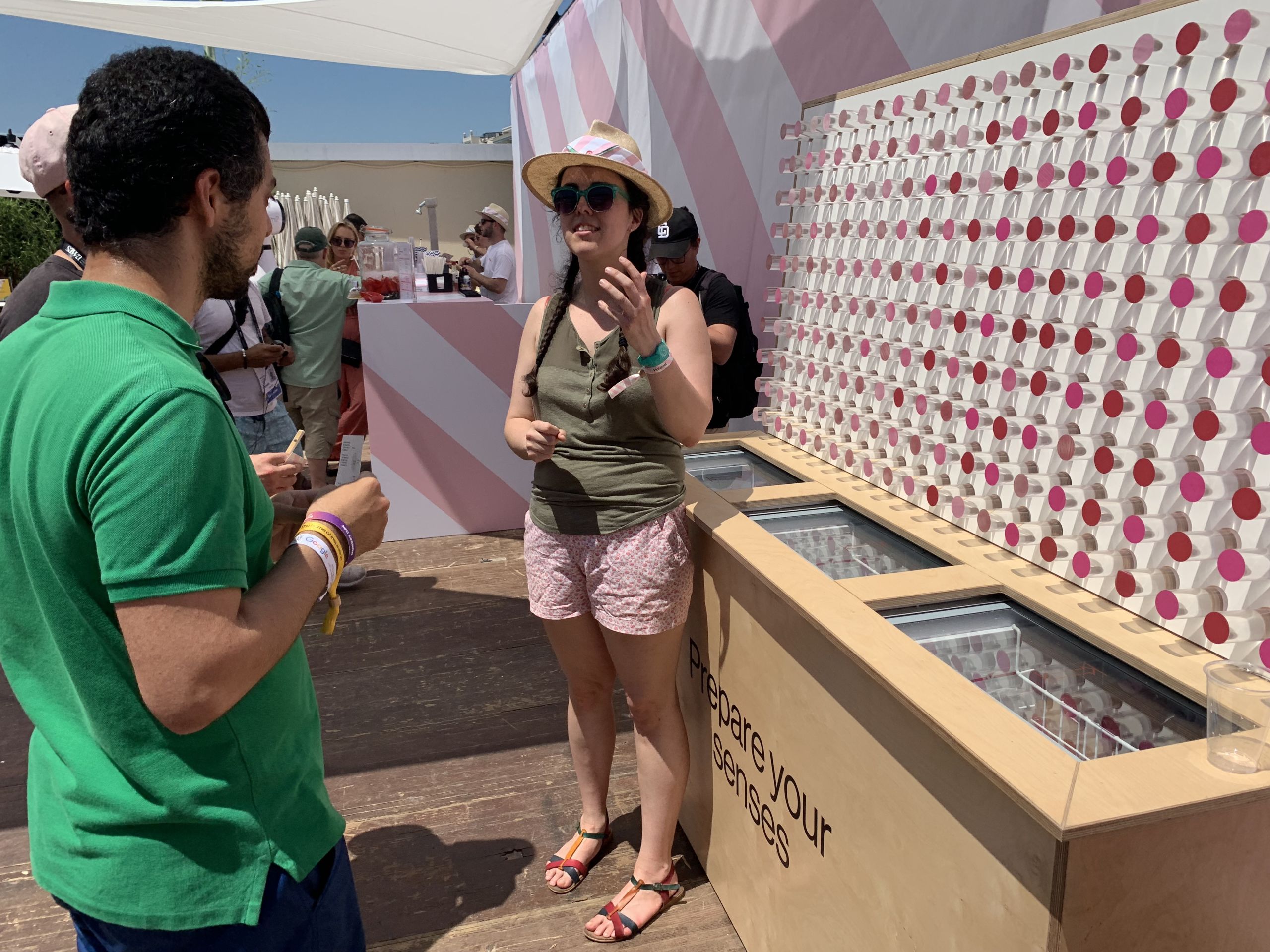 First up was a "Smell the Smells" section where we breathed in various aromas emanating from transparent cylinders. Playful signage informed attendees that smell triggers personal memories like nothing else does. The options were threefold: nostalgic, described as grassy, woody and reminiscent of playing outside as a child; romantic, as a bouquet of sweet flowers; and scientific, smelling like what scientists believe the center of the universe smells like: raspberries and rum (for real… we had to look this one up).

The next section involved sound. Badge-holders put on a pair of headphones to take part in a human synth experience. The centerpiece was a soundboard—calling to mind a Pinterest board—dotted in pink drums shaped like ice cream cones and made of a rubbery material. When tapped, the cones transmitted a rhythmic music clip. A brand ambassador explained that in order to hear the sounds we needed to complete the circuit in one of two ways: by grabbing the metal ice cream scooper protruding from the board or by touching another person (delighting attendees to no end). With each cone producing a different sound clip, attendees were able to compose their very own symphonies. Our trio of preferences, divided into sections on the board, were gentle and smooth, natural and fluffy, and energetic and textured.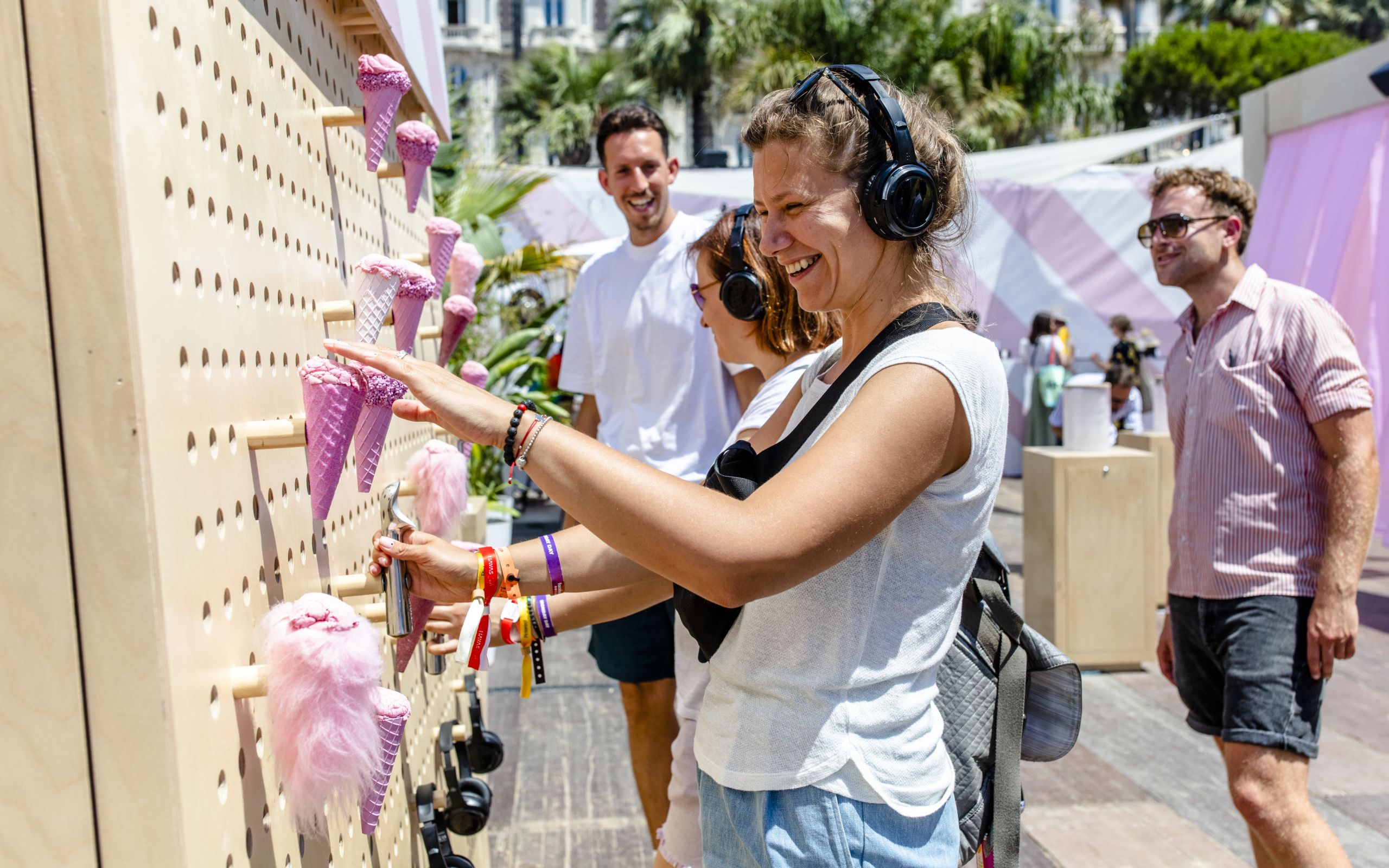 At the third stop in Discoveryland, "See the Sights," attendees stepped up to three viewfinders pointed toward the sea. Each contained colorful imagery that called to mind three different themes: land and sea, sunrise and sunset, and Pinterest and pink. Finally, armed with a completed stamp card, attendees approached the bar for a cocktail inspired by the smells, sounds and sights they experienced. For the curious, a menu of ingredients corresponding to each preference was on hand at the bar.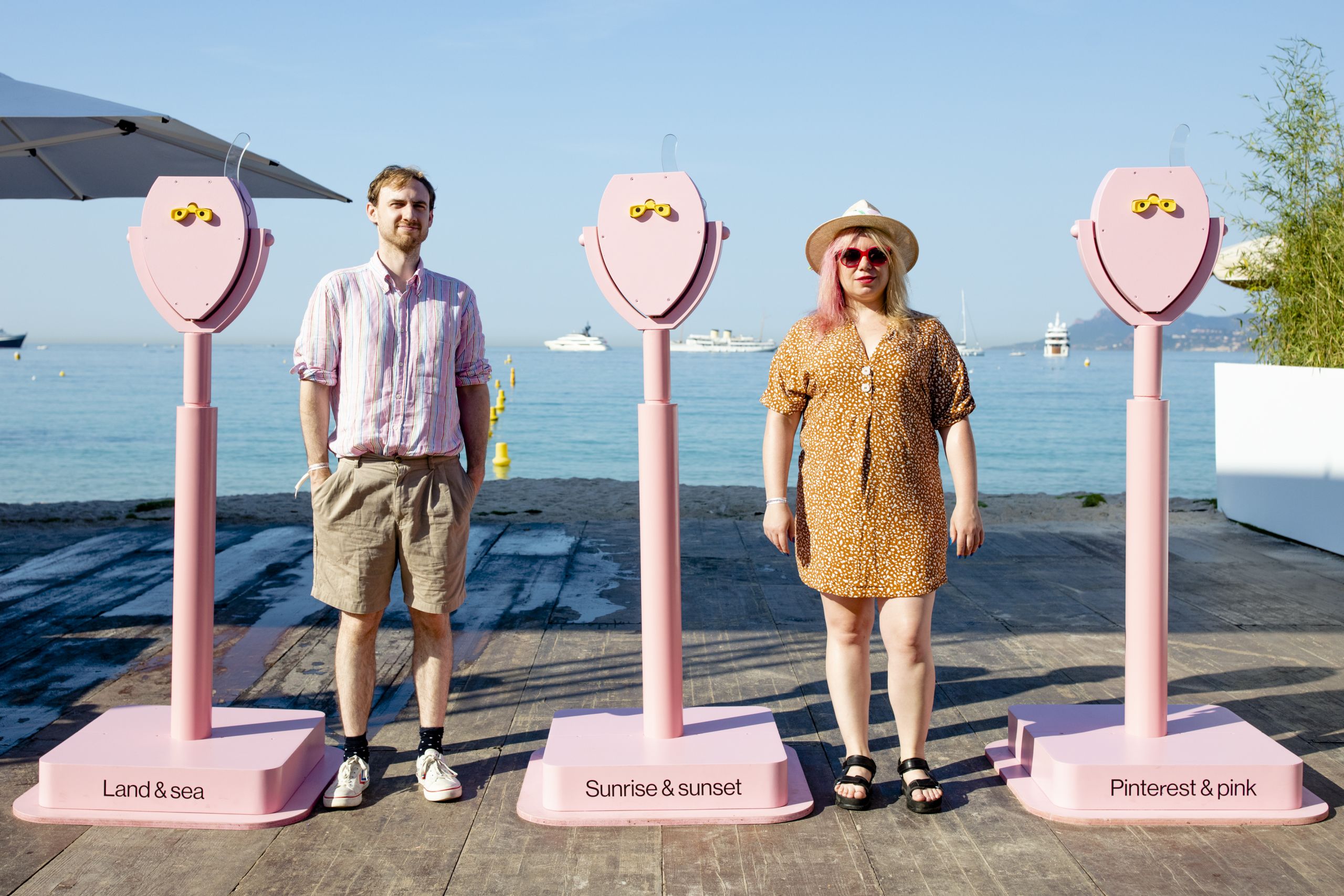 ---
"B-to-B in the advertising and media world is probably one of the toughest audiences because they do this for a living. We focus on being simple and delivering on the feeling that we want people to have. It's incredibly challenging to inspire the ad industry, but what better place to do it than here at the festival, where they are looking at the best work of the year and thinking about how they are going to win for next year… Our strategy here was not to focus on the programming piece, because there is so much great programming at the Palais. It's really about how people interact with it and what they get out of it, which is similar to the platform as well."
---
Next stop, Playland: a color-saturated playground beckoning attendees to return to the wide-open, creative mindset of childhood. A collaboration between Pinterest and U.K. artist Yinka Ilori, the space had a seesaw, a playground spinner and myriad brightly-colored structures. Throughout the activation footprint, Pinterest offered up nuggets of knowledge to complement its experiences. At See the Sights, for instance, we learned that color affects not only one's mood but also how things smell and taste. And in Playland, attendees exploring the brightly-colored towers learned what pinners in different countries are searching for. In Germany, for instance, they're searching for tidily-designed gardens. Japan is apparently pinning about handmade toys and skirts.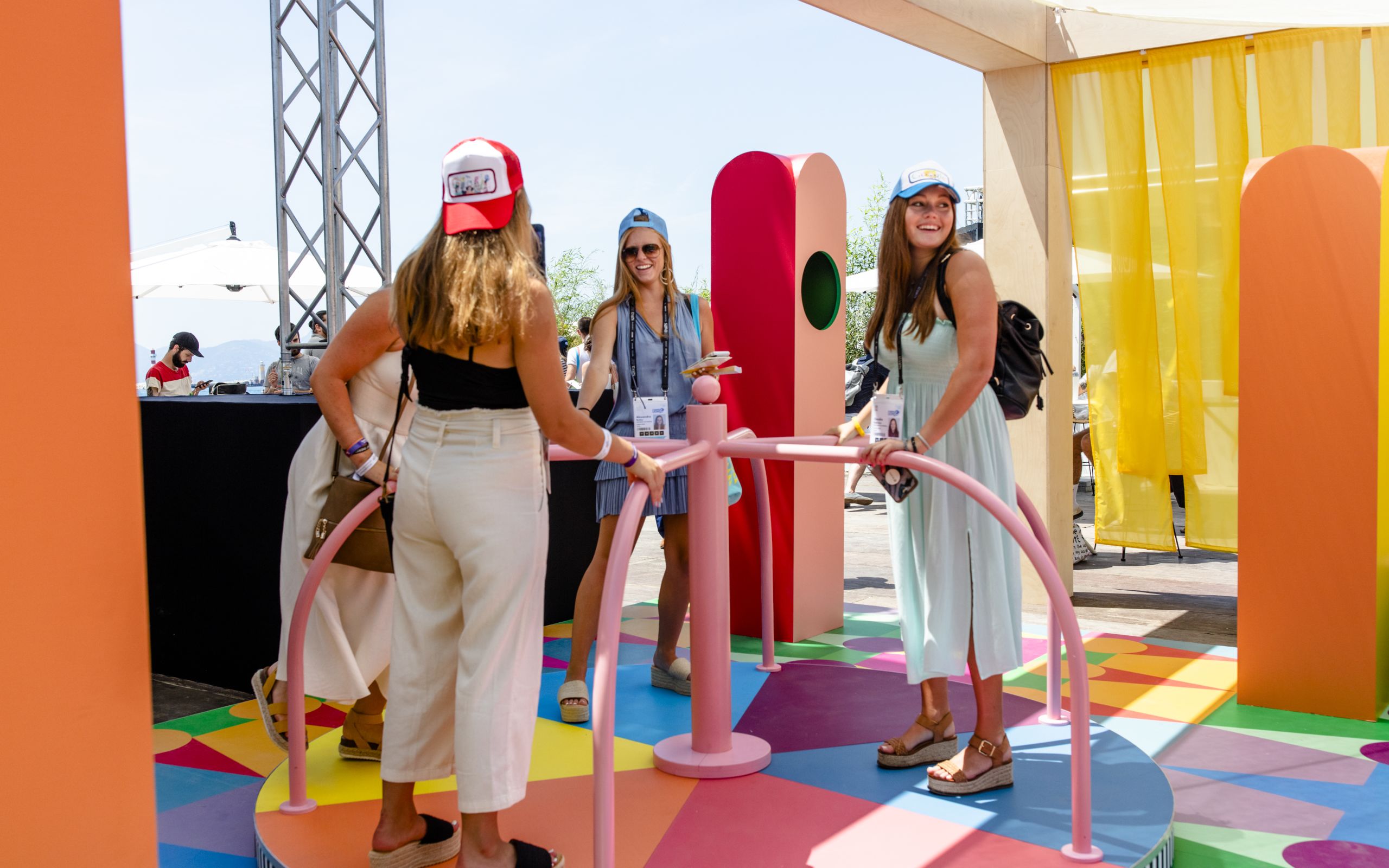 Part three of the consumer journey inside the footprint—the chilliest of the three—celebrated the dreams of Pinterest's more than 250 million users. In Dreamland, attendees laid on hammocks and listened to soothing music while gazing at ribbons overhead, each representing the name of one of Pinterest's four billion boards— from a dream home to a dream vacation—across five different countries and languages. The central idea of this space was to "turn dreams into next steps." Alright, Pinterest, you got us. We're inspired (Agency: Anyways Creative, London).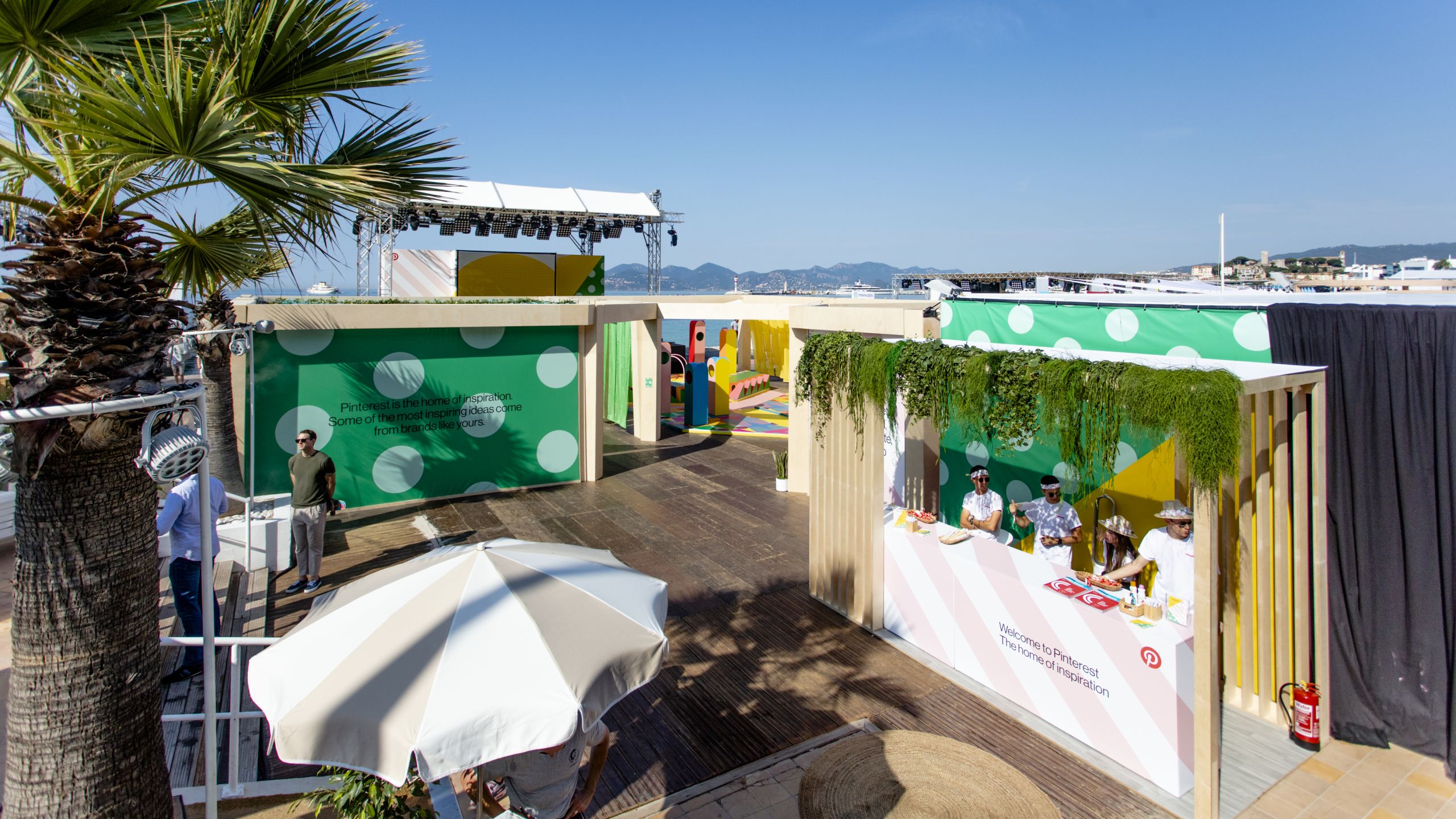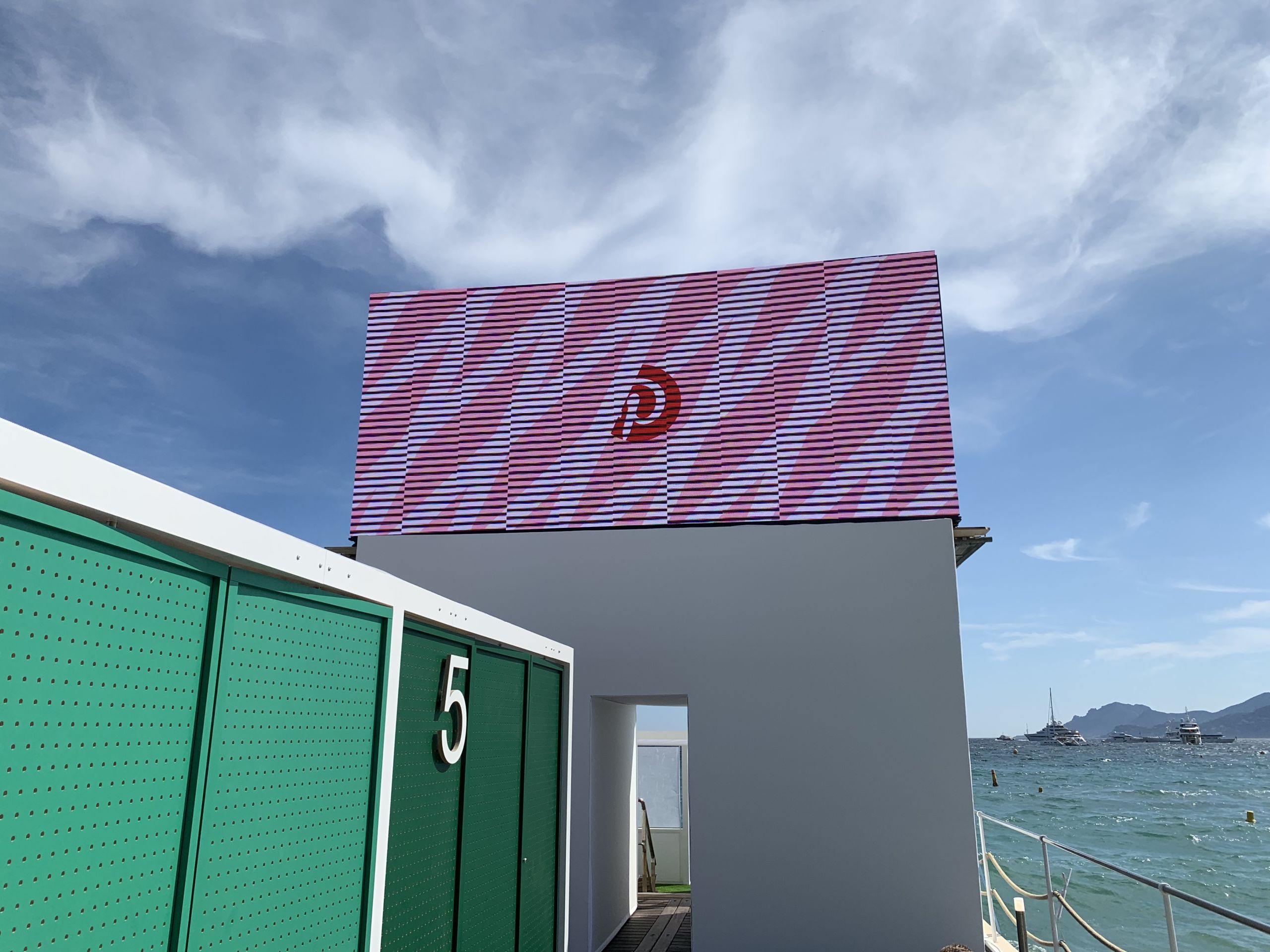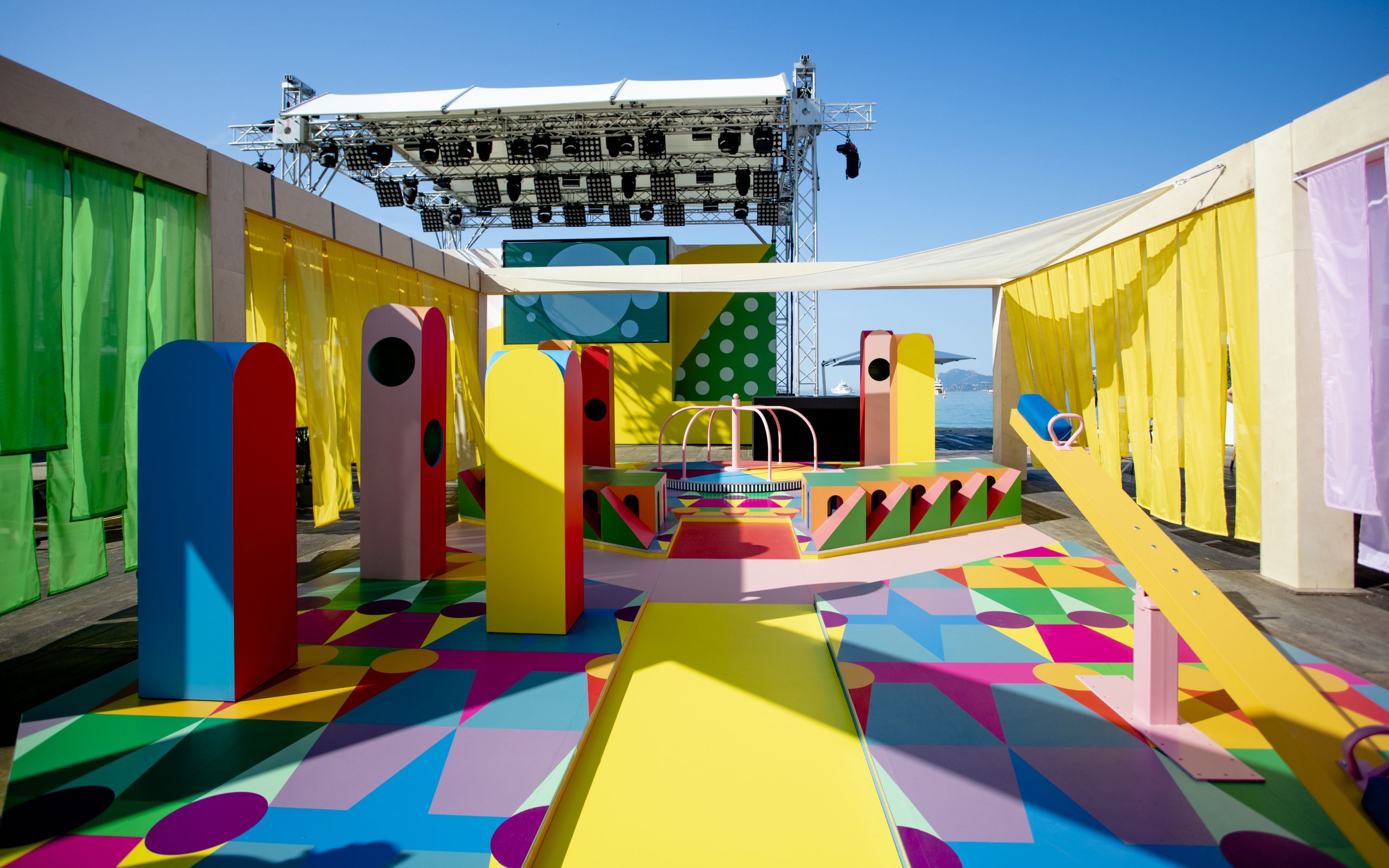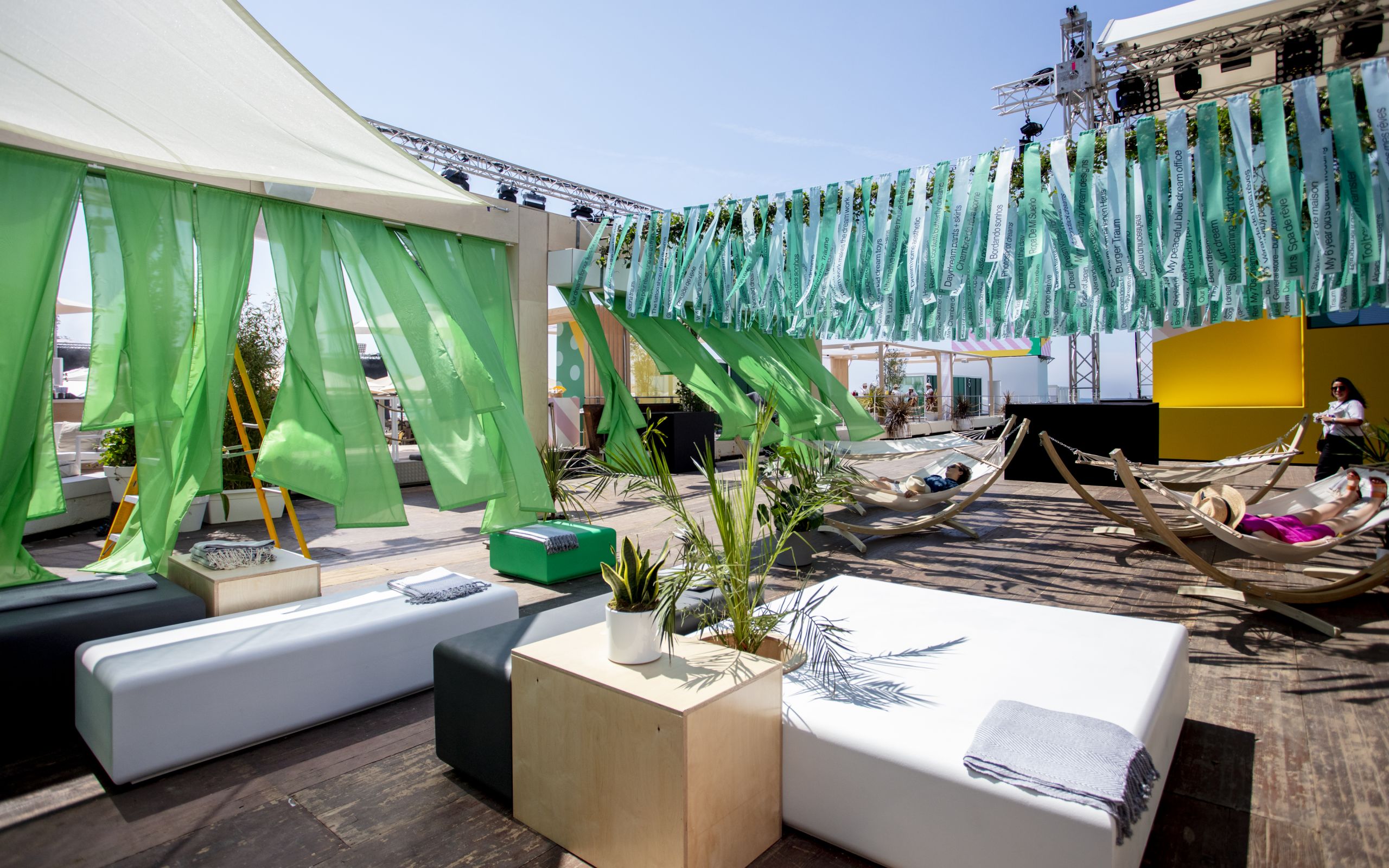 FACEBOOK BEACH
Facebook's beach activation was comprised of experiences demonstrating how creativity can be expressed across Facebook, Instagram, Messenger and WhatsApp. The first visible touchpoint was Instagram's "Where the Rainbow Ends" experience, a nod to Facebook's multi-year sponsorship of the category "Glass: The Lion for Change," which celebrates "culture-shifting creativity" with a positive impact on gender inequality. A collaboration with Latvian designer Germans Ermičs, the installation played with the ethereal nature of rainbows as a metaphor for diversity.

With an exterior made up of rainbow-tinted mirrors, the structure radiated color instantly. A few attendees at a time were led into the pavilion's interior, which was made up of all-white surfaces. Inside, lighting effects projected rainbows across the walls, mimicking the effect of sunlight reflected through a prism. A white bench bathed in rainbow light sat in the middle, and an ombré glass chair designed by Ermičs provided a spot to pose with a rainbow. An electronic music soundtrack played in the background while attendees took selfies and brand ambassadors offered to take 360-degree video.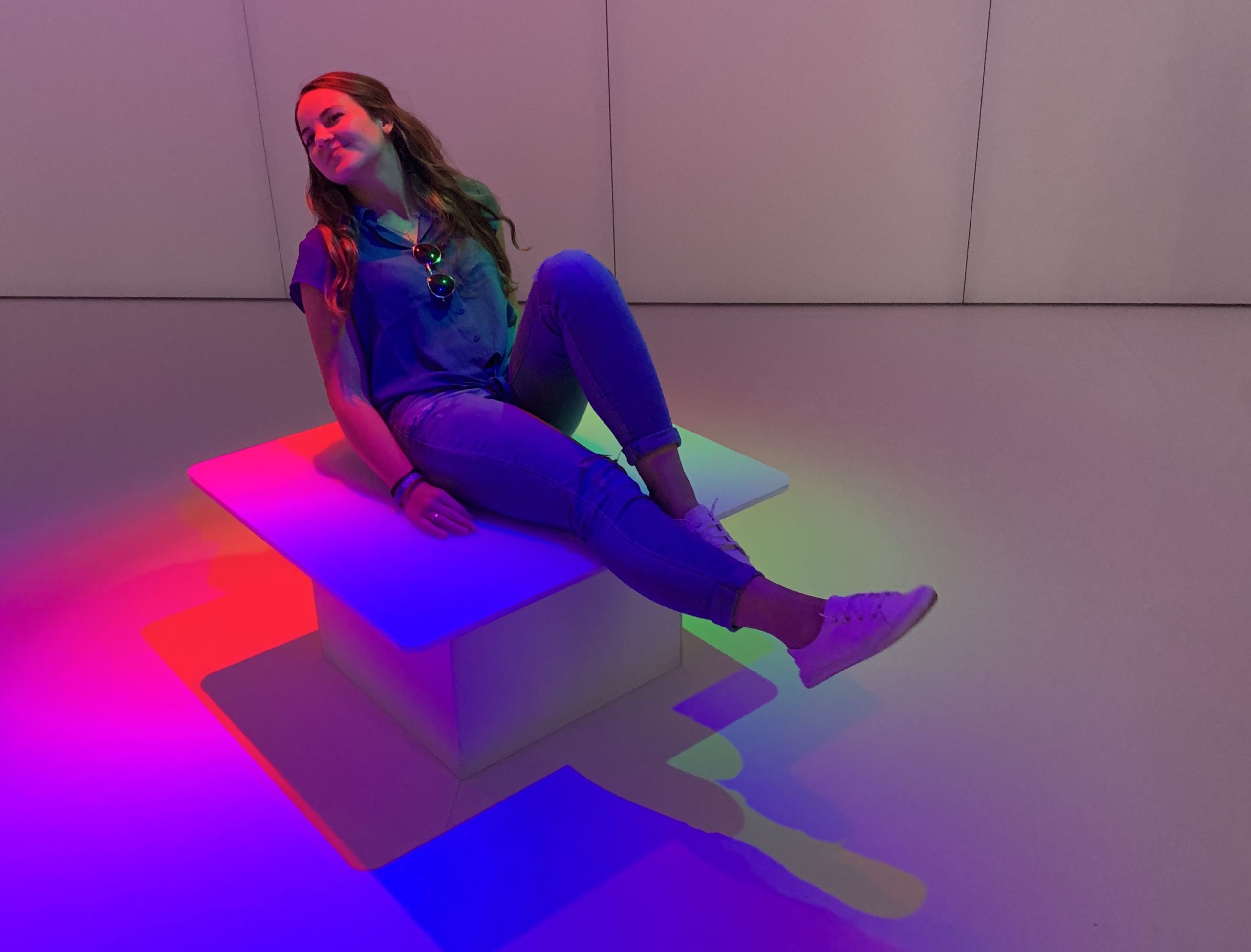 Moving through the footprint, attendees next encountered the Stories Xperience, a moveable installation featuring a series of freestanding vertical video screens, each showcasing the work of storytellers on Facebook, Instagram, Messenger and WhatsApp in the categories of film, creators, design, the top 24 brands using Stories, and animation. Attendees could toggle through the categories on an iPad and observe the content across the screens, which moved back and forth as the Stories played.

"We wanted to be able to represent the one vertical story that you see on your mobile phone," says Julie Hogan, global face-to-face marketing director at Facebook. "But when you continue to tap, that story explodes into five, 10, sometimes 15 [Stories]… so how does that look visually? We came up with a way to show the screens exploding with very different content that is pulled directly from the platforms that represent brands, creative agencies, animators and filmmakers."

Facebook partnered with Campaign magazine to pick the top 24 brands using Stories, half of which were represented in the installation.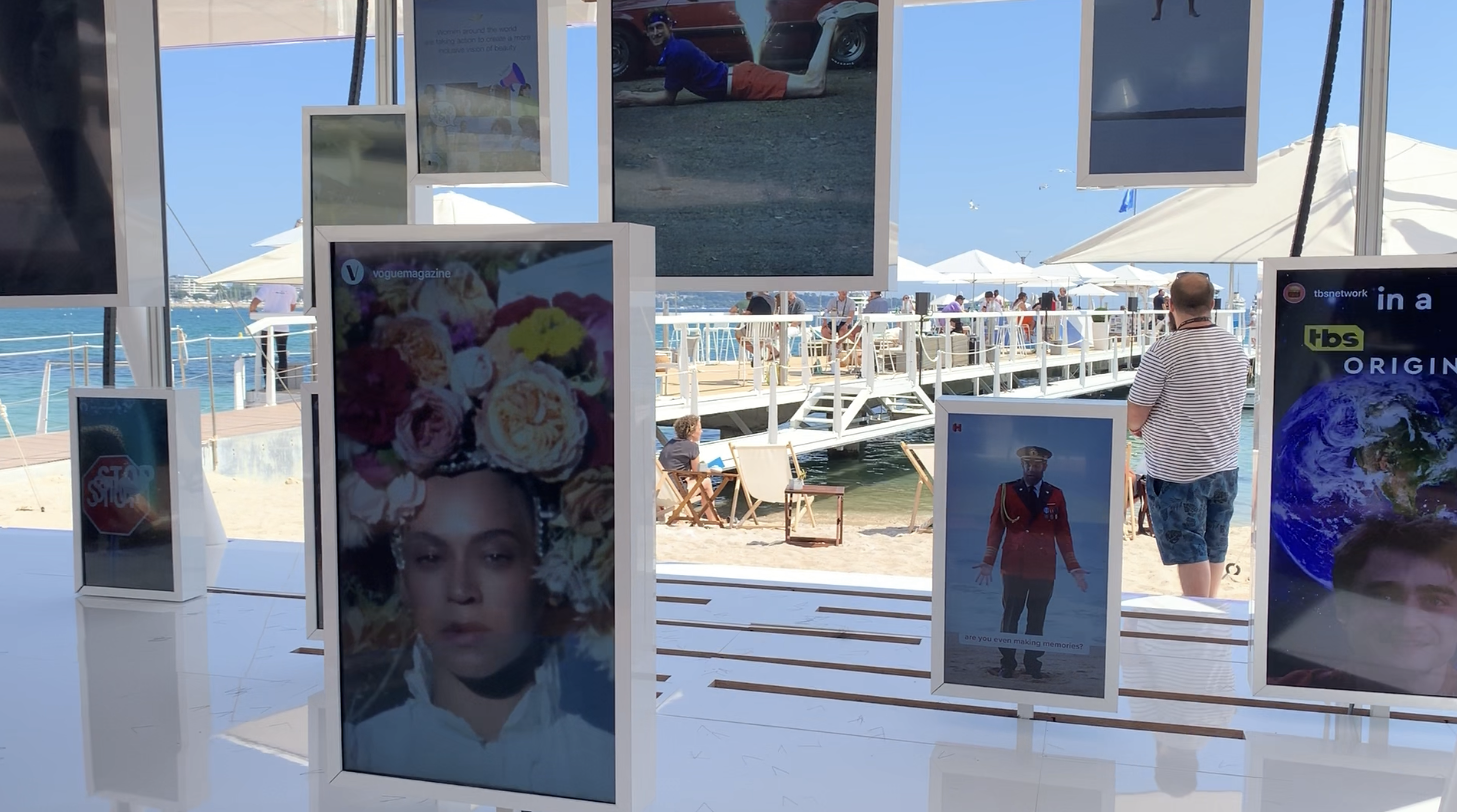 ---
"For this audience, being really engaging and immersive is incredibly important. We look at it from three different perspectives, which we call the three truths of extraordinary experiential, which are people, presence and performance… Understanding what we think people want to see and hear, and creating these moments within our space to engage folks is our top priority, but we ground it in three truths so that we're always guided by: who is the audience, how do we want to show up, and how is it going to impact our business moving forward."
---
Beyond the Stories experience was an open-air amphitheater dubbed The Agora, which hosted a steady flow of talks, panels and workshops throughout the week, from cmo talks to "Messenger School" to a Facebook mobile video tutorial. Another key theme of the activation was community, reflected most notably through the Facebook Community Hub. Each day, different communities driving change and creativity in the industry, from Girls Who Code to AdColor to Voice of a Woman, "borrowed" the space to share their platform and messages to attendees.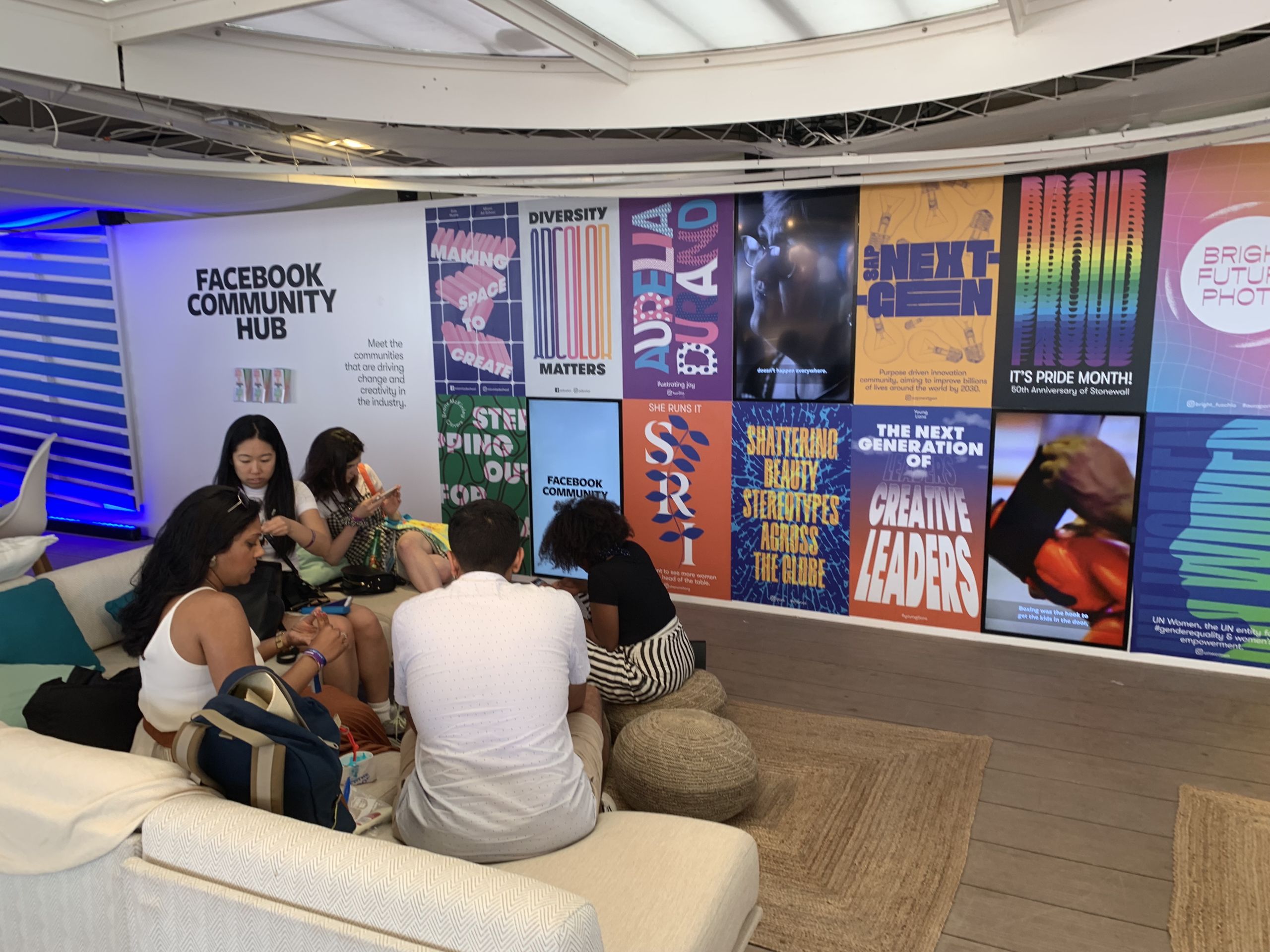 Adjacent to the Hub, an arts and crafts station gave attendees a chance to be creative the old-fashioned way, with markers, paints and colored pencils.

"It doesn't always have to be big, bright and shiny. It can be very simple," says Hogan. "I think that's sometimes one of the things that gets overlooked when you're producing experiences for folks."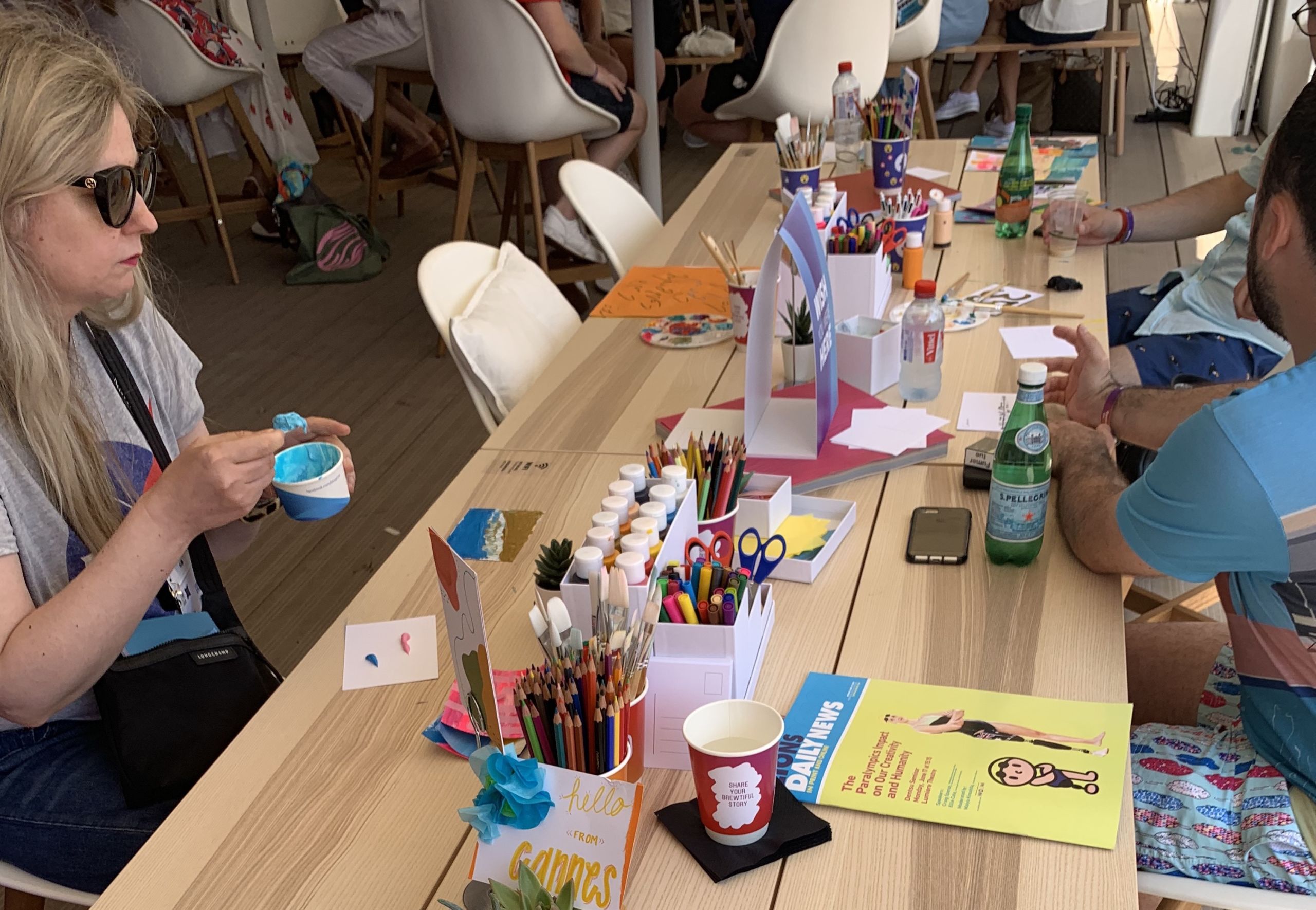 Another touchpoint worth mentioning was the brand's VR for Good virtual reality experience, part of its Made for St. Jude program. In partnership with several ad agencies, Facebook's Creative Shop developed concept films that demonstrated how creativity through VR can transform education and aid social movements. Attendees used Oculus VR headsets to view the films, which included transforming pediatric cancer patients into heroes.

Rounding out the experience were various surprise and delight elements throughout the week, such as beach yoga, soccer players doing freestyle tricks during a special Women's World Cup event, and an aura portrait experience (Agency: Jack Morton Worldwide, San Francisco and London).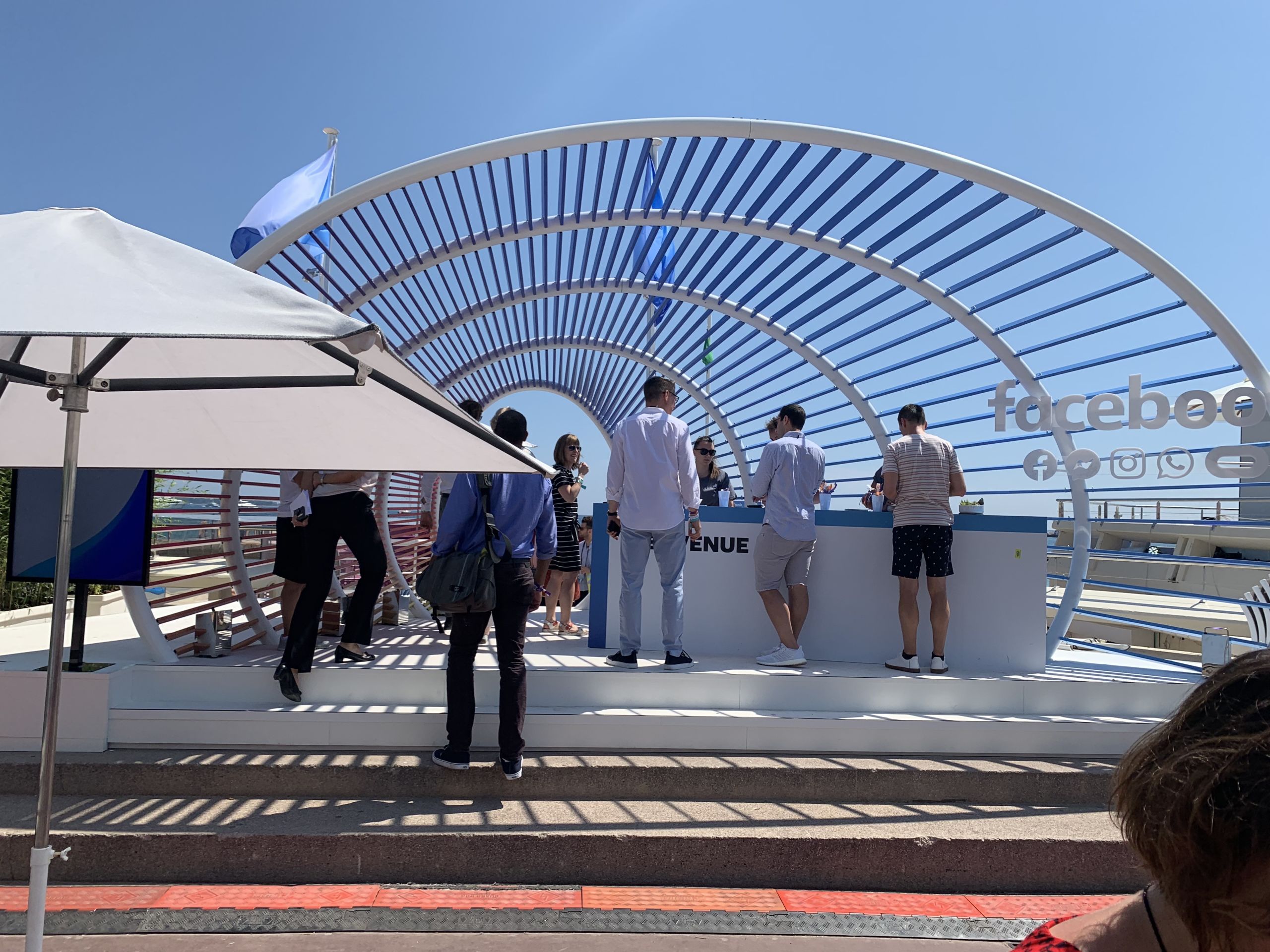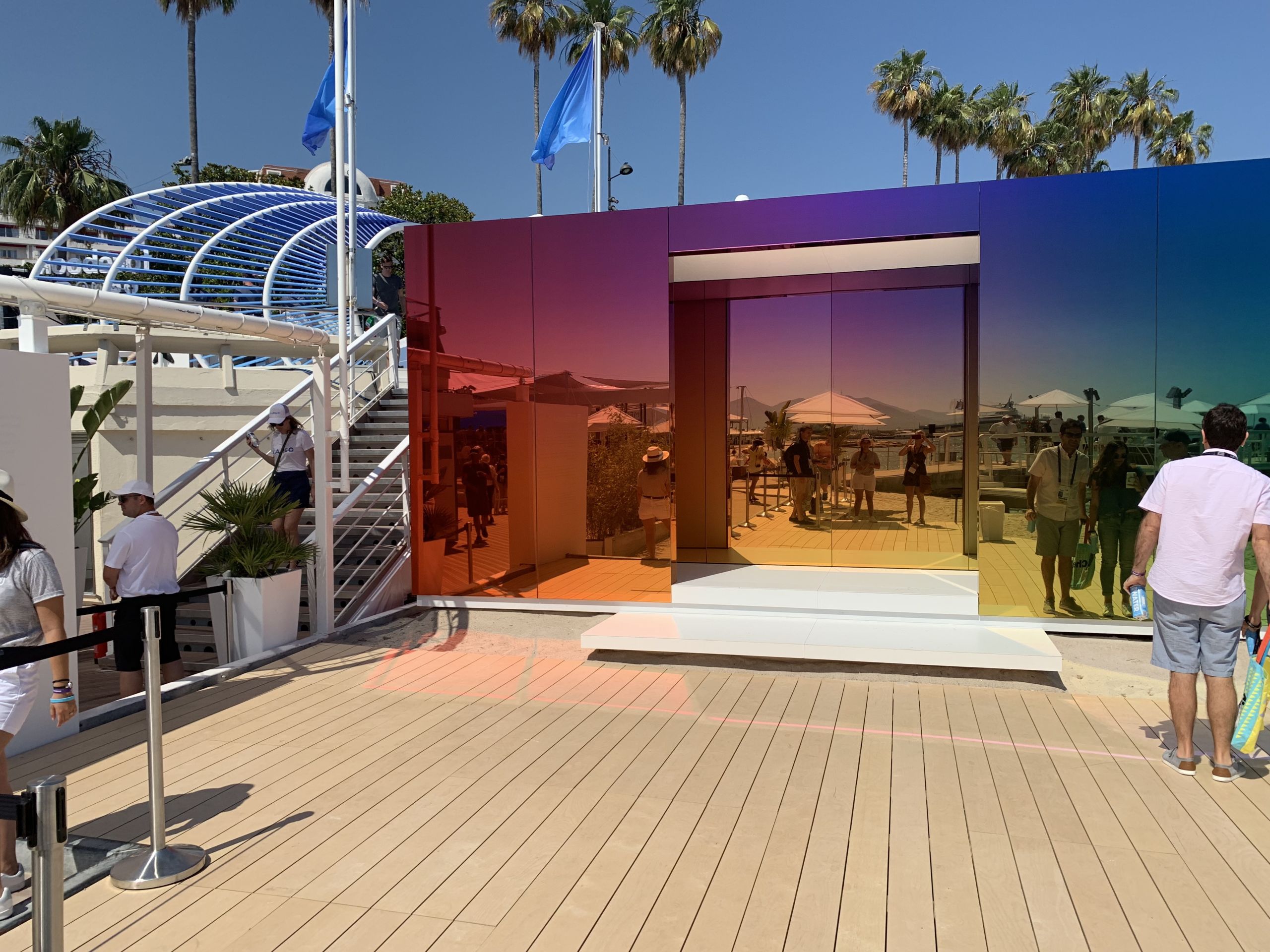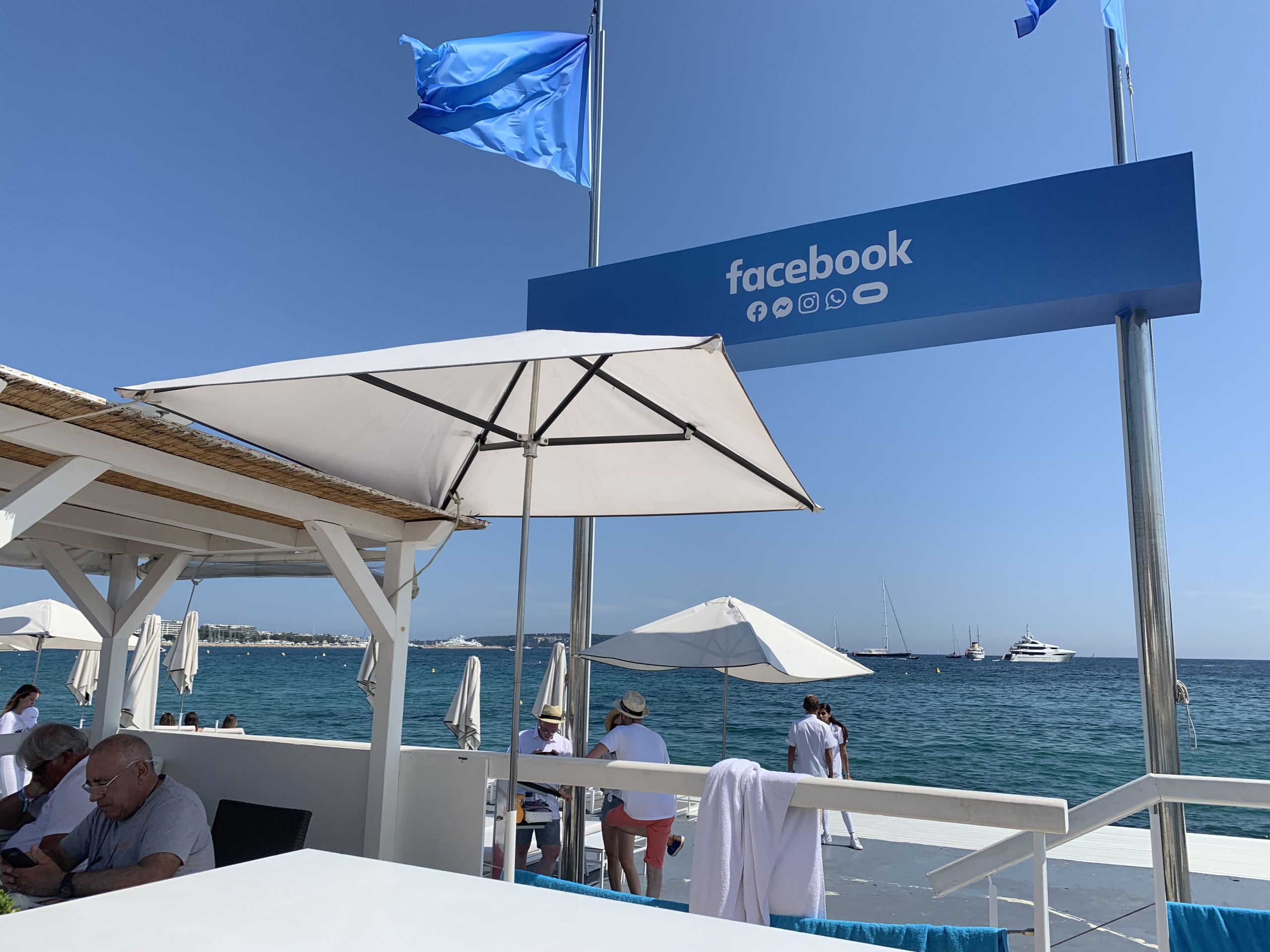 TWITTER BEACH
The brands that leaned into experiential tended to create two kinds of spaces: one for badge-holders and one for high-level meetings. Twitter was very deliberate with this strategy at its beach activation. It used an open-air format for both, with a concentric circle design that matched its brand and logo.

"It's a visual representation of our platform. It's a lot of overlap, a lot of different conversations on top of each other, and so we've created a space with circular designs that are reminiscent of that overall look and feel of our brand and our logo," says Helen Stoddard, head of global events at Twitter.

The motif of the space was Twitter's "It's What's Happening" tagline.

"We've got to have really engaging spaces so that our customers can understand what our audiences already know: That Twitter is really what's happening. For us, that means creating awesome, multi-functional, multi-layered spaces," Stoddard says.

The footprint featured a large core structure in the middle, including a stage for thought leadership throughout the week, and cabanas on the outskirts for meetings. The brand was careful not to impede the gorgeous views of the beach with its build.
---
"We know, specifically, that at least half of the Grand Prix winners in the last year had Twitter as a part of their campaign program. So, we've got to make sure that we're sharing the best information we can with them to help them be successful and get them excited about what we're doing. Our approach is that it's important to leverage Cannes as a platform to make sure marketers understand that Twitter is valuable and effective and a great channel for creative and culturally relevant messages."
---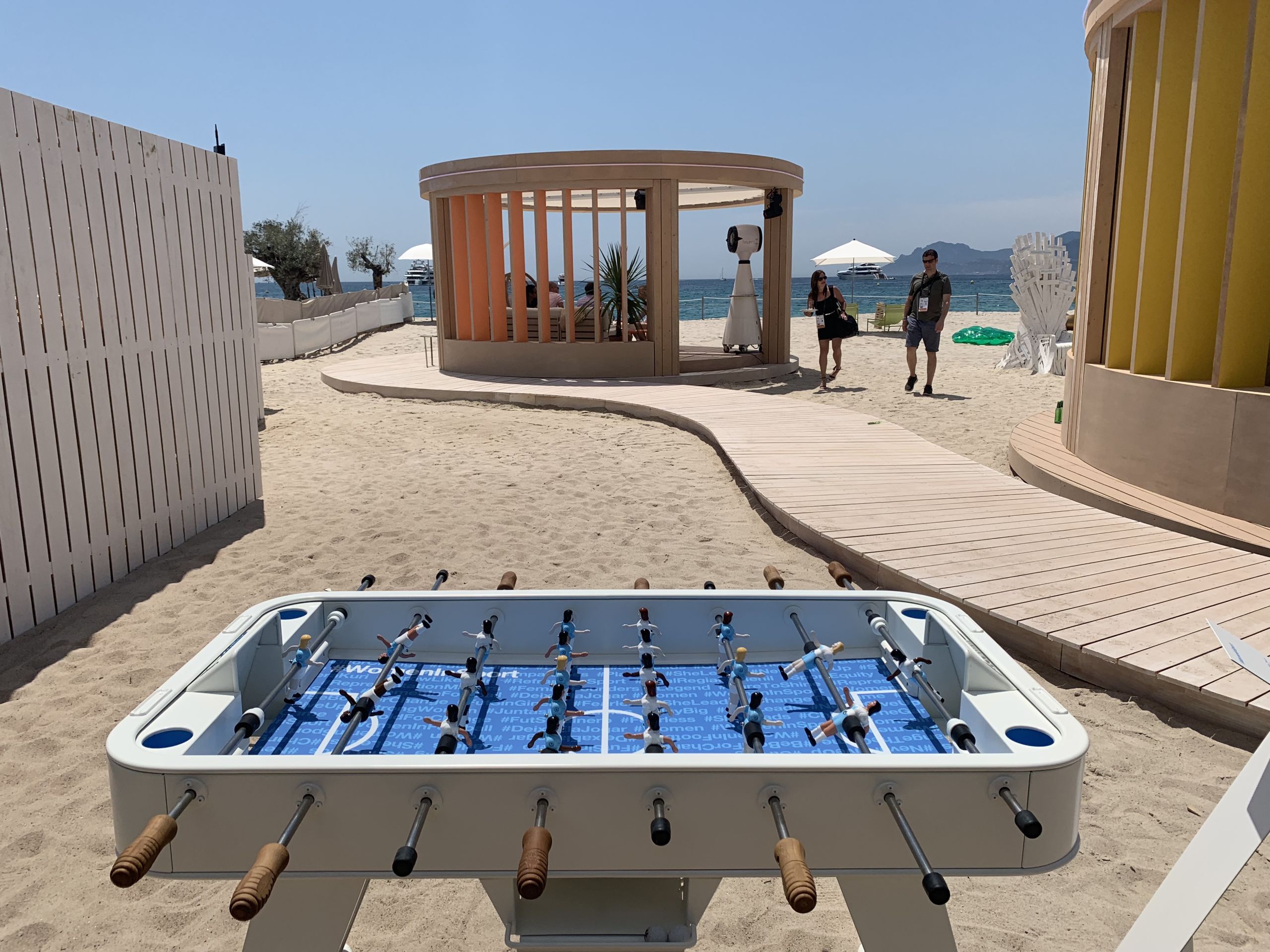 Several touchpoints were themed around major conversations that recently happened on Twitter. A #WomenInSport foosball table featuring all female players, each wearing a Twitter-branded jersey, pointed to the recent popularity of the Women's World Cup. To celebrate pop music, a working blue- and white-keyed piano gave off the sound of Twitter notifications when played. When certain keys were pressed, a #PopMusic tweet from a fan would appear on top of the piano, and after several tweets popped up, the piano would emit a sound of fans cheering. The brand also created a blue-and white-painted Iron Throne covered in series hashtags, a nod to the Twitter popularity of the recent "Game of Thrones" finale.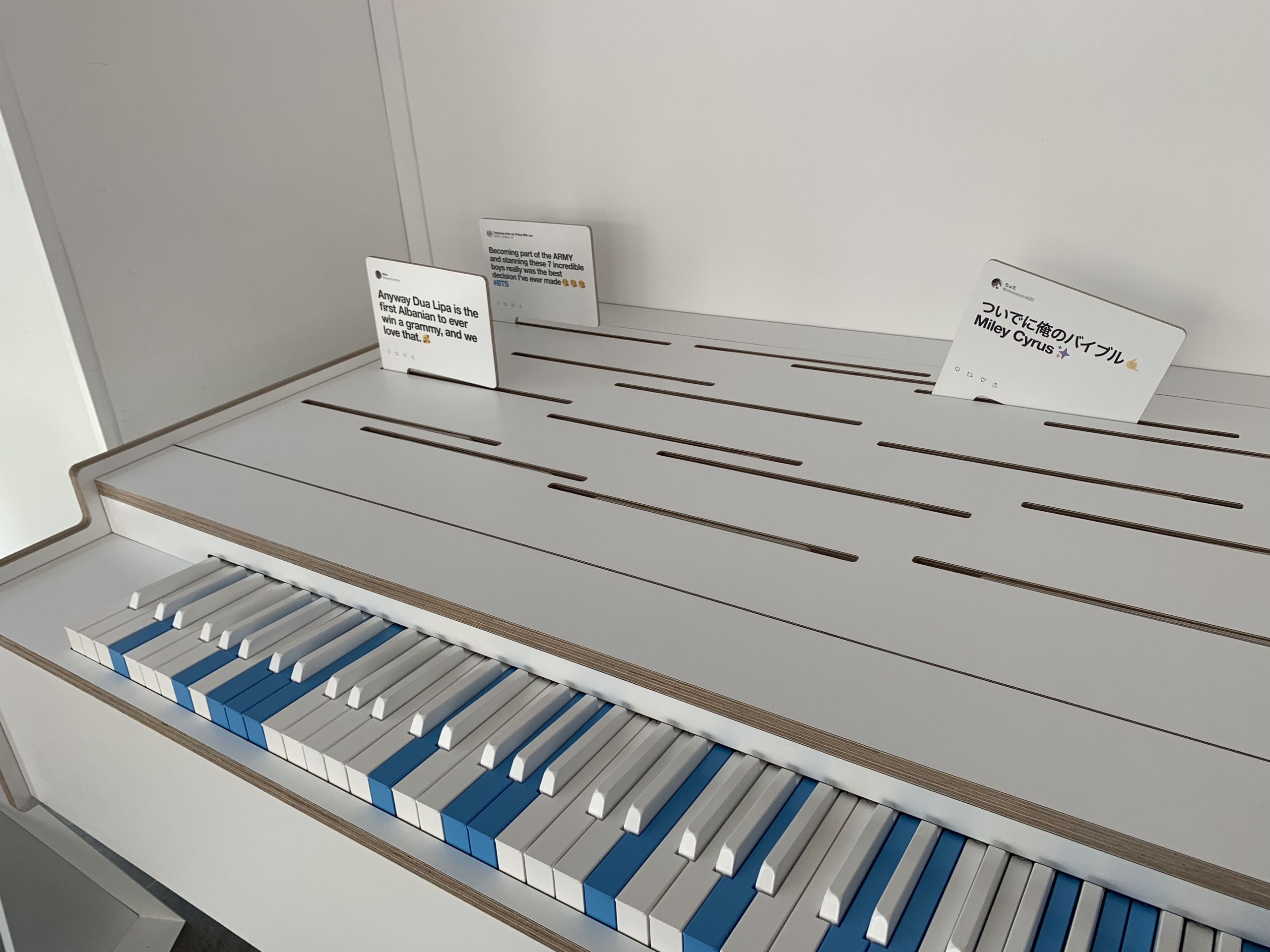 Other touchpoints included a photo booth with a blue hammock and beach props in front of palm tree cutouts, a large hospitality area serving free food and drink, and a branded merch station offering baseball caps, sun hats, fans and sunscreen (Agency: Wonderland Agency, London and New York).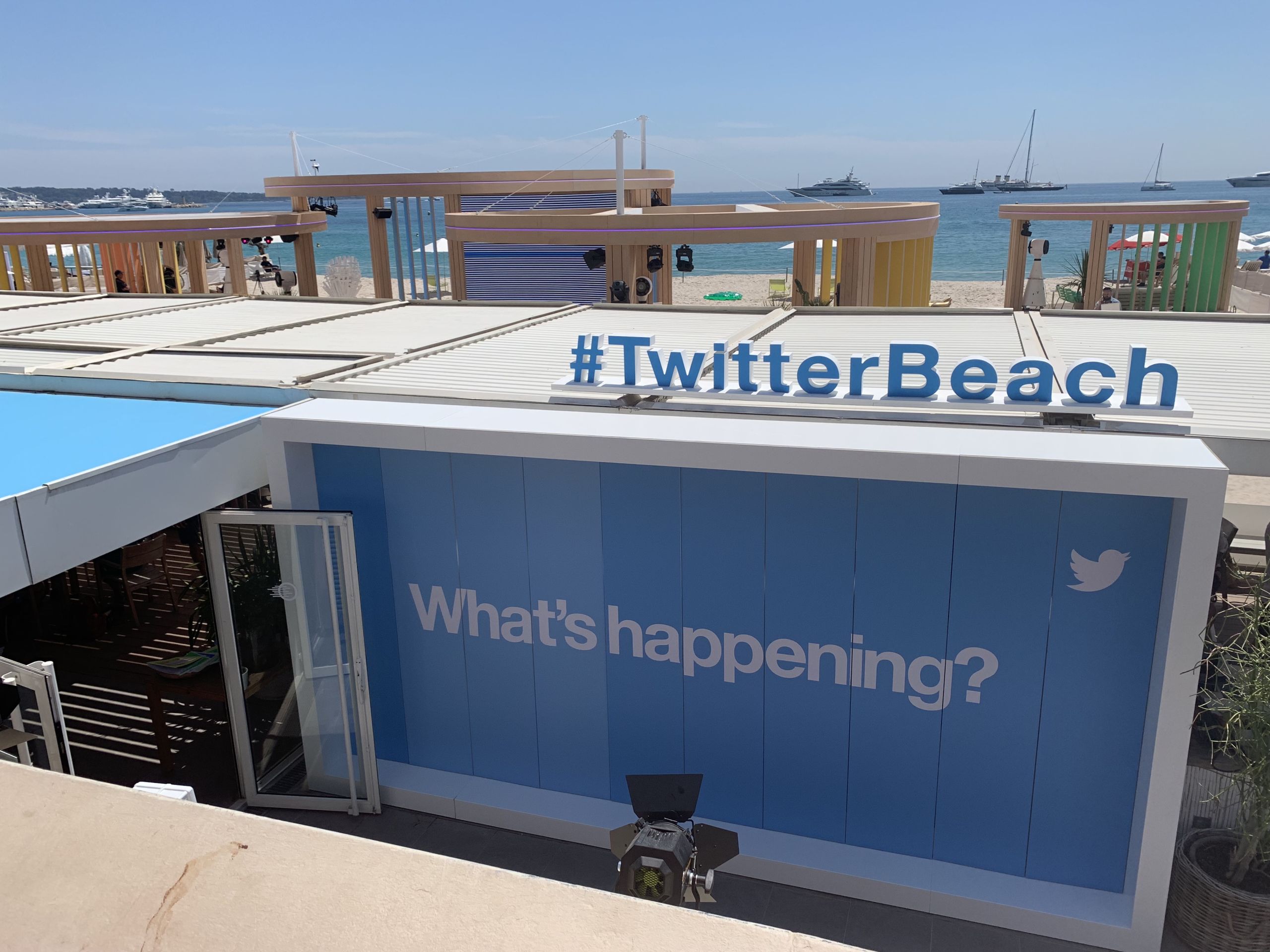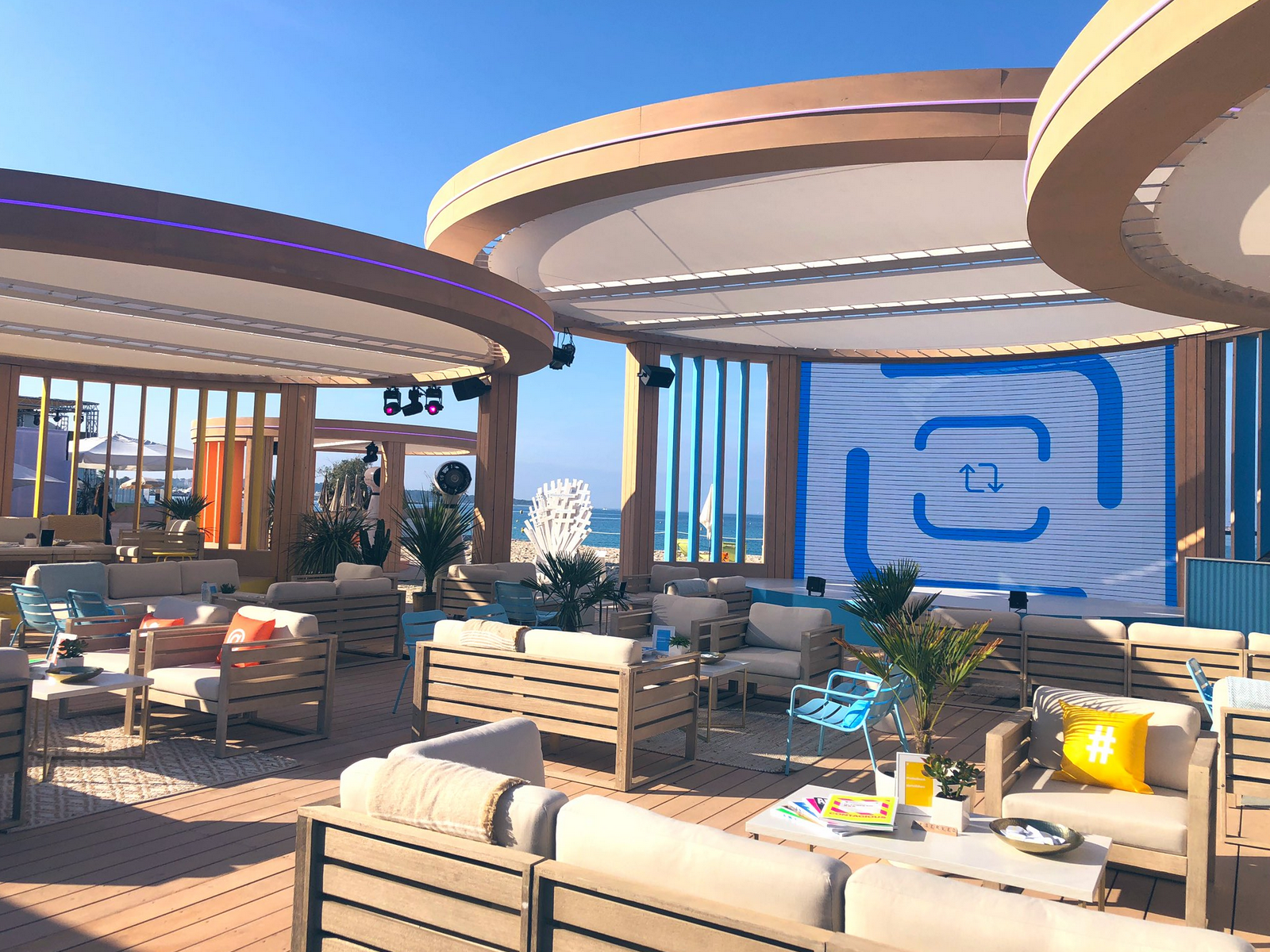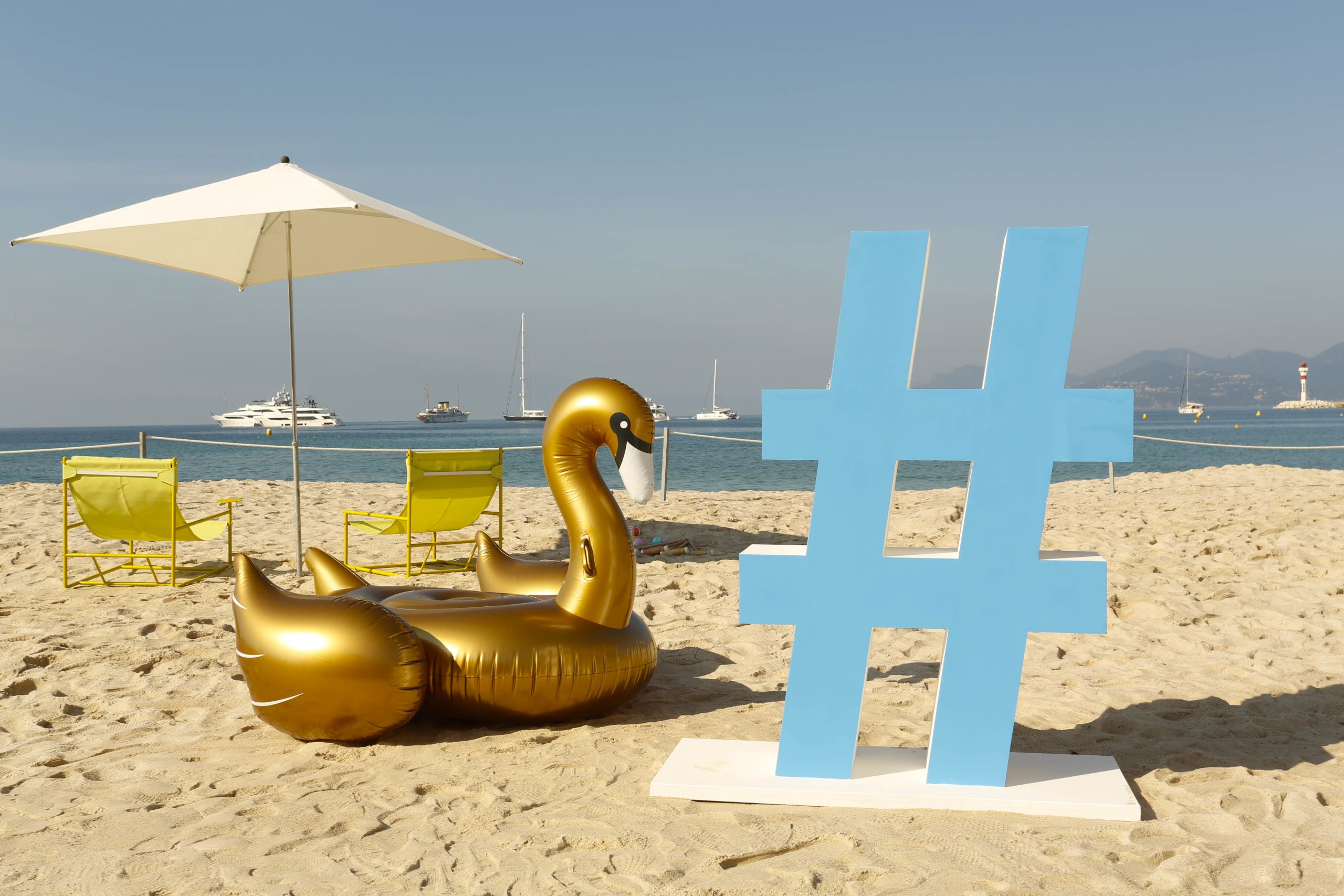 THE CANNES LIONS AWARDS HUB WAS A BEST PRACTICE IN B-TO-B AWARDS PROGRAMS. HERE'S WHY:
Cannes Lions is a seasoned hype machine for its creative marketing awards. The proof: An interactive exhibit of the judging process occupies the entire basement floor of the Palais, and offers everything from a live judging room experience to Q&As with jurors to interactive exhibits of winning work. Each course, experience and tour neatly mapped back to the ultimate goal: winning a Lion. We tip our hat to the festival for its marketing chops. Here's what we saw during our trip to the awards hub.
Live Judging Room. To create hype for the award categories "Glass: The Lion for Change" and "Innovation Lions," the festival created a live judging room experience that took place during the week of the event. Badge-holders gained insight into the judging process by witnessing shortlisted entrants—announced prior to the festival's start—present their work to the jury members, followed by a Q&A between the entrants and the jury.
Interactive Judging Room Experience. The festival encouraged aspiring Lion-winners to explore the judging room for the Design Lions category. Attendees were able to play with and experience actual samples of submitted work from major brands. The entries were categorized, labeled and spread across a series of tables, allowing attendees to touch, see and feel the submissions.
Track Ambassadors. The 27 Cannes Lion categories are organized into nine different tracks, each also corresponding to sessions of content at the festival. To guarantee year-long interest, ambassadors are appointed annually to each track by jury presidents. They act as advisors to the track program and Lions Awards, and throughout the year they even host track-themed events in their home cities. They also lead the tours of the winning work (see below) during the week of the event.
Guided Tour of the Work. The festival offers 30-minute tours of exhibitions of shortlisted and winning work from each of the event's Lion categories, complete with commentary from a jury president, track ambassador or industry heavyweight.
Demystifying the Judging Process. Attendees could book a workshop session with a Cannes Lions awards account manager to help navigate the entry process.
Q&A with Jurors. Fresh out of the judging process, jury presidents and jurors discussed what work is Lion-worthy, and why, in a 45-minute session. The festival's return on investment for appointing a juror is strong.
Hear from Award Winners. Throughout the week, the awards hub hosted sessions on what it takes to win a Lion, led by past winners, as well as how award-winning creativity is a driving force for business.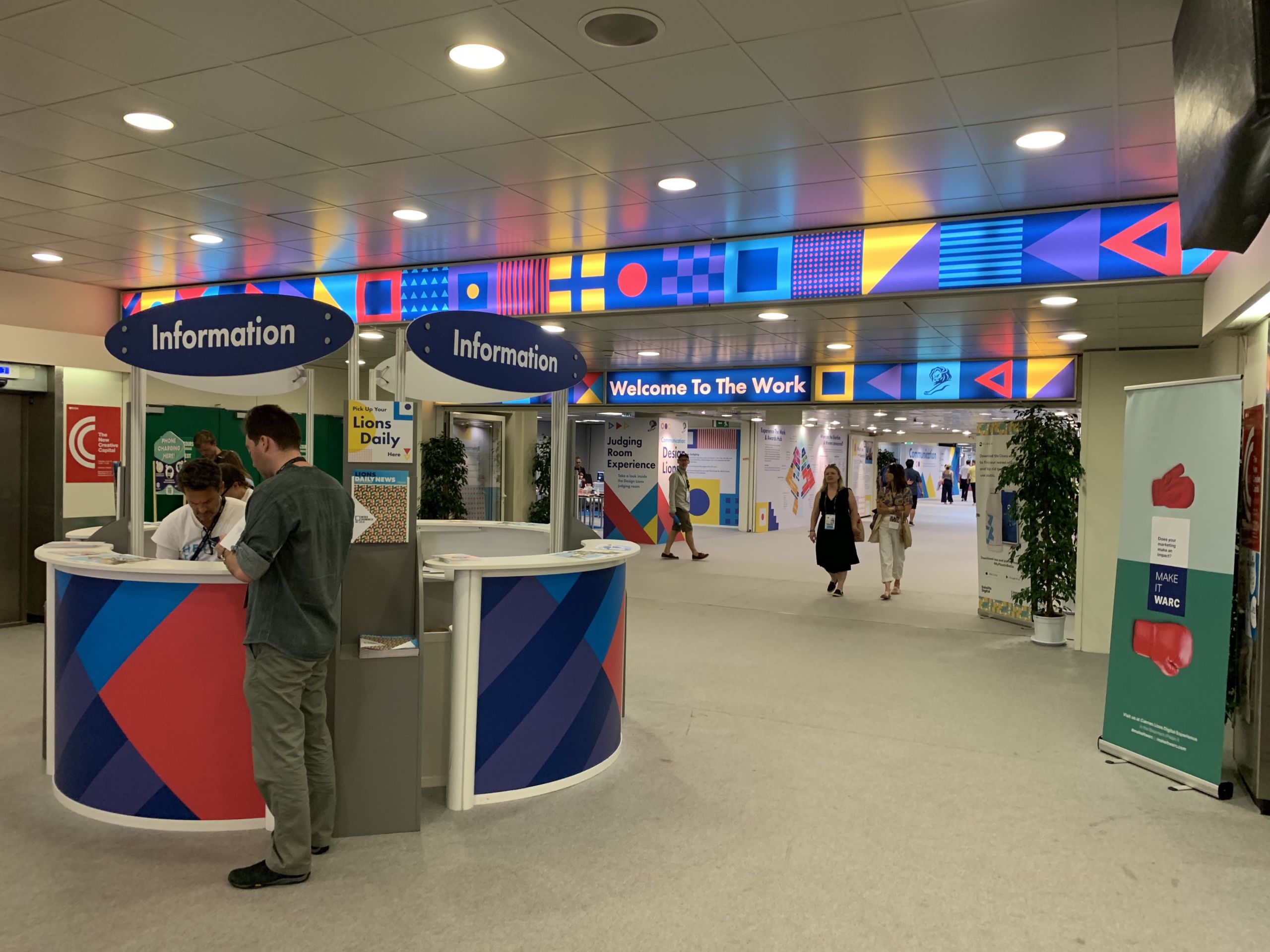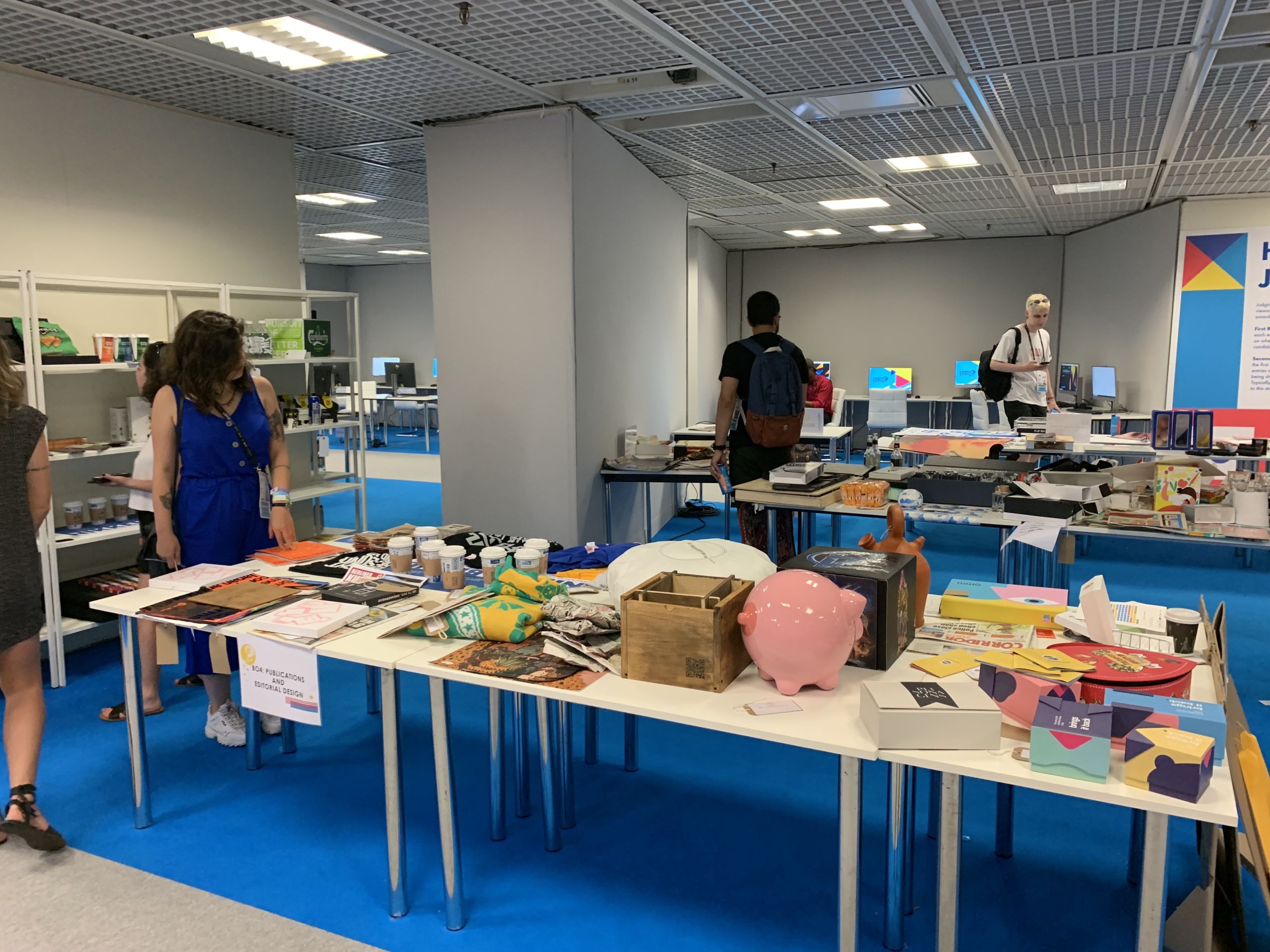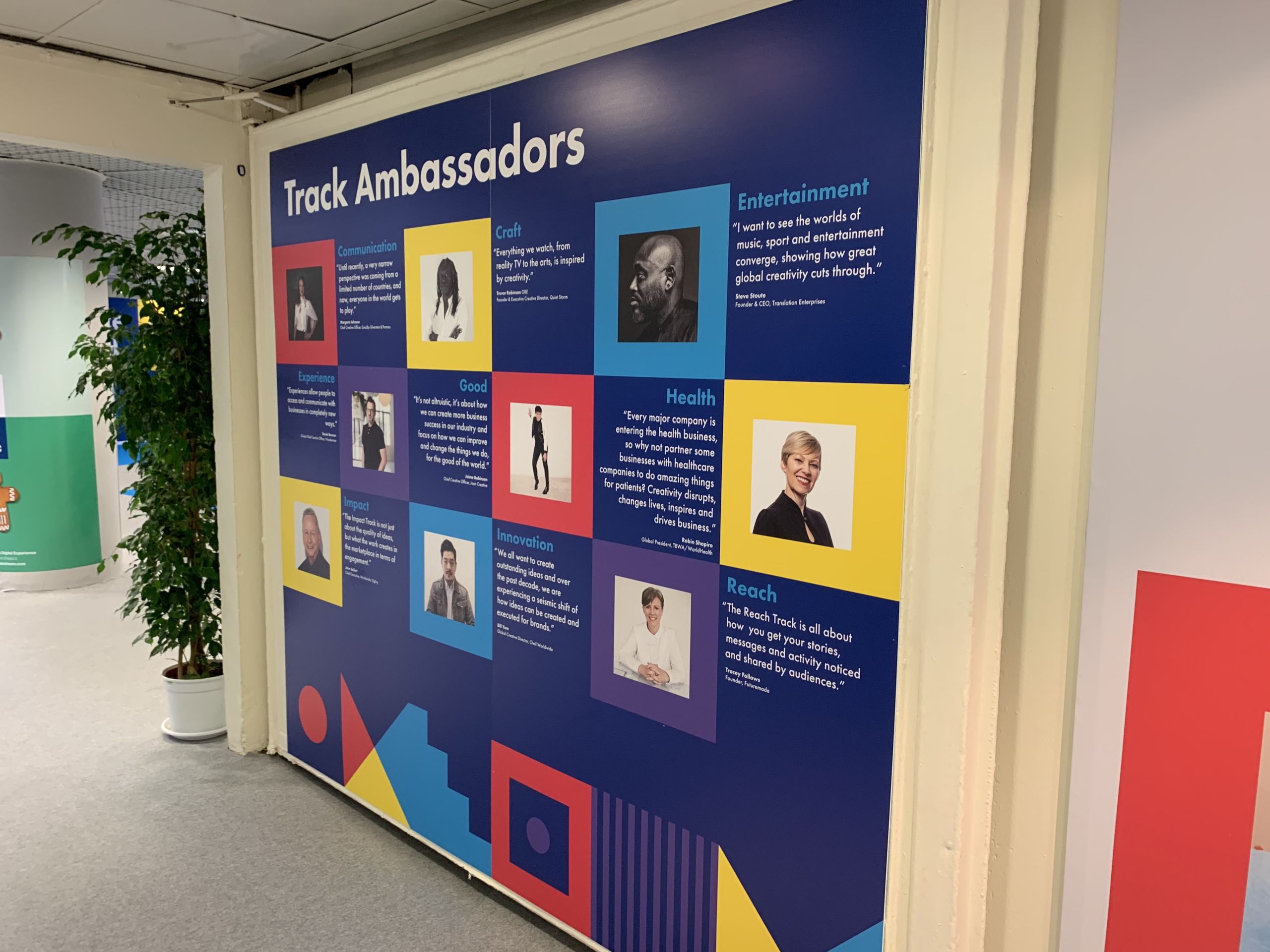 STANDOUTS ALONG THE CROISETTE
SNAP
Snap's simple yet entertaining activation at Cannes' La Malmaison art gallery welcomed the general public to a Snapchat-enabled collaborative exhibit by Los Angeles-based artist Alex Israel.
The exhibit featured a series of self-portraits that came to life through Snapchat's augmented reality software. Each of the five pieces began with a giant profile of the artist in each room. Once attendees pointed Snapchat toward the portraits, an animated scene began, within—and sometimes beyond—the confines of the profile. Palm trees bursting through a window, pelicans flying out of the portrait and into the gallery space, and a psychedelic drive were memorable scenes. See EM's Instagram Highlights (@eventmarketer) for a full video tour and check out one portrait below.
P&G
P&G's presence, tucked away in the Palais II exhibit space, contained an activation worth mentioning. Two virtual reality experiences were on hand as complements to its new ad, "The Look," which shines a light on the racial bias experienced by black men in America through placing viewers directly in their shoes. Attendees approaching the booth were asked to first watch the ad, which played in a loop on a screen. After digesting its powerful message, they were instructed to watch two VR companion pieces to the content.
Both experiences used VR technology powered by Vive, which invited the attendee to alter the storyline of the content through the act of blinking (i.e. changing the environment with a second look). One experience featured four interviews of creative directors discussing diversity. The act of blinking not only altered the creative with colorful explosions, but allowed attendees to see the subjects more clearly.
The second was the more compelling of the two. It featured a monochromatic world of Caucasian dancers moving to music like stiff-limbed automatons. But each time that attendees were prompted to "look again," the mise en scène and the dancers themselves became more colorful and diverse, the music improved, and the celebration peaked—thus creating a more diverse and beautiful world through the power of a second look. Agencies: Saturday Morning; RYOT (Content); Atomic (Build).
Photo credits—Introduction: Meet Ups (Getty); Spotify: background images and pier (Spotify); Pinterest: first, third and fourth background images, "Touch and Listen," "See the Sights," playground spinner (Pinterest); Twitter: second, third background images and concentric-circle (Howard Sayer Photography).